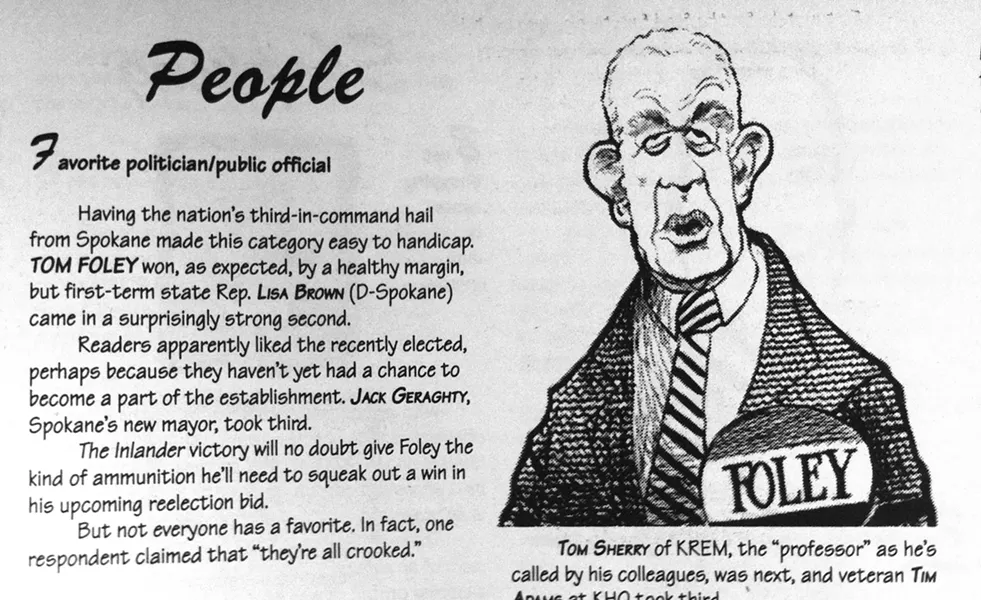 Tom Foley won in the Inlander's first-ever Best Of in 1994.
HERE
Former House Speaker Tom Foley, who was voted favorite politician in the first ever Inlander Best Of readers poll, has died at the age of 84 in his home in Washington, D.C. (KREM)
Potentially bringing more "energy" to the area, the private California-based company that makes Clif Bars and other nutritional products has announced plans to build a 300,000-square-foot baking facility in Twin Falls. (S-R)
After a party turned into a riot last weekend, Western Washington University students will now have to deal with authorities in Bellingham banding together to increase 'party patrols.' (ST)
Computer game nerds are excited over our exclusive details on Obduction — Spokane-based business Cyan's $1.1 million Kickstarter for a sci-fi Myst successor. (Inlander)
THERE
Obama to focus on three things — immigration, farm legislation and a budget deal — now that the government is back in action. (Yahoo)
A suspected teen shoplifter was caught yesterday after she was found to be carrying a dead fetus in a bag while stealing lingerie at a New York Victoria's Secret, cops said. (NYDN)
SCARES ON SCREEN
It seems the reincarnation of Carrie is nowhere near as terrifying as the film starring Sissy Spacek. (Movies.com) Thankfully, there is a musical version of the story playing at the Bing next Wednesday and Thursday.