As a teaser for the big reveal of the winners of the first-ever Cat Friday Halloween Cats Photo Contest later today, several Inlander staffers dressed up their own kitties in adorable Halloween get-ups, and we want to share them with you.
We didn't think it would exactly be fair for our kitties to compete with the awesomely adorable reader submissions we received, so we're featuring them here instead. Check back later today for the results of the official Cat Friday photo contest! We can hardly contain ourselves.
Piccola the Holstein dairy cow-cat rules the household with an iron paw at former Inlander music editor and now contributing writer Leah Sottile's house.
Alice "Laggy" Scott, the beloved cat of Listings/Cat Friday editor, Chey Scott, as a little witch-sorceress. Alice is working on spells to create an invisible barrier around her yard to keep the annoying neighbor cat across the street from bothering her.
Thunder the shark-cat installed a laser on his dorsal fin to blast away any terrifying enemies. Thunder belongs to Inlander Events Coordinator Raevyn West.
Mick the Mummy prefers a messier look to his toilet paper wrappings. Mick and his sister Clementine, who wanted nothing to do with silly costumes, steal pens and iPhones from their owners, Inlander Web Editor Lisa Waananen and Staff Writer Jacob Jones, on a regular basis.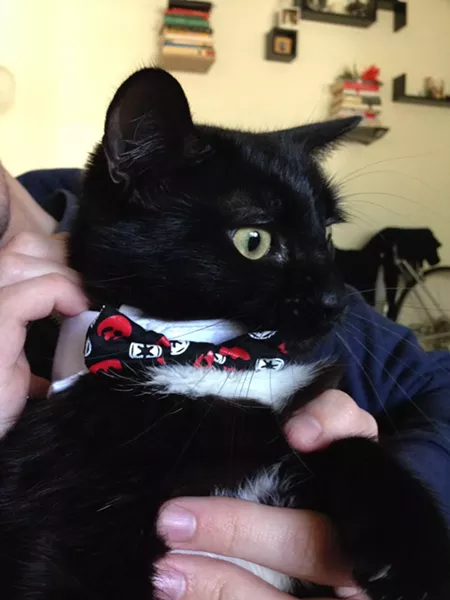 Rafi is a big fan of Star Wars, and donned a themed collar and bow tie for the occasion of Halloween. Reportedly, right after this photo was taken he furiously ripped the adornment off in a fit of feline rage. Rafi terrorizes the home of Inlander staff writer Heidi Groover.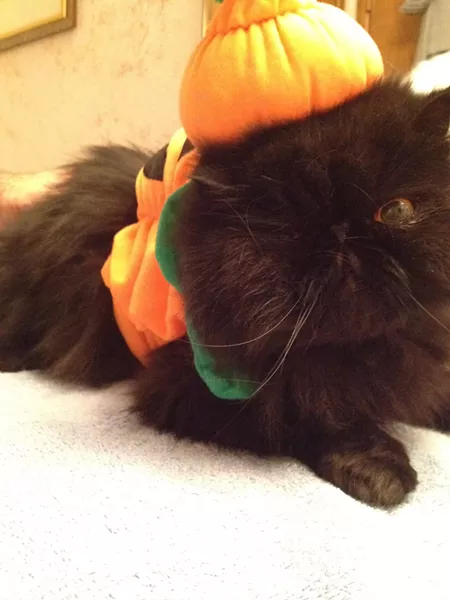 Bubba the Great Pumpkin, Inlander Senior Account Executive Bruce Deming's cat, gives a cute little wink as he gets ready for tonight's Meow-loween festivities.
Obviously Zooey the sheltie isn't a cat, but her feline siblings Grey Boy and Lola were too scared to wear any costumes this year, so she stepped up to the plate instead. Zooey and her kitty siblings are the light of Inlander graphic designer Jessie Spaccia's life.
Moof, the Himalayan cat of Inlander graphic designer Ali Blackwood Mead, looking dapper in his Halloween-themed jingle collar.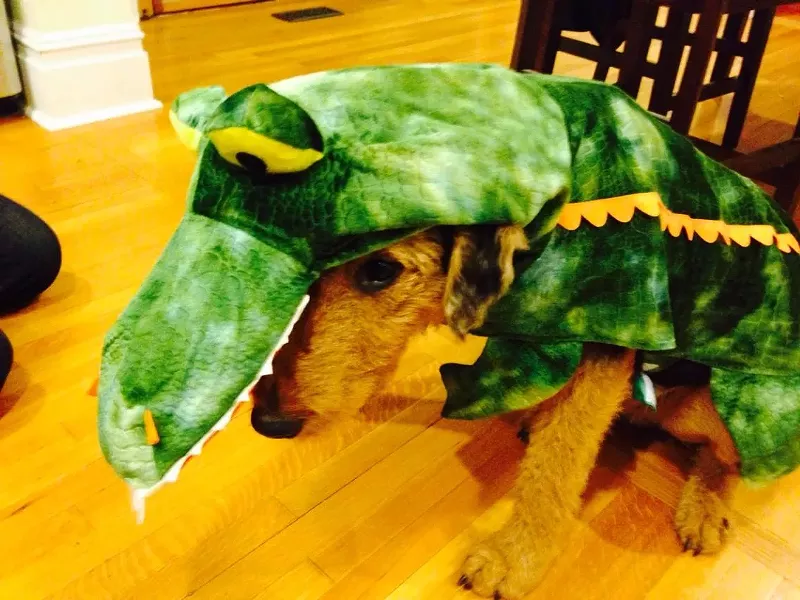 Angus the "sad alligator," the adorable Airedale terrier of Inlander Editor, Jacob Fries.