The Spokane Homeless Coalition hosted Homeless Connect today, an annual event that provides homeless and low-income people in our community with important resources. About a hundred people gathered at the Salvation Army, where service providers offered free medical screenings, housing services, healthcare sign-ups, haircuts, and a warm meal.

Here are a few snapshots from the day's activities.


Clarke Humphrey
Visitors enjoy pizza and chicken soup with rice. Water, soda and coffee were also provided.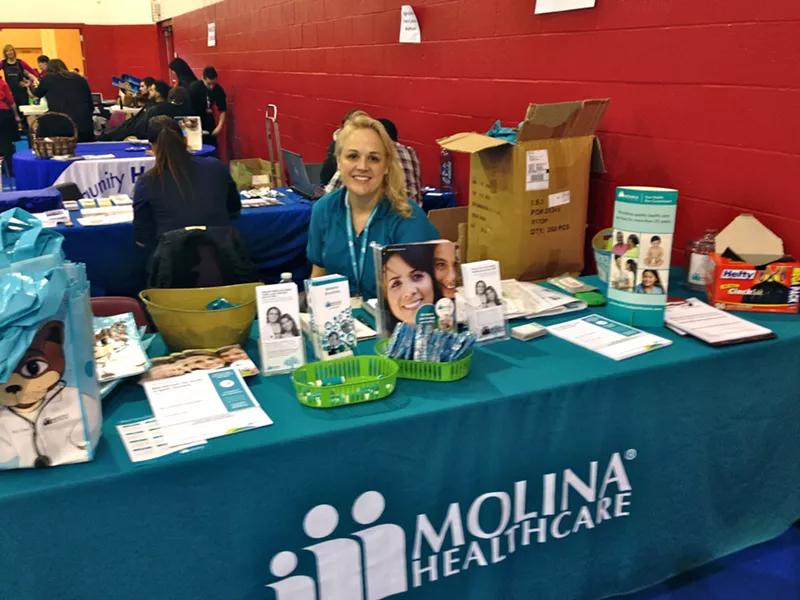 Clarke Humphrey
Erica Newton mans a table for Molina Healthcare, which offers medical insurance for low-income families. At Homeless Connect, Newton helped people sign up for health insurance, including Medicare and Medicaid. "We're just here to help them out, give them goodies and connect them with other resources," she says.
Clarke Humphrey
Aretha Redthunder signs her newborn son up for insurance with Molina Healthcare. At just two weeks old, he's Redthunder's fifth child. The oldest is 19. While she was signing up, Redthunder was invited to a baby shower, hosted by Molina, for mothers who've given birth in the last six months. Mothers can bring their babies to the shower where they'll receive diapers and bottles and few other things to make their lives a little easier.
A woman can never have too many products, whether it's shampoo, deodorant, or toothpaste, Chontae Lockett says. She also appreciates the access to new coats, thick blankets and warm socks.
"There are people out there who care, and who take time out of their day to help us," she says. "And it's fun.

Lockett worries that there are so many homeless people in Spokane because there aren't enough shelters or low-income housing units for them, and she wonders why the condemned and out-of-use buildings in the area aren't used to help people stay off the streets.
Clarke Humphrey
Lockett speaks with Yvonne Levno at the table for the Parent-Child Assistance Program, which helps mothers build and maintain healthy family lives and works to prevent alcohol and drug exposure of children before birth.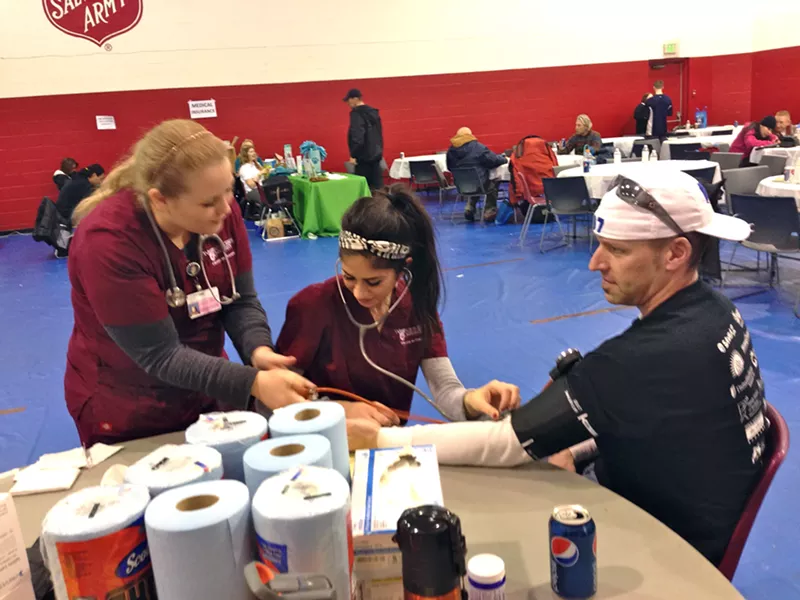 Clarke Humphrey
Washington State University nursing students Christina Marsh, left, and Stephanie Bekhazi check Jesse Wharton's blood pressure. A group of WSU students spent the day checking blood pressure and blood sugar to screen for diabetes and other health conditions. They also gave out clean, warm socks.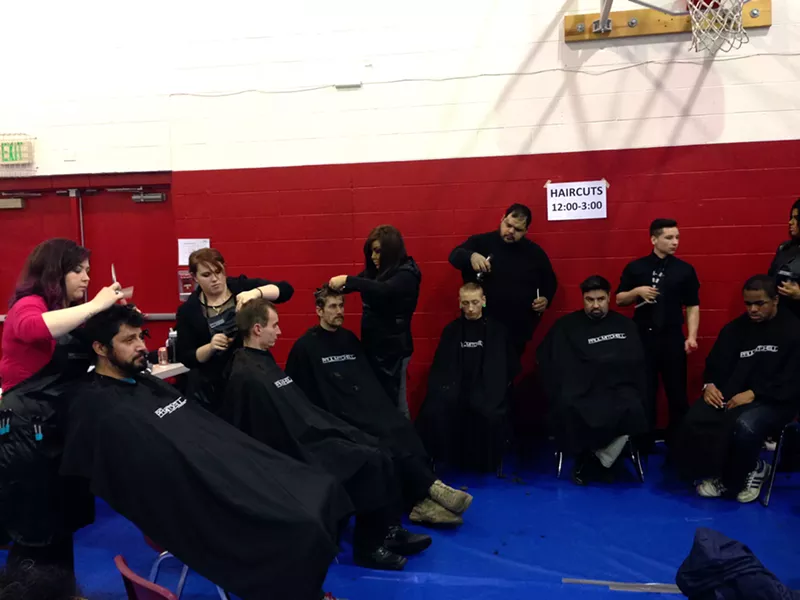 Clarke Humphrey
Students from the Paul Mitchell School in Spokane give haircuts to visitors.
Clarke Humphrey
Savannah Mackey, a student at Paul Mitchell School in Spokane, gives Hector Ortiz a haircut in the Salvation Army gymnasium.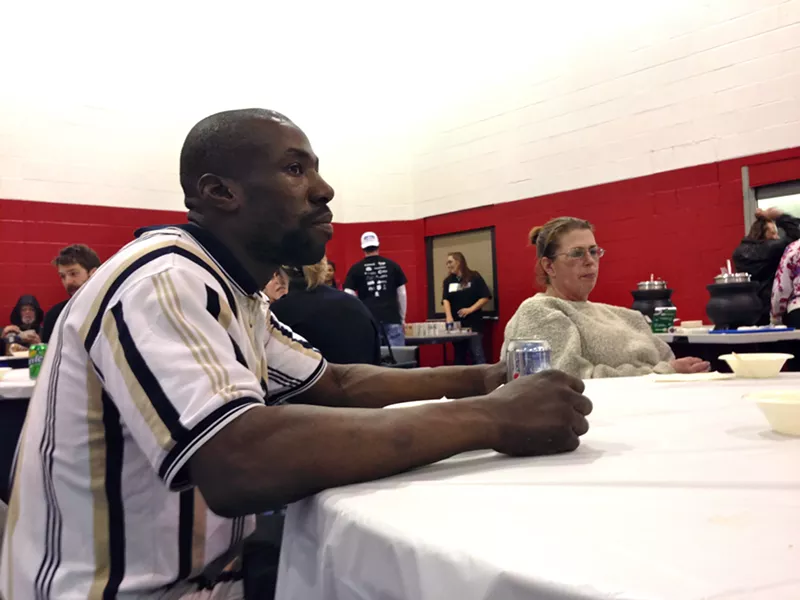 Clarke Humphrey
Andrew Gasper is a homeless vet. But he won't be homeless for very long. "I get a place next week," he says. "The VA is finding me a place because I qualify for housing. I never used my benefits so I finally swallowed my pride and went in there. I found out I don't have to be homeless anymore." Gasper had been couch surfing, but recently has been spending nights in an apartment he renovates during the day.
Clarke Humphrey
Amerigroup outreach representative Lauren Warrick, left, talks with Misty Rupp, right, about safe link phones and extended minutes through Amerigroup. Rupp is part of a three-month homeless shelter program that provides her family — her husband and three sons — with a place to live. Their last day in the program is Friday. "This is incredible," she says. "I'm so grateful that all these people have gotten together here to help because a lot of people come to the Salvation Army, so this is a perfect location for this. How can we not be successful with everything these people have offered?"