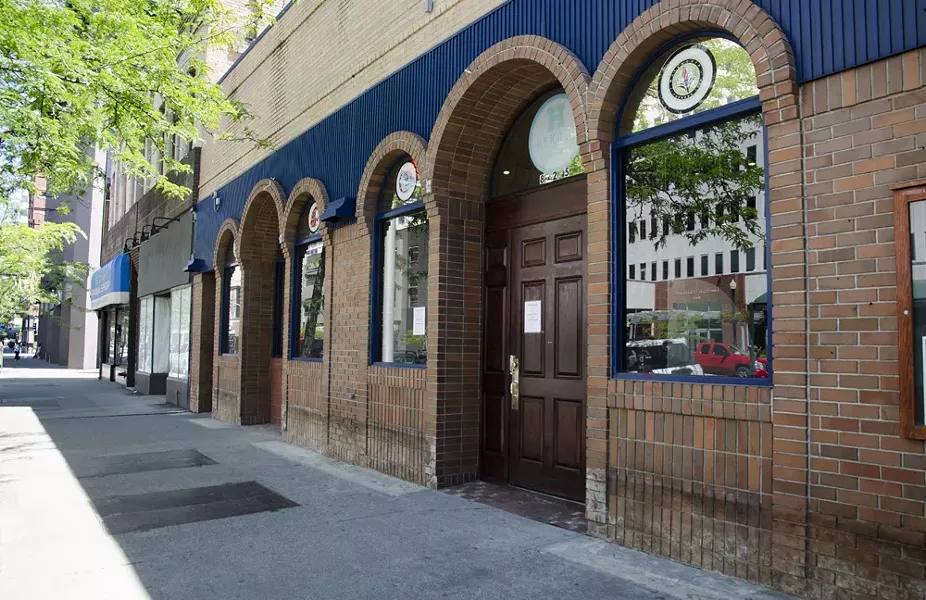 Lisa Waananen Jones
24 Taps has its liquor applications posted and will be opening soon in the former Sergio's spot.
Well, everyone, I'm sorry to say this is the final Food Blotter post I'll be writing. And I was going to let it fade out quietly, but there's just too much happening. So here's a special Tuesday edition with lots that we've fallen behind on — and even more to look forward to.
Cork House, a new upscale eclectic restaurant, is now open at the former Barlows location in Liberty Lake. (Barlows moved to a new building in January.) The executive chef is Brian Hutchins, formerly of Clover. Read more about it in last week's Entree newsletter — and seriously, if you like this kind of food news, it's a really good idea to just subscribe to the newsletter.
A new bar and music venue in Coeur d'Alene, the Rocker Room, opened in mid-June just in time for the beginning of Coeur d'Alene's event-filled summer.
Lisa Waananen Jones
Agave Latin Bistro is closed; Burger Lab is coming soon.
Agave Latin Bistro has permanently closed at its downtown location at Sprague and Lincoln, and in its place is coming Burger Lab. It's owned by an all-star designer-builder-restauranteur team and, like Nudo and Fire Artisan Pizza farther down the block, will be a project of design firm HDG. The former Wojo Works space on that same block is also likely to become a cafe or eatery of some sort.
Love @ First Bite had its final day at the old bakery last Thursday, and will be reopening in a new space farther down Sprague.
Love @ First Bite
Work in progress at the new space for Love @ First Bite bakery.
Uncle Leroy's BBQ, previously a tenant at the now-shuttered Spokane Public Market, is opening at a little spot in the Valley where they will also host a market.
Veraci Pizza, the last restaurant of the Kendall Yards restaurants under construction this year, now has its sign up and getting very close to opening.
Tinbender Craft Distillery, located in the back of the former Spokane Public Market building, is getting closer to opening after a big repaving project.
Soulful Soups and Spirits, the downtown soup-by-day, bar-by-night spot, has reopened after a week of renovations.
As we've mentioned, Java on Sherman in Coeur d'Alene moved to a new location farther down Sherman earlier this year. Starting in August, look for a quick turnaround on a big renovation at the old space, which will be reopening as a coffee shop of a different style.
Others getting closer to opening are Ruins, the new dinner restaurant from the Stella's team; Station House Pizza in Hillyard; Black Label Brewing Company and the other businesses at Saranac Commons; Tamarack Public House downtown on Sprague; and 24 Taps, a reincarnation of the Heroes and Legends sports bar in the downtown space that was most recently Sergio's.
One Tree Hard Cider is now distributing around town — locations where you might find it on tap so far include Jones Radiator, Manito Tap House, Waddell's and Press.
Big Barn Brewing Company, based at the Bodacious Berries, Fruits and Brews farm on Green Bluff, is also distributing around town now.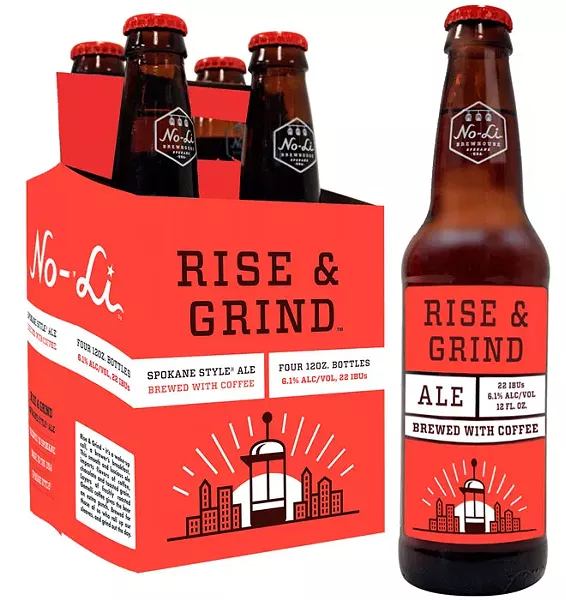 No-Li is releasing a new brew in four-packs later this month: Rise & Grind, a dark ale roasted with Gemelli coffee.
A few anniversaries… This Saturday, July 12, Selkirk Abbey is celebrating its second anniversary with music and special beers. Madeleine's, which is moving to a new home a few blocks east later this year, celebrated seven years at the end of June. And Nu Home Brew celebrated one year on July 1, with an anniversary party in the works for early August.
We recently featured the list of new sidewalk cafes approved this year. In other outdoor drinking news, city leaders in Spokane and Seattle are asking the state Liquor Control to let cities have more control over rules for patio drinking. The specific issue? State law requires a 42-inch fence or barrier enclosing all outdoor drinking spaces, which isn't possible for some businesses. And Spokane officials are feeling friendlier toward letting people drink in the streets — they're doing a pilot program allowing beer gardens for some special events and festivals held on city roadways.
FiveThirtyEight, an otherwise respectable and statistically sound news source, is devoting a strange amount of resources to a national burrito bracket. But they put Joel's Mexican Restaurant in Sandpoint in the running, so that's exciting.
If you haven't seen the potato salad Kickstarter campaign that's making national news, here it is.
Read previous food news here. Find food events here. Sign up for the Entree newsletter here.