Though the summer months aren't typically known as a busy time for local theater groups, the next few weeks are packed full of stage shows across the Inland Northwest. Several new performances open tonight, and even into next week with the arrival of Broadway's touring production of The Book of Mormon at the INB Performing Arts Center, opening next Tuesday. May other local performances are continuing their runs for a few more weeks before the fall season starts.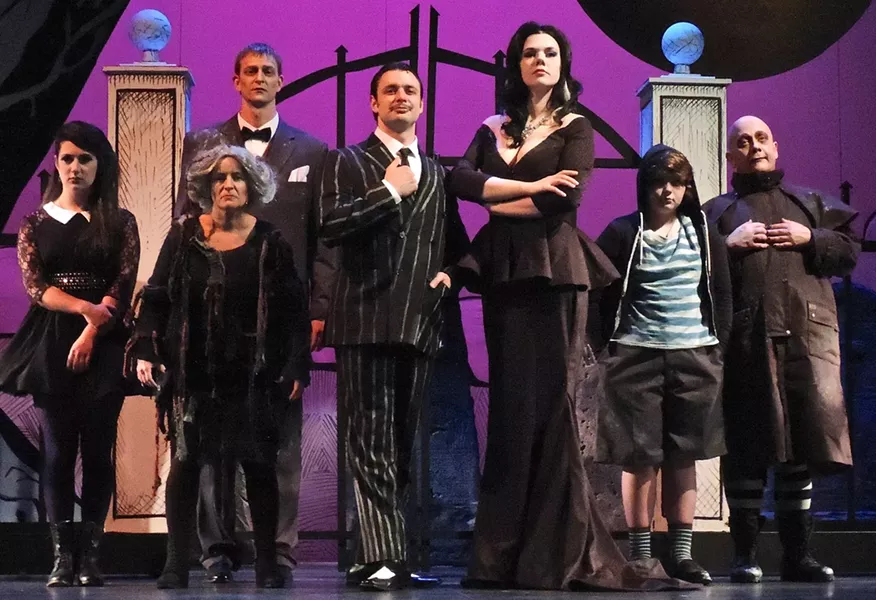 Courtesy of CDA Summer Theatre
Cast of The Addams Family musical.
THE ADDAMS FAMILY | Coeur d'Alene Summer Theatre brings this new musical to life for this first time in this region, starting tonight. Opening weekend student rush tickets are also available for $10 with proof of school ID.
Aug. 7-24 • Thur-Sat at 7:30 pm, Sat-Sun at 2 pm • $27-$49 • Kroc Center, 1765 W. Golf Course Rd.
LEGALLY BLONDE | Beginning tomorrow night, a cast of young, local actors in grades 7-12 tell the story of Elle Woods, a blonde fashion-focused sorority girl who decides to attends Harvard Law. Opens Friday.
Aug. 8-17 • Wed-Sat at 7:30, Sun at 2 pm • $10-$19 • Spokane Civic Theatre, 1020 N. Howard • spokanecivictheatre.com
EVIL DEAD: THE MUSICAL | A group of college students spend a weekend at an abandoned cabin in this one-night-only rock musical based on the Evil Dead horror films. This production lets audience members get close to the action with "splatter zones" in the front rows.
Sat, Aug. 9 • Showing at 6 pm and 9:15 pm • $29-$34 • Riverside Place, 1108 W. Riverside • evildeadtour.com/spokane
SINGIN' IN THE RAIN | Christian Youth Theater - Spokane's stage adaptation of the classic film depicts actors discovering the ways their lives will change as silent films fade to cinema with sound.
Through Aug. 9 • Fri-Sat at 7 pm, Sat at 2 pm • $13-$14 • Bing Crosby Theater, 901 W. Sprague • bingcrosbytheater.com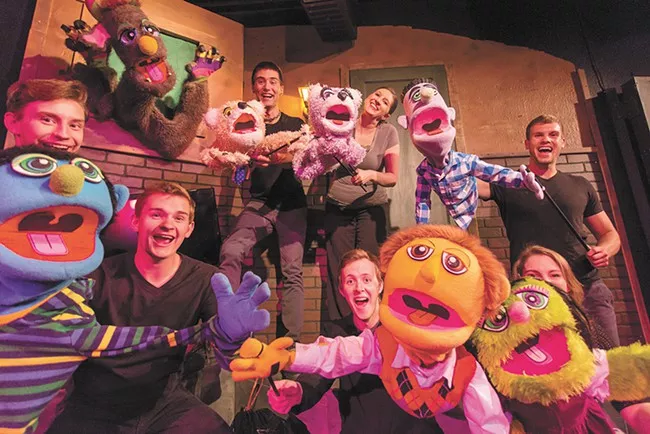 Matt Weigand
Cast of Avenue Q
AVENUE Q | Sesame Street-style puppets and adulthood meet in this hilarious musical. The themes in this show may not be appropriate for young children.
Through Aug. 9 • Thur-Sat at 7:30 pm, Sun at 2 pm • $14-$20 • Lake City Playhouse, 1320 E. Garden Ave. • lakecityplayhouse.org
THE ODD COUPLE | Two opposite personalities attempt to coexist as roommates in this one-time staged reading by Coeur d'Alene Summer Theatre.
Wed, Aug. 13 • 7:30 pm • $25 • Kroc Center, 1765 W. Golf Course Rd. • cdasummertheatre.com
A MIDSUMMER NIGHT'S DREAM | Fairies, lovers and a play within a play in this Shakespeare classic remind us that the course of true love, and life, never did run smoothly.
Through Aug. 17 • Wed-Sun, show times vary • $12-$28 • Interplayers Theater, 174 S. Howard • interplayerstheatre.org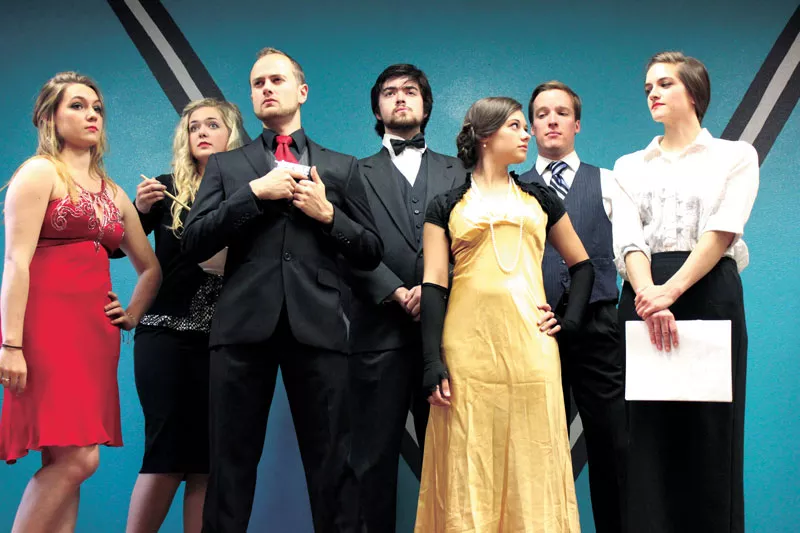 Courtesy of CdA Murder Mystery Theatre
Cast members from CdA Murder Mystery Theatre.
COEUR D'ALENE MURDER MYSTERY THEATRE | There are still two evenings of mystery left in this summer series. Each show has a limit of 50 people, so reserve your spot in advance.
"Mafia Murders" on Aug. 15 and "A Taste for Wine and Murder" on Aug. 22 • $30-$35 • Coeur d'Alene Cellars • 3890 N Schreiber Way, Coeur d'Alene • cdacellars.com
THE EMPIRE SINGS FLAT | A heroic hand model attempts to save the princess from the dastardly Dorf Vader in this original, locally-written, Western-themed melodrama.
Through Aug. 24 • Wed-Sat at 7 pm, Sun at 2 pm • $16-$18 • Sixth Street Theater, 212 Sixth St., Wallace • sixthstreetmelodrama.com
THE BOOK OF MORMON | Written by the creators of South Park — Trey Parker and Matt Stone — this nine-time Tony award winning musical has seen great success since it opened on Broadway in 2011. Its music was also co-written with one of the composers and lyricists of Avenue Q, Robert Lopez.
Aug. 12-17 • Showtimes vary • $45-$155 • INB Performing Arts Center, 334 W. Spokane Falls Blvd. • bestofbroadwayspokane.com