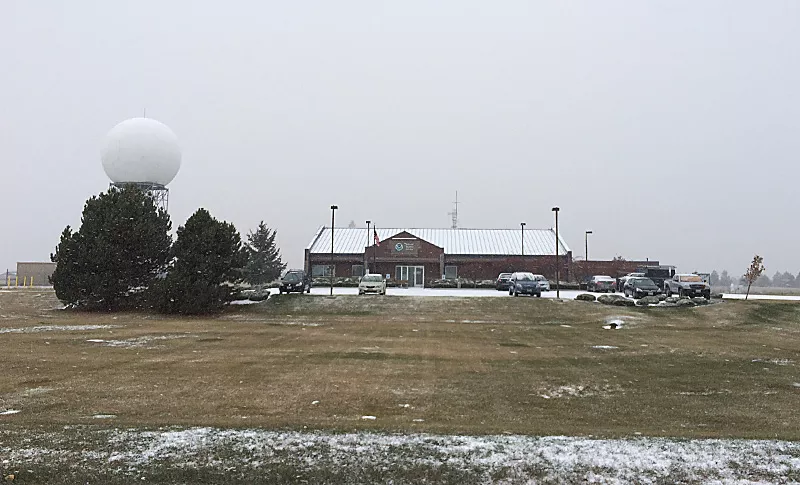 Jacob Jones
A first dusting of snow falls on the National Weather Service station west of Spokane this morning.
OUTLANDER serves as a weekly round up of Inland Northwest outdoor recreation and natural resources news. This feature will highlight a wide variety of issues and events, ranging from camping stories to national environmental disputes. We'll also try to include some scenic photos. Feel free to pass along suggestions or curiosities that celebrate the Great Outdoors.
—
Just a week short of Thanksgiving, Spokane finally gets its first dusting of snow for the season. Check out Snowlander for information on local ski resorts and other inspiration for making the most of it.
In related news, the state parks commission this morning approved a ski area expansion at Mt. Spokane that drew sharp opposition from local conservationists. (KHQ) Who spoke against it last night. (KXLY)
A couple of film showings celebrate the awe-inspiring outdoors, with acclaimed "Valley Uprising" showing tonight and Banff Film Festival selections showing this weekend. (Inlander)
Also, some quick tips for getting your skis in shape for the season. (Outside)
And advice for snowshoeing like a pro. (Backpacker)
Moving on from winter sports, wildlife officials ask for misdemeanor charges in the killing of a wolf in Whitman County. (NWSportsman)
If you're missing summer angling, check out this travel feature on Spokane's rewarding urban flyfishing. (NW Flyfishing)
Renovation work will make the popular Tubbs Hill trail wheelchair accessible. (SR)
Check out a new recreation plan for the Snoqualmie Pass area and offer feedback by Dec. 19. (DNR)
Washington-based research shows stormwater can kill salmon in a matter of hours. (AP)
So maybe consider going out to clean up along the Spokane River this Saturday with Gonzaga. (Riverkeeper)
A new investigation also shows how Boeing has opposed clean up efforts in Washington's Duwamish River. (INVW)
The state Attorney General's Office plans to sue the Hanford Nuclear Reservation to bolster worker safety protections. (AGO)
Meanwhile environmental groups have sued to protect habitat for the lynx, which includes portions of Northeast Washington. (Conservation Northwest)
Montana researchers looking for a better understanding of how hunters and bears interact. (Billings Gazette)
Researchers and video effects provide vivid explanation of how herds move across protected wilderness in Wyoming. (Biodiversity Institute)
The U.S. Senate rejected a bill to build the controversial Keystone XL pipeline this week by a single vote. (CNN)
But India's coal rush could tip climate change. (NYT)
Just as NOAA confirms this year has seen five record warm months. (AP)
And industrial pollution is turning Canadian lakes into jelly. So we can look forward to that. (WaPost)