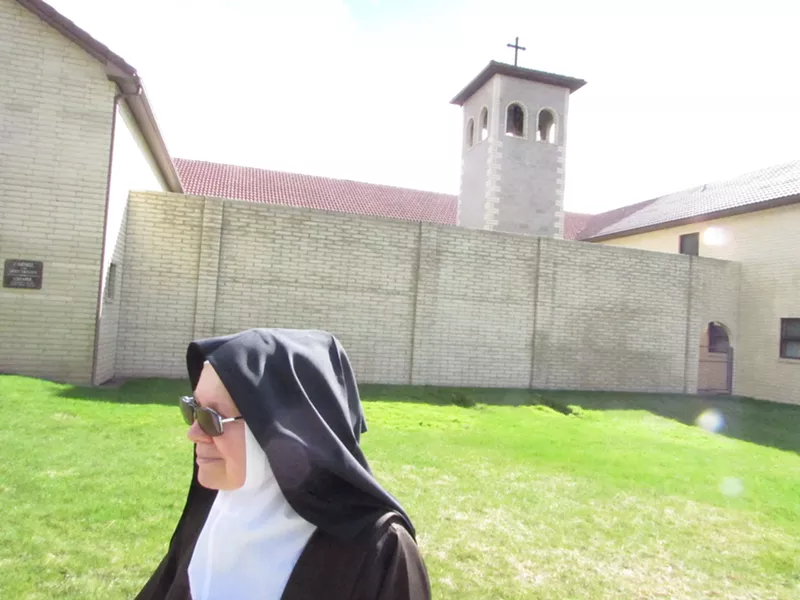 Daniel Walters Photo
Sister Marie Joseph says she spent 28 years, seven months and seven days cloistered in this monastery and one in Belgium. After leaving for health reasons, she is no longer cloistered.
We
have a story this week
about the Carmel of the Holy Trinity, a Spokane Valley community of intensely isolated nuns. They fear that a proposed housing development at the former Painted Hills Golf Course, directly behind them, would hurt their life of privacy and silence. The multi-family apartment complex outlined in the preliminary plans, they worry, could put give apartment tenants views of the nuns while they're outside, praying or gardening on the walled grounds. Not to mention the noise and hubbub associated with more next-door neighbors.
So, on an electronic typewriter, they wrote this letter: It's signed by the corporate president, Mother Patricia Haynos, and Mother Sarah-Jane Hutchinson (referred to by her religious name, Mother Marie of Jesus Hostia, in the story.) Since the nuns themselves can't ever exit the monastery, the letter was hand-delivered delivered by Father Scott Graves to the Spokane Valley Comprehensive Plan meeting.
Carmel of the Holy Trinity letter