Though Spokane is nowhere near the level of urban gentrification happening at the moment in its larger, Pacific Northwest siblings Portland and Seattle, we've all taken notice of the changes in our downtown core and the surrounding neighborhoods. Besides the obvious impact on the region's economic health, urban development like the projects featured here are making the Lilac City a more desirable place to live, work and visit.
To highlight many of these changes, the Inlander went out to capture the "after" images of several Spokane buildings and sites that have been developed, renovated or restored in the past decade. Using Google Street View's historical image feature, we grabbed the "before" images of these sites to offer a side-by-side comparison. This project isn't comprehensive yet, and unquestionably may become an ongoing, occasional feature on the blog. We're open to suggestions readers have of other recently changed places in their neighborhoods; send them to cheys@inlander.com.

Kendall Yards

Remember when the Yards was just an empty stretch of nothing? We sure do, as the Inlander was one of the first to move in to the new downtown neighborhood, back in the summer of 2013, on the north bank of the Spokane River. With a front seat to all the change here since, we've seen tons of housing added, the construction of the new Centennial Trail connection to downtown and around a dozen or so other local businesses and restaurants moved in and joined us.
Google
Above: Before the Kendall Yards development sprung out of the old railroad yard grounds, in September 2011, it looked like this.
Chey Scott
Today, the entrance to Kendall Yards at Monroe and Summit Parkway looks like this, but more changes are soon to come, including a traffic light.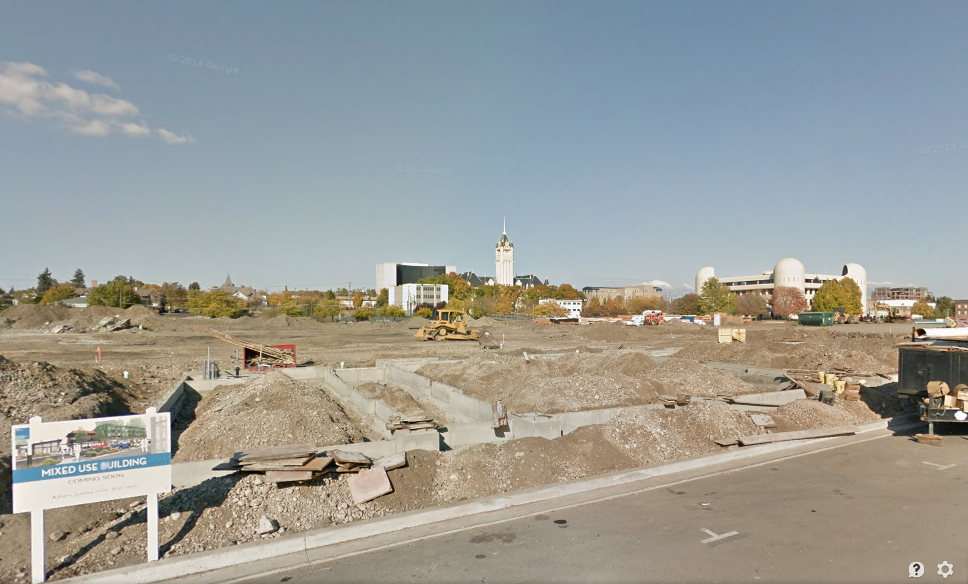 Google
Above: In October 2013, this was the view outside the Inlander's front door on Summit Parkway.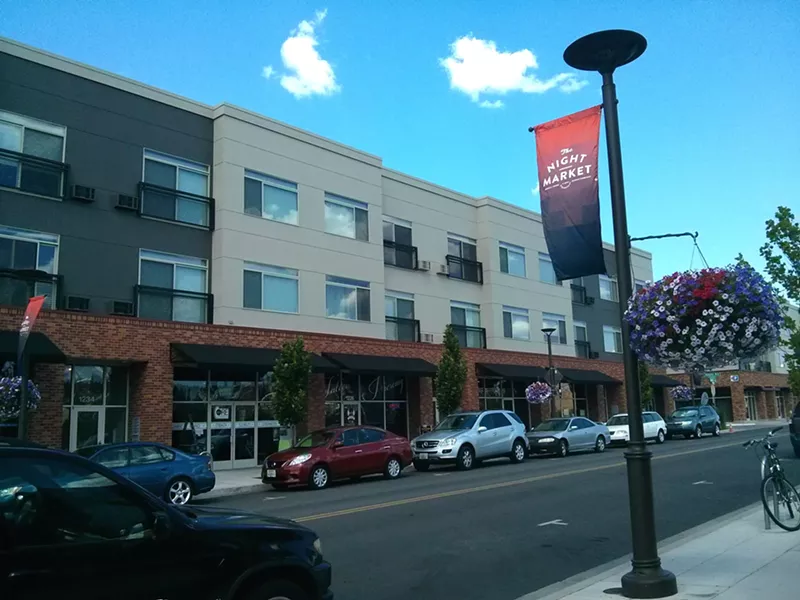 Chey Scott
This is the view we see today, and Kendall Yards isn't done growing yet.
Batch Bakeshop
Just a bit north of the Kendall Yards core, the historically troubled West Central neighborhood is seeing some promising revitalization, too. While not quite the definition of gentrification just yet, the neighborhood has already begun to benefit from the arrival of its southern neighbor, Kendall Yards. Last fall, local baker Mika Maloney debuted her storefront for Batch Bakeshop, which had been a vendor at the South Perry Farmers Market since 2011. The quaint shop now has a home — a formerly vacant, early 1900s building at 2023 W. Dean — that absolutely oozes character, charm and delicious aromas.
Google
Above: The most recent view of Batch Bakeshop's home is from August 2007.
Young Kwak
Batch's revitalized, historic storefront is a charming addition to the West Central neighborhood.
The Davenport Grand

Set to open its doors this week, and just in time for Hoopfest next weekend, the newest, towering addition to downtown Spokane's skyline has been a contentious project, but one that at the end of the day will serve as a haven for thousands of visitors to our fair city. Construction on the hotel began in fall 2013, and for nearly two years we've watched this pre-fab behemoth rise from its parking lot birthing ground.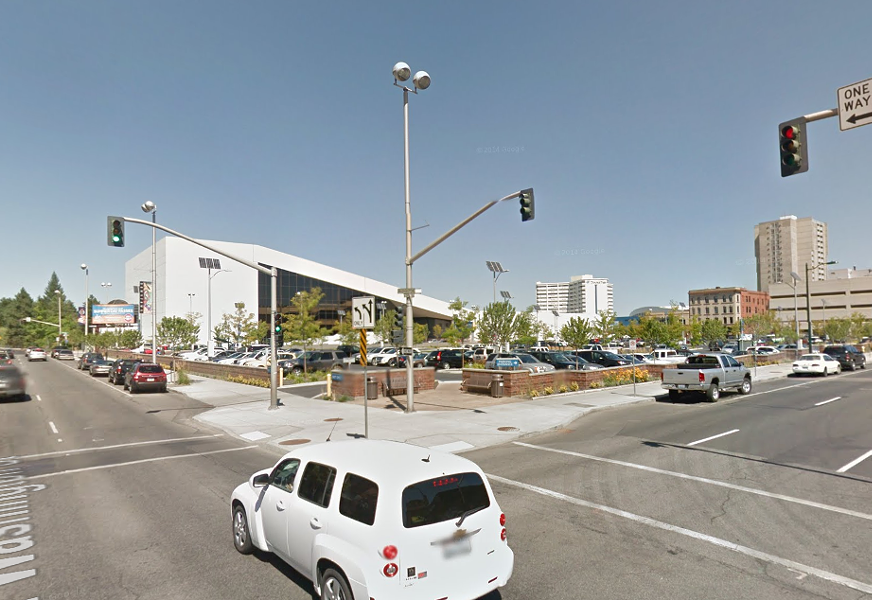 Google
Above: The view of the Davenport Grand site back in August 2011, looking north toward the INB Performing Arts Center, from the intersection of Main and Washington.
Chey Scott
The same viewpoint as of early June 2015.
Google
Above: Construction on the Davenport Grand began back in October 2013. This view shows the northwest corner of the hotel block from Washington and Spokane Falls Blvd.
Chey Scott
The view from that corner now, captured a few weeks before the hotel's grand opening in June 2015.
West Main Avenue

Arguably in no small part thanks to the nearby construction of Walt Worthy's new mega hotel, several stretches along West Main have seen immense change in the past decade, and even more so in the past couple years. The block of Main between Browne and Division (nicknamed, we've heard, "Little Portland") is now home to the new Saranac Commons, and many other charming, local businesses that have made the area a destination for food, nightlife and shopping.
To the west, in the block between Washington and Stevens, the historic building at 415 W. Main that for decades housed Dutch's pawn shop, is now home to Durkin's Liquor Bar and, next door, Madeleine's Cafe & Patisserie. Adjacent to Durkin's is now Wollnick's, which relocated from the South Perry District in January. Also, earlier this year, Jaazz Salon moved a few blocks north from its longtime home in the Legion Building to the former Huppin's store spot, just on the west side of Wollnick's.
One block west of all these new additions to West Main, a local property owner has been working to revitalize the historic Bennett Block. The street level of the block's corner, brick building has only added one tenant so far, a second location of Indaba Coffee, but now that the project is mostly complete we can only guess more businesses will soon be on the way.
Google
Above: Dutch's closed back in October 2013, around the time this street view image was captured.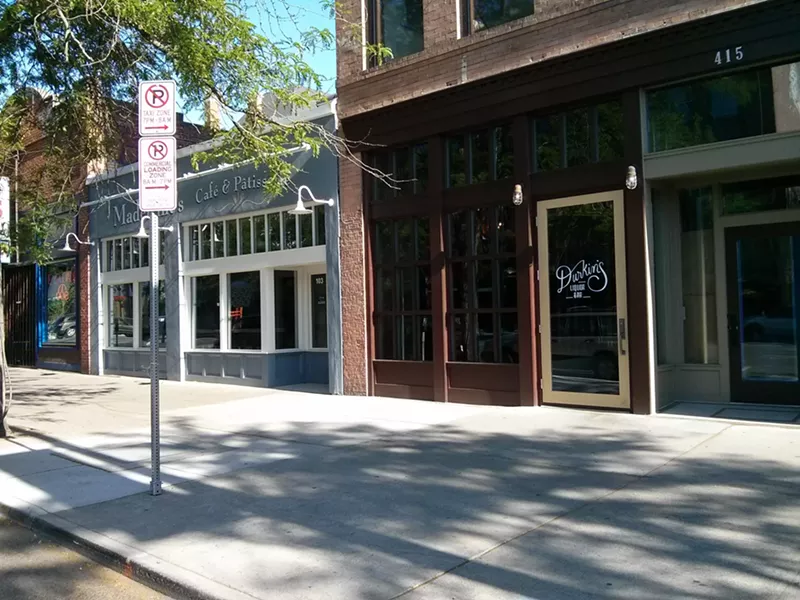 Chey Scott
Today, Dutch's former spot has been taken over by two, family-owned local businesses, Madeleine's and Durkin's, the latter of which is named after early Spokane booze purveyor/bootlegger Jimmy Durkin.
Google
One block west of Dutch's old site is the recently revitalized Bennett Block, between Howard and Stevens. The building housing Cyrus O'Leary's (far right) restaurant was demolished in the fall of 2012. This image was captured in August 2011.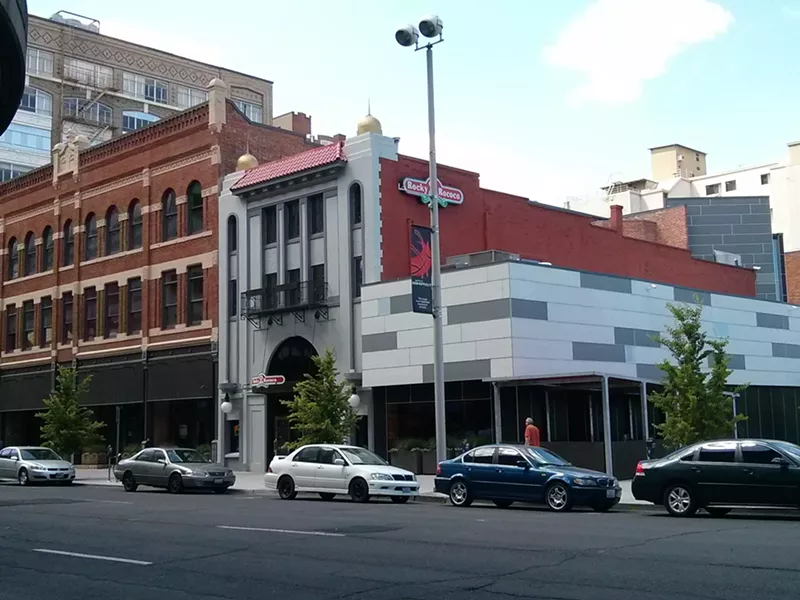 Chey Scott
Today, the Rocky Rococo restaurant has a new facade, and expanded into part of what was Cyrus O'Leary's with a new banquet room and patio.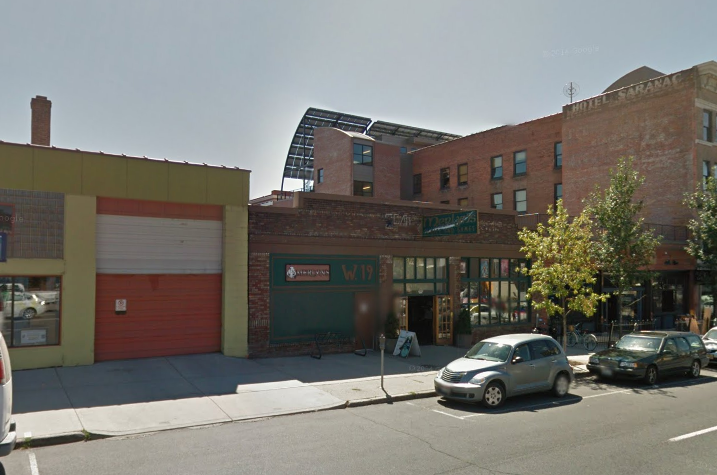 Google
In August 2011, Merlyn's was located where Saranac Commons is now, but the comic book and game shop has since moved two doors east, and recently celebrated its 30th year in business.
Chey Scott
The new Saranac Commons celebrated its grand opening in early June. The market-like space is home to Common Crumb bakery, Black Label Brewing Co., Caffe Affogato, Mediterrano and Sun People Bed & Bath Co.
The University District
A lot has changed in and around downtown Spokane's University District, home to the WSU Spokane campus and EWU's downtown campus, as well as programs through Whitworth University. One of the largest recent projects, aside from the new WSU Health Sciences building completed last fall, is a prominent development that's seen daily by many — the new U-District entrance at Division and Martin Luther King Jr. Way. Many of us remember when the intersection was a dilapidated eyesore, but that's since been replaced by a pleasantly landscaped gateway to the U-District, which can only continue on its growth trajectory with the planned WSU Med School to come.
Google
Above: Back in July 2007, years before work began to extend Riverside east of Division to create access to the U-District area.
Chey Scott
The lushly planted intersection is a far cry from the vacant warehouse once dominating the view.
Stay tuned for the next installment of this "then-and-now" feature, since we've realized there are way too many projects on our list to fit them into one blog entry!