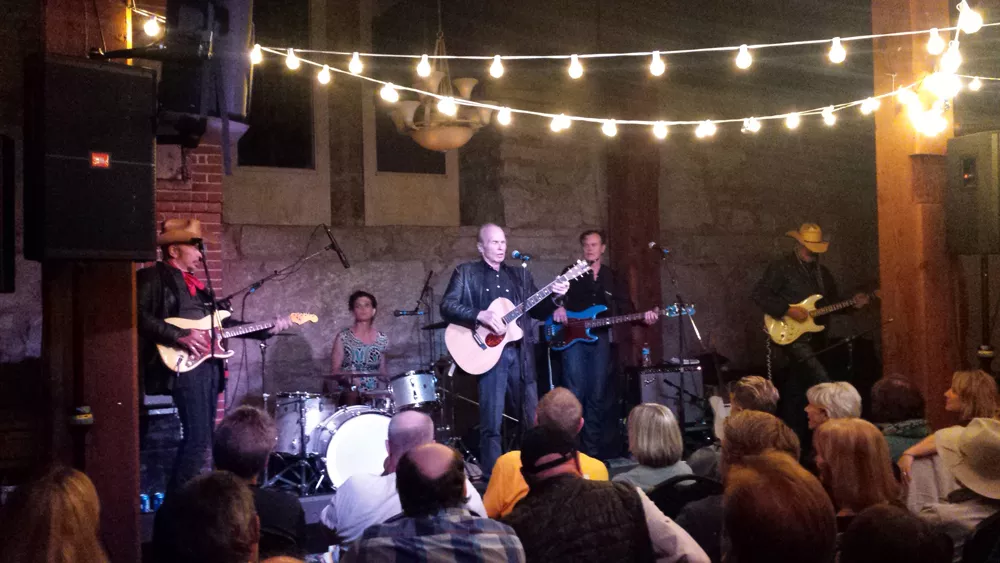 Dan Nailen
Dave Alvin, left, and Phil Alvin led the Guilty Ones through a two-hour set Wednesday at Chateau Rive.
It took just a verse or two of "All By Myself" for brothers
Dave and Phil Alvin
to lock in with their backing band the Guilty Ones at Chateau Rive Wednesday night, kicking off a night of killer rock and blues from two legends in American roots music.
That tune is an old one by Big Bill Broonzy, a prolific bluesman who the brothers got into as high school kids, back before they took their band The Blasters to some fame and little fortune in the early '80s, and way before professionally and personally splitting and going their separate ways. A health scare for Phil a couple years ago helped bring the Alvins back together to record for the first time since the Blasters' years, and the resulting 2014 album
Common Ground
was an homage packed with nothing but Big Bill Broonzy tunes.
It was fitting, then, that "All By Myself" and another Broonzy tune, "I Feel So Good," launched the boys' Spokane visit just days after the release of another new collaboration,
Lost Time
, on which they delve into a few more old blues, soul and rock acts to create an album that is both history lesson and a shockingly lively reminder of both Phil Alvin's distinct voice and Dave Alvin's incredible guitar playing.
That voice and that guitar were on full display Wednesday, as Phil's voice filled the cavernous-but-warm Flour Mill basement and Dave's chiming guitar solos got random members of the mostly seated crowd to jump up and cheer at various points throughout the night, and between nearly every song. Some folks were moved enough to ditch their seats and fill the surrounding areas to dance as the band worked through nearly 20 songs over the course of two hours.
"Mr. Kicks" and "World's In a Bad Condition" introduced the crowd to the first two songs on
Lost Time
, and they were both highlights among a night full of excellent performances. "Southern Flood Blues," another Broonzy cut, inspired Phil to break out his harmonica for the first time, for some furious blasts as little brother Dave took over lead vocals for the first time.
Dave did most of the talking between tunes, allowing Phil to rest his voice as Dave regaled the crowd with information about the artists the band was covering, or the inspiration for some of the original tunes they recorded with The Blasters or Dave has done during his solo career. At one point, Dave halted the start of "Cherry Red Blues" to get the song just right. "I only play Spokane about once every decade, and I'm not going to bed tonight knowing I botched the intro to this song!" he said, and the crowd cheered his new-and-improved second effort.
Many of the older folks in the crowd were clearly Blasters fans, offering their most audible cheers when the band launched into "Border Radio" and "American Music." Another major highlight was Dave's take on "Rattlesnakin Daddy" that included guitar asides into Frank Sinatra's "Fly Me to the Moon" and "My Favorite Things" from
The Sound of Music
. And the show-closing monster jam of the Blasters' "Marie, Marie" was unforgettable, complete with a mid-song segue into the Bobby Bland tune made famous by the Grateful Dead, "Turn On Your Lovelight."
There was a lot of energy on the Chateau Rive stage, with the 59-year-old Dave and 62-year-old Phil leading the way, and even the sitters in the audience were clearly engaged and stoked at the proceedings. If shows like the one Spokane got Wednesday is the Alvins' way of making up for lost time, I'll take it.
Dan Nailen
Dave Alvin, left, and his brother Phil just released Lost Time, their second album in two years after a 30-year split.