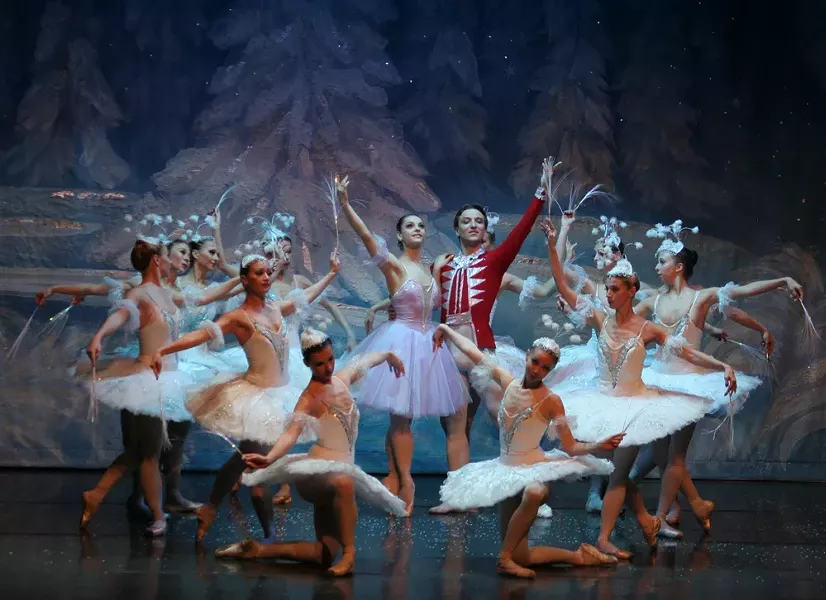 The Moscow Ballet's Great Russian Nutcracker comes to town this week.
No doubt you have a heavy dose of family time coming your way this week, but that doesn't mean you have to stay at home through Thanksgiving week. Check out our
event listings
and
Staff Picks
for options for either entertaining visitors — or escaping them.
Here are some highlights of the week ahead:
Monday, Nov. 23
PERFORMANCE ARTS | You have a lot of Nutcracker productions to consider each holiday season, but you can't go wrong with the
Moscow Ballet's Great Russian Nutcracker
, which combines incredible dance with puppetry and ornate sets. It's happening Monday night at the INB Performing Arts Center.
Tuesday, Nov. 24
LIVE BANDS | Greek "chillwave" purveyors
Keep Shelly in Athens
is currently on their largest North American tour to date, and stop at The Bartlett Tuesday. The group has a history in Washington, as their original three tracks were featured on Seattle radio station KEXP in the summer of 2010. Their sophomore release,
Now I'm Ready
, came out last month. Here's a taste of their sound:
Wednesday., Nov. 25
SPORTS & OUTDOORS | The night before Thanksgiving is always a rager, with folks gathering as they arrive in town for visits, and everyone (hopefully) having the next day off from work. Avoid the bars or pregame at the
Spokane Chiefs game
against the Vancouver Giants, starting at 7 pm at the Spokane Arena.
Thursday, Nov. 26
SPORTS & OUTDOORS | Start working off the bird and fixins a little early with the
Turkey Trot
, a Thanksgiving morning fundraiser for Second Harvest Food Bank, with three different races to run.
Friday, Nov. 27
THEATER | It's Thanksgiving! Consider a trip to the Spokane Civic Theater for the holiday classic
White Christmas
. After a two-year hiatus from this beloved holiday show, the Civic is dusting off the scripts and costumes for its third revival of Irving Berlin's old favorite.
LIVE BANDS | Banging your head seems a pretty good way to start working off those Thanksgiving calories, so perhaps you should hit the
All That Remains
show at the Knitting Factory Friday night. Devour the Day, Sons of Texas and Audiotopsy are also on the bill. Here's a taste of All That Remains:
COMMUNITY | A great way to get some shopping done away from the malls, and support a good cause at the same time? Try the
Festival of Fair Trade
at the Community Building, starting Friday and running through the weekend. the vent features sweatshop-free handcrafts, clothing, jewelry and pottery from Nepal, Mexico, Chile, Guatemala and other far corners of the world.
SPORTS & OUTDOORS | You don't want to miss the
Apple Cup
, this year in Seattle, when the streaking WSU Cougars take on UW at 12:30 pm Friday. The game will be on Fox, and every screen in every bar in town.
Saturday, Nov. 28
COMEDY | Settle into your seat at the Bing, and get ready to watch an '80s sci-fi classic,
The Terminator
. But this won't be like the million times you've watched the Governator do his thing on cable, because local comedians will be giving the movie the MST3K treatment. You'll laugh, you'll get scared by Arnold's accent and violent demeanor, then laugh some more.