Meg Maclean
The historic front page of the American Issue can be seen on a far wall in the Volstead.
It was a Monday night, so naturally a couple people in suits stopped by after work as I walked in with a camera and a notepad, not knowing what to expect. Bars can sometimes be too loud to enjoy the drink you just got from your overwhelmed bartender. As a college student, I am accustomed to two extremes of social outings: loud, rambunctious bars and quiet, chill coffee shops. It's hard to find a situation where these vibes cross paths. I found it at the
Volstead Act
.
<!—————EndFragment—————>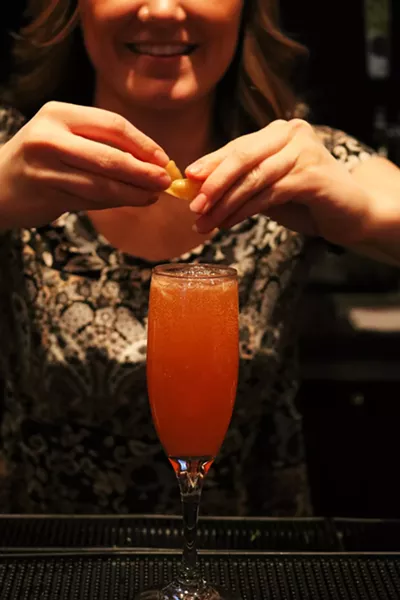 Meg Maclean
Get your Happy Hour fix and a little burst of vitamin C with the AP Squared cocktail.
The Volstead has been open since September of 2013, and is now one of Spokane's many craft cocktail bars. The venue is on the small side with a vast expanse of liquor on display. But with classic high bar stools and wooden tables with candles, it's versatile and strikes a balance between a quiet venue to have a drink after a long day, and a poppin' place for a couple friends to share a cocktail.
<!—————StartFragment—————>Named after and inspired by the 1919 Volstead Act, which lead to the 18th amendment prohibiting alcohol, the place is dedicated to recreating the lavish and hand-crafted cocktails that were popular during the Roaring 20s, but they give them a modern twist.
Their signature drink, according to the bartender, is an AP Squared (Aperol, orchard apricot liqueur, grapefruit, Champagne and grapefruit peel), made with hand-squeezed juices. That, or a Thyme's They Are 'A-Changin' (gin, yellow chartreuse, simple syrup, lemon juice, thyme, soda water and lemon peel). Sounds like a revamped Gin Rickey right out of the Great Gatsby era, doesn't it?
In addition to a wide selection of libations and crafted concoctions, the Volstead offers what one might consider "upscale" truffle popcorn to compliment whatever spirit you choose.
Volstead's Happy Hour runs every
Monday-Saturday, 3-7 pm, with $5 wells and house wines and $3 draft beers and bottles,
in addition to
$7 craft cocktails. I
t also extends late-night from
midnight-2am,
with
$3 domestic drafts, $4 Fireball and $5 wells.
And what else?
All day on Sundays.


To find other great Happy Hour deals and menus around the Inland Northwest, visit Inlander.com on your phone and download our Drinkspotter app, or click
here.