Paradiso tickets aren't quite sold out yet this year.

FRIDAY
Similar to the Electric Daisy Carnival that hit Las Vegas last weekend, the Gorge's
Paradiso
Festival can get scorching hot — temperature- and talent-wise. Artists/DJs like
Datsik, Chris Lorenzo and Bassnectar
are set to fill the amphitheater and surrounding stages this weekend with vivid light shows and a whole bunch of thumping and intoxicating electronic dance music (EDM). But mixed in with brutal sunshine, drug use and a culture that pushes people to dance and jump late into the night, the combination can be fatal — one 22-year-old died
last year
. The kids (the college-age concertgoers who make up most of the thousands) are all there to let loose, but to everyone headed that way this weekend, we say: Stay hydrated (filling up at the free water stations) and wear sunscreen, just like your mother would recommend.
Also starting Friday night:
Hoopfest
kicks off! Yes, Spokane's most exciting 3-on-3 basketball tournament isn't just
about sports
, expect a lot of pre-parties and parties after each day. Check here for full
calendar listings
, which are mostly more club- and DJ-oriented.
SATURDAY
This is the 19th time the Bartlett has hosted its The
Round series
, and this Saturday the musicians/artists featured include
Marshall McLean
(of Marshall McLean band)
David Hensrud
of Wind Hotel,
Andrew Liljenberg
, poet Danielle Estelle Ramsay and a live painter. The format is the same: three unaffiliated singer-songwriters play together on stage, while a slam poet also performs and a painter makes art. It's a lot going on, but it always ends up working harmoniously. Cost for the all-ages show is $5 now or $8 at the door.
The infamous rapper
Riff Raff
is back touting a brand new album at the Knitting Factory Saturday night! Check out our story preview right
here.

SUNDAY
Gygax
, a Ventura, California, crew playing the Observatory this Sunday, is a classic rock/heavy metal band that isn't afraid to write songs about their big passion for fantasy literature and role-playing games. Opening acts include
WORWS, Bandit Train and Tri Force
. The 21+ show starts at 8 pm and is $5.
TUESDAY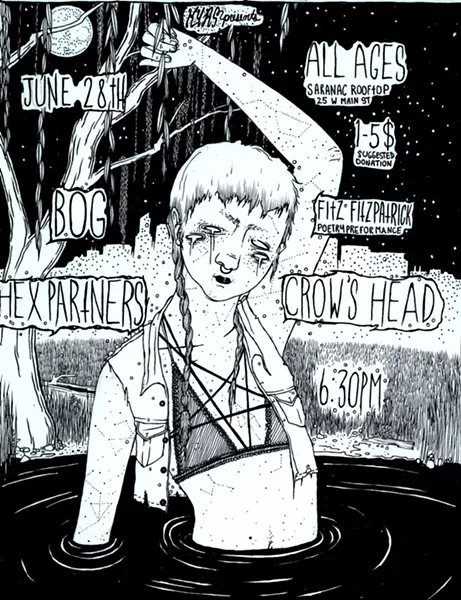 A word about the Tuesday show featured in our music calendar section this week: The band playing the KYRS rooftop show is in fact the bluegrass/ doom metal band Bog from Seattle, and not the more well-known metal band BOG from Vancouver, B.C. as was printed in error. Check out Bog from Seattle's music below: