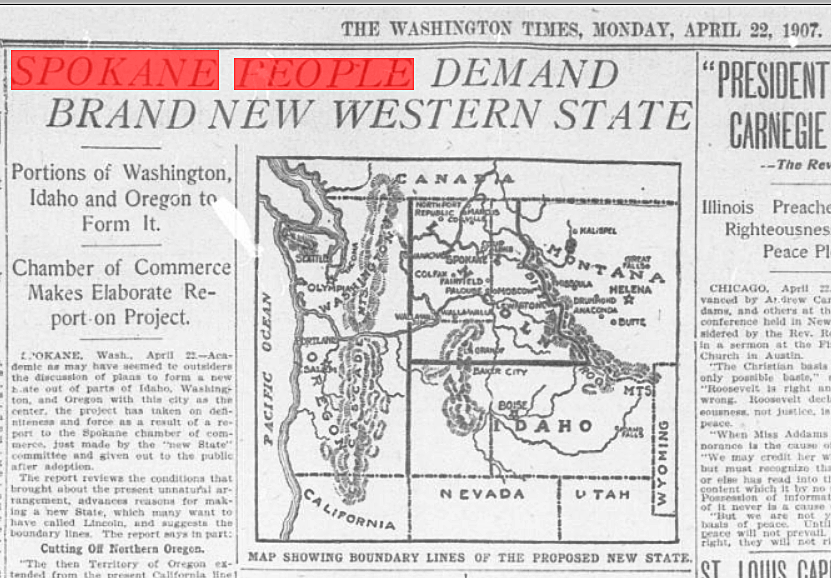 The Rep. Matt Shea proposal is not the first time some in Eastern Washington have wanted to become their own state.

ON INLANDER.COM
Dogg Day

Snoop "Snoop Dogg" Dogg is coming
to a weed shop
in Spokane, despite the rapper's famous opposition to marijuana and marijuana-related paraphernalia.

A Mountain of Value

Pay only $10 to ski at Schweitzer this Friday, to
help out
a few charities.
Bach This Way
Northwest Bach Festival's Zuill Bailey just got himself a Grammy nomination.
Just like Kanye
.
The Maple Glaze of Defeat

Why Donut Parade is
closing
.
HERE

Spokane Innovators

James Mitchell, a psychologist who used to have offices in Spokane, says now more than ever we should get all Jack Bauer on
our interrogation sessions
. (Buzzfeed)

Park Place

Riverfront Park is on track,
despite a tumultuous year
. (
Spokesman-Review
)

Nature of the State
Yeah, guys, Eastern Washington is not going to become a
new state
. (KXLY)
THERE
A Lie Can Travel Halfway Around the World and Shoot Up a Pizzeria Before the Truth Can Put its Pants On
How fake news led to
real gunfire
. (
Washington Post
)

When A Drug War Turns Into Drug Warcrimes
The brutal president of the Philippines leads a drug war that
becomes
a slaughter. (
New York Times
)

The First Taste Is Free
A tiny private college in Massachusetts
offers the first two years of college
for free
. (
The Atlantic
)