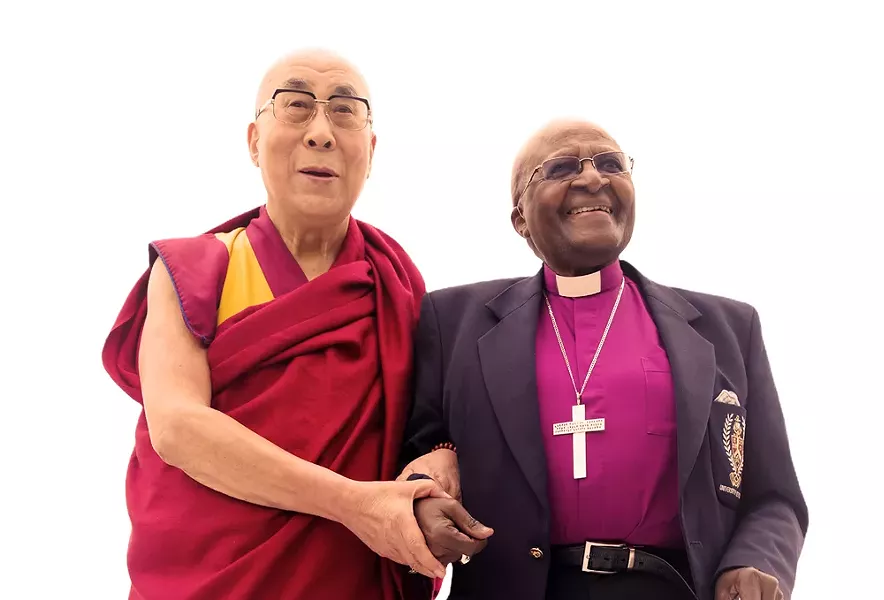 The Dalai Lama and Archbish0p Desmond Tutu are featured in a new book that might be the perfect last-minute gift you need.

Book of Joy
If you're still short of a gift for someone impossible to buy for, consider the
Book of Joy
. The book recounts the rendezvous of Archbishop Desmond Tutu and the Dalai Lama. From the silly to the sublime, the search for joy has made the book an Amazon No. 1 bestseller. Log on at the website to take the 30 day challenge — "micromissions" will be delivered to phones each day guide participants to find the "joy they desire."
Does Happy Make Healthy?
Researchers want to know why happiness seems to correlate with health. In April, a "
health and happiness" center
opened at Harvard. Noting that American medicine is primarily focussed on disease, the new center's mission is "to make discoveries that can inform personal behaviors, medical care, public health programs, and wide-ranging public policies not traditionally associated with health care and medicine but that can help people live longer, happier, and healthier lives."
Penalties for Infection
As part of a
Medicare emphasis aimed at decreasing hospital-acquired infections
, three area hospitals are scheduled to lose 1 percent of all Medicare payments for the fiscal year that started in October 2016 and runs through September 2017. "Each year, at least 2 million people become infected with bacteria that are resistant to antibiotics, including nearly a quarter million cases in hospitals. The Centers for Disease Control and Prevention estimates 23,000 people die from them," according to a December 21, 2016 Kaiser Health News story. Locally, Deaconess Medical Center, Providence Holy Family and Valley Hospital made the list of "
769 Hospitals Penalized for Patient Safety
."
Read more about hospital safety in
InHealth
's
Empowered Patient series
.