ON INLANDER.COM
Through wind and rain and snow
Friday brought winds
gusting up to 44 mph in the region,
and anyone up around 7 am this morning probably caught sight of the SNOW — yes, SNOW — that quickly turned to rain. The National Weather Service says it could get up to a high of 50 degrees today, and thunder/thunderstorms are possible.
I
N OTHER NEWS
States fight predatory student loans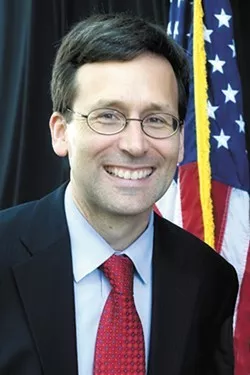 Washington State Attorney General Bob Ferguson is taking on Navient.
Washington state is fighting Navient, the student loan lender that split from Sallie Mae in 2014,
claiming that Sallie Mae made tons of private loans that were expected to default
in order to build better relationships with schools and receive more government-guaranteed loans,
The New York Times
reports. (
NYT
)
Before the big one
A Bothell company is
among the first in Washington to get access to a system that warns of earthquakes just before they happen
, and while it isn't ready for the public yet, firms along the West Coast are figuring out the best things to do in the seconds or minutes before a big quake,
The Seattle Times
reports. (
ST
)
Treating addiction in Montana
A 1970s Montana law that was designed to spread treatment centers for drug and alcohol abuse throughout the state by limiting them to one state-approved provider per area has had the unintended affect of limiting access for people in some areas, the
Billings Gazette
reports. That
law was recently changed, so more people should be able to get treatment close to home
starting this summer. (
Billings Gazette
)
Full-court press
Judge Neil Gorsuch took oaths to fill the ninth seat on the Supreme Court Monday
, more than a year after Antonin Scalia died, leaving a vacancy on the court. The U.S. Senate debated who should fill the seat for several months, stonewalling former President Barack Obama's nominee, judge Merrick Garland, and confirming Gorsuch, President Donald Trump's choice, last week. (
Washington Post
)