It's dark — after 8:30 pm in December — and two Spokane County Sheriff's deputies surround a house on North Five Mile Road, guns
drawn
. They're investigating a potential burglary.
The only problem is, they're snooping around the wrong house. They had been given the correct address, but they couldn't find the house and assumed the caller was mistaken.
Deputy Evan Logan walks around back and shines his lig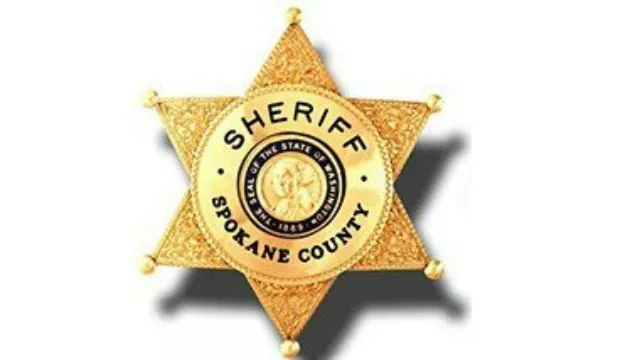 "You're lucky I didn't f—-in' shoot you," Spokane County Sheriff's Deputy Robert Brooke said to Connor Griffith-Guerrero, according to court documents. Brooke and another deputy had the wrong house.
ht through the windows. He checks the handle on the double French doors that lead into the basement. Unlocked.
Deputy Robert Brooke walks to the front of the house and shines his flashlight
into
the main floor "to see if he could see any evidence inside the home," according to court documents. He checks the front doorknob. Locked.
Meanwhile, Connor Griffith-Guerrero, the 22-year-old who lives in the house, is watching a movie on Netflix in the basement. He sees the deputies' flashlights and walks to the main floor to investigate. Griffith-Guerrero cracks open the front door, sees the deputy's gun and screams as he
slams
it shut, thinking the cop was actually a criminal.
"Open the door!" Brooke says. "Sheriff's Department!"
On hearing that the flashlights and guns are being held by police, Griffith-Guerrero opens the door. He's ordered out of his house and onto his knees. The deputies put him in handcuffs at gunpoint, according to court documents.
Eventually
they let him go when they see that the address on his ID matches the address of the house that they just pulled him out of.
"You're lucky I didn't f—-in' shoot you," Brooke says to Griffith-Guerrero, according to court documents.
Citizens minding their own business, in their own homes in other states haven't been quite as "lucky." A
61-year-old man in Tennessee was shot to death
when police raided the wrong house on some bad info from an informant.
Police in Georgia shot and killed
a 63-year-old man after being dispatched to the wrong house.
Cops in New York raided a home
in Brooklyn, arrested the family living there and posted their picture on Snapchat. "Merry Christmas Its [sic] NYPD," the caption read. And it took eight years for a
family in Colorado to win $1.6 million
after Denver police mistakenly raided their home, beat some of them and then charged them with assaulting the officers.
Griffith-Guerrero sued the deputies and Spokane County for violations of his constitutional rights. In court, he argued that the deputies violated the U.S. Constitution's protection against unlawful searches and seizures and alleged assault and negligence among other claims.
Ultimately, the case raises questions of the extent to which citizens can expect to be safe in their home from government intrusion and how far the definition of "home" extends.
Did the deputies have a right to walk onto private property, shine lights into the windows and peek inside without a warrant? Did they have the right to order Griffith-Guerrero out of his home, handcuff and detain him? How hard should they have looked for the right house, or tried to confirm with the man who called police in the first place?
U.S. District Judge Thomas O. Rice ruled in a summary judgment earlier this week that those questions
don't
even need to go to a jury. The deputies' actions were so obviously wrong, and virtually undisputed, that he largely ruled in favor of Griffith-Guerrero.
"This right would be of little practical value if the state's agents could stand in a
home's
porch or side garden and trawl for evidence with impunity," Rice writes in his ruling, citing another case from 1961. "The right to retreat would be significantly diminished if the police could enter a man's property to observe his repose from just outside the front window."
Here's how the mix-up started:
A man called 911 to report a "suspicious" vehicle in his neighbor's driveway. The vehicle was suspicious because the homeowner was in Arizona for the winter, the man told 911 dispatchers, according to court documents.
The vehicle left before deputies Logan and Brooke arrived. But when they did pull up, they confirmed with dispatch the address where the suspicious vehicle was parked. Problem was, they couldn't find the house. They assumed the caller was mistaken, and, seeing tire tracks in Griffith-Guerrero's driveway, silently surrounded his home.
They didn't bother to call the man who reported the suspicious
vehicle,
or knock on his door.
In court, the deputies argue that they have the right to peek inside your windows and jiggle your door handles under the "community caretaking" exception to a search warrant.
Spokane County Sheriff's Sgt. Richard Gere, in his deposition, says it's generally accepted as departmental practice for deputies to walk onto private property and peek in windows with guns drawn if they suspect a crime has been committed, even if they're looking inside a neighboring house.
Ultimately, Judge Rice rules that because the U.S. Supreme Court has not officially decided whether the "community caretaking" exception applies to peeking through windows, he cannot hold the deputies liable.
As for the arrest and excessive force, the deputies argue they have the right to order Griffith-Guerrero out of his home and detain him at gunpoint under rules established in the 1968 U.S. Supreme Court case
Terry v. Ohio
. Under those rules, officers can stop and frisk someone without probable cause to arrest, as long as they have "reasonable suspicion" to believe a crime has been committed.
But
Terry
stops do not apply to in-home arrests.
"Pointing guns at [Griffith-Guerrero], ordering him out of his home at night, and onto his knees in his own front yard to handcuff him was objectively unreasonable under the circumstances," Rice rules. "Without a warrant or some other exception to the warrant requirement, no level of suspicion could justify any use of force here."
The judge did not award a dollar amount, but Breean Beggs, one of the attorneys for Griffith-Guerrero, says he would be surprised if the deputies appeal.
"The decision just confirms your right to be secure in your house," Beggs says. "It firmly establishes that unless law enforcement has a warrant or some sort of emergency circumstance, they can't search or arrest you. We were surprised the deputies were arguing a different standard."