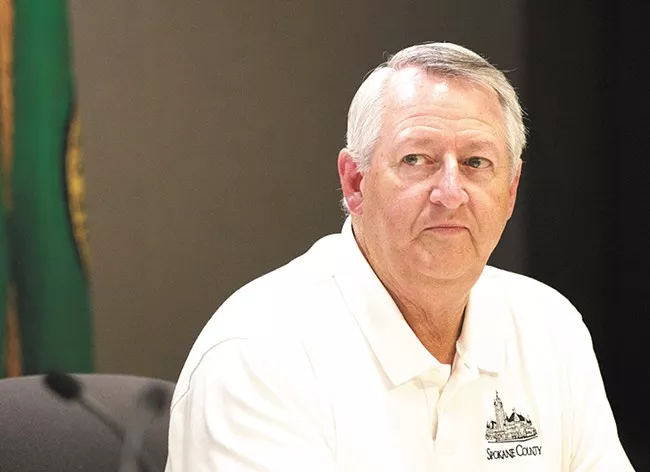 Al French: Warns of reduced county services.
Last week, with the county facing a $10 million budget shortfall, the Spokane County Board of Commissioners voted to send a proposition to voters that would allow for an increase in the property tax levy by more than 1 percent.
To be clear, the Republican commissioners say they don't necessarily support the idea to raise the tax rate beyond its current limit. But at the same time, they're warning of the consequences to county services if the initiative fails: layoffs for county employees, sacrifices to the criminal justice system, and reductions in maintenance to county parks.
"Without it passing, clearly, there is no element of the county structure that is not going to be under scrutiny," says Commissioner Al French.
Commissioners have said that revenue was not keeping up with costs to run the county for a while, due in large part to a lack of state funding, says French. This proposition represents an effort to add more revenue. Under state law, the county cannot raise the property tax levy by more than 1 percent. Yet the state law allows some slack to lift that cap, if approved by voters.
If the initiative is approved, the county's property tax levy could be raised by up to 25 cents per $1,000 of assessed value in 2018. That would represent up to an 18 percent increase. It would generate an additional $17 million per year for the county if the rate is raised that much, according to county communications director Jared Webley.
The proposition will appear on the November ballot. In the meantime, there are three major areas that the two remaining county commissioners, French and Josh Kerns, say is at stake. And at least in their comments to the
Inlander,
they make the situation sound bleak.
(Note: Shelly O'Quinn
officially resigned
as the third county commissioner this week.)
Criminal justice:
About three-quarters of the county general fund
is
spent on the criminal justice system, French says. So if the county can't afford to maintain services, then it's likely that reductions would be seen in that area.
That could mean a reduction in sheriff's deputies on the street, even as the sheriff's office hopes for the opposite. It could also result in a cap on the number of inmates in the Spokane County Jail, French says.
Kerns says that lifting the lid on the property tax levy could result in more deputies. But without the measure being approved, he's not optimistic.
"There wouldn't be a way to add deputies if this did not pass," Kerns says.
For French, lifting the lid on the property tax levy is not so much about adding anything, but about maintaining current services.
'This is really about maintaining what we have already," French says.
Employee layoffs or reductions in hours:
Just about every county office is open eight hours a day, five days a week. Without more money, "that could be cut back," French says.
And it could get worse.
"With this kind of financial condition, I wouldn't be surprised to see a significant number of the employee base being laid off," French says.
Park maintenance:
During the recession, French says the county had to cut back on maintaining parks. Many, he says, truly became "neighborhood parks" maintained by local residents.
"That was neighborhood parks. But the next step would be regional parks," French says.
He mentions
Plante's Ferry Park
, a regional sports complex complete with trails, a
shelter
and a playground, as an example of a park that may no longer be maintained by the county without a budget solution.
Again, Kerns — who
criticized opponents
for supporting tax increases on his way to winning the county commission seat — says that explaining what could be lost under the current budget does not mean he actually supports the tax increase.
"We've come to a fork in the road, and now we're going to ask the voters: Which direction do you want us to go?" Kerns says.
French frames it in the same way.
"This is a significant turning point for the county," French says. "We're just putting the facts to the public and saying 'What would you like us to do?' Tell us the level of service you want, and the level of service you want to pay for. We can live with a reduced revenue. The question is: can we live with reduced services?"