The annual holiday installment of Cat Friday is here, offering our picks for the most interesting, cute, useful and fun gift* ideas for the kitties and cat peeps in your life. Let's get right into it. (
Click here
for last year's still-relevant list!)
Pro tip: Don't sniff the bag when you treat your kitty to these.
Vital Essentials Freeze-Dried Minnows

I recently bought a bag of these nasty-looking little freeze-dried fishies for my sweet girl Dellie, and never have I ever seen my dear little fur-baby scarf up something so quickly, and with such fervor. After crunching down one of the smelly minnows, she immediately proceeded to look wild-eyed around the floor in front of her for more. I definitely plan to now keep a bag of these regularly stocked in her treat drawer, alongside her favorite flavor of Greenies (chicken), for special rewards (like post-claw trim) and treats. Remember, though, moderation is key with anything you feed your pet beyond their normal meal portions (I'd gag to find a regurgitated pile of scaly remains on the floor somewhere). Also, if minnows aren't your kitties' animal protein du jour, Vital Essentials offers
a full line
of freeze-dried, raw treats including chicken hearts and ahi tuna.
$4.99 • Prairie Dog Pet Mercantile • 1206 W. Summit Pkwy. and 5608 S. Regal • pdogpet.com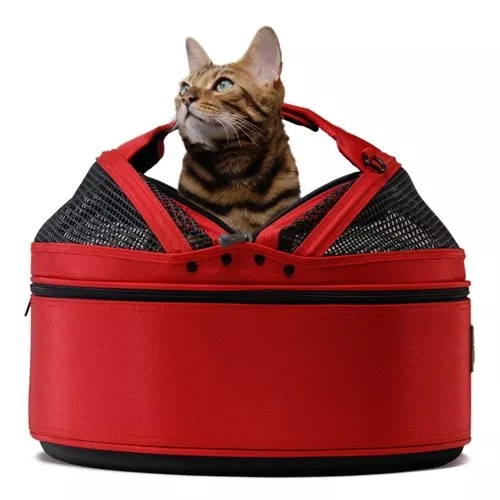 Sleepypods come in several colors, including this classy red.
Sleepypod Pet Bed and Carrier

This next item is an investment, but it can offer peace of mind for both pet parents and traveling pets. It's also another personal recommendation of mine, as my darling Dellie
hates
to leave the house inside the prison cell of a standard plastic pet crate so much so that she cries incessantly, and often soils herself due to the stress and fear. Since trips out of the house can't be entirely avoided, I decided to invest in the high-end
Sleepypod mobile pet bed
, which serves as a less stressful carrier when your pets (small dogs or cats) need to travel by car, bus, train or plane.
Sleepypods are designed to become a place of comfort and security for your pet, since the top zips off to transform into a plush, circular pet bed that can be used daily or just during travel. The product's design is both ultra sturdy
and
stylish, and Sleepypods come in a variety of colors, and with a long, detachable carrying strap. They can even be buckled into your car's seat belts to prevent injury to your pet in case of sudden stopping or an accident. While we have yet to take Dellie on an excursion outside the house (ours just arrived a week ago), she's already enjoyed cozying up inside the plush bottom half for a cat nap.
$169-$189 • sleepypod.com

Charlie's Toy Box Catnip Toys

These are almost too cute to let your cat chew on!
While not local to the Inland Northwest, these adorable handmade, catnip-filled toys are indeed regional, coming from an artist based outside of Portland. I discovered them thanks to a posting by the Portland cat lover boutique and pet shop
Roar
. Residents of and visitors to the Rose City can find these cute playthings there, but those unable to visit in person can also find artist Tiffany Rice's pop culture-inspired cat toys in her
Etsy shop
, CharliesToyBox. From
Nightmare Before Christmas
characters to Mario, Luigi and friends, the Ninja Turtles and some of our favorite princesses and superheroes, there are designs that you'll enjoy looking at as must your meow-er does batting them across the hardwoods.
$6.50/each • Esty.com/shop/CharliesToyBox


BUB makes everyone smile.
Lil BUB 2018 Calendar

My
Inlander
CatCube™ (i.e. my intensely cat-themed cubicle) wouldn't be complete if not for my annual holiday gift request of
Lil BUB's annual 12-month calendar
. I've hung one up each year since 2014, and confess to hoarding the old ones in a drawer because I just can't bear to throw away anything with the
little micro-cat's
likeness on it. BUB has a special place in my heart, OK? So this adorable item — her fifth consecutive calendar! — will ensure you don't lose track of what day it is as you're simultaneously charmed by the carefully-themed photo sets on which BUB poses to showcase each month, from dressing up in a Halloween costume for October, to running her own tiny lemonade stand in August. And did I mention the bonus stickers each calendar comes with? Order quickly to ensure delivery by Dec. 25, and remember that a portion of the sales proceeds from all items in BUB's shop support the
Lil BUB's Big Fund
for special needs pets. Thanks, BUB!
$9 • store.lilbub.com
*Bonus points if you wrap any of the above gifts up in cat lover-approved wrapping paper, like
this adorable vintage collage-style sheet
I recently found at Atticus Coffee & Gifts for $4.95, and purchased to hang up as poster art in the CatCube™.