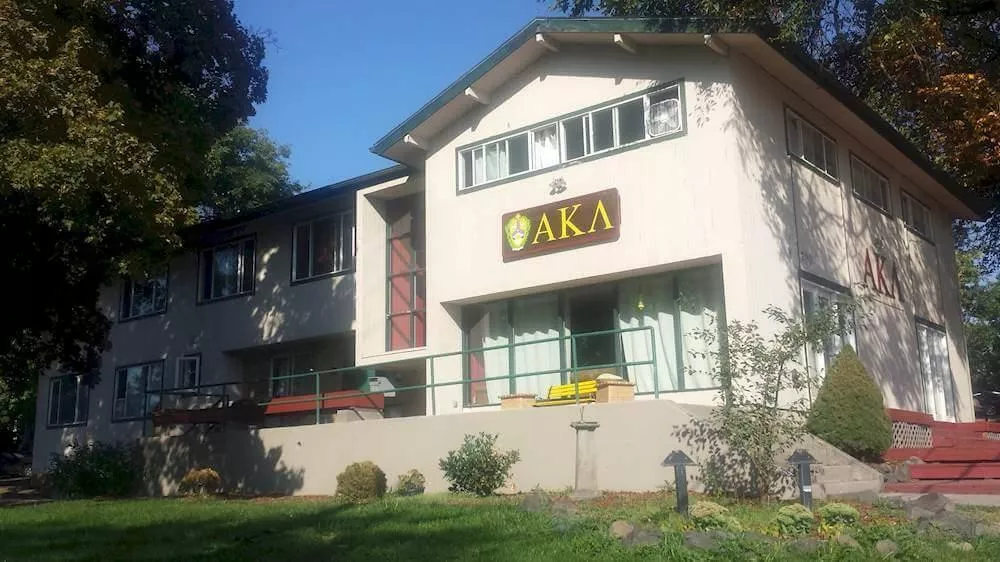 Facebook
WSU's Alpha Kappa Lambda fraternity, which has been shut down.
O
n one October night last fall, the newest members of the Alpha Kappa Lambda fraternity at Washington State University were allegedly told to line up in the "party room," with their knees and noses touching the wall. The lights went dark. Pillowcases were put over their heads. Forty-ounce bottles of Hurricane malt liquor were tied to their hands.
Finish the bottles, the members were told, and they'd be let off the wall. It was a game they called "
Edward Forty-Hands
."
The alleged incident described above is one of several allegations of hazing at the Alpha Kappa Lambda fraternity found in WSU student conduct records obtained by the
Inlander
.
The investigation, by the university and the fraternity's national headquarters, eventually
led to the frat being shut down in December
. Until now, the specifics of the alleged hazing have not been made public.
The university, in October, began investigating several incidents that took place starting near the beginning of the first semester. Two new fraternity members had been hospitalized — one in August 2017 for alcohol poisoning, and one in October with a concussion. The investigative records also described how the fraternity would take the belongings of new members and force them against the wall to berate them, force them to do wall sits, or tape alcohol to their hands for them to drink.
Those initial allegations were all confirmed to be true, WSU dean of students Kathy MacKay says. In December, days before the fraternity was shuttered, members "admitted to everything," she says. MacKay says what was concerning was that upperclassmen pressured new, underage members into drinking and they used physical restraint.
"This was clearly hazing," MacKay tells the
Inlander
.
O
n Aug. 20, the last night of
rush
week — when fraternities recruit students — one upperclassman at AKL heard about a new member who was sick. The upperclassman walked into the bathroom, according to the upperclassman's account of the incident, and found the new member "flopping" around, "vomiting and throwing his upper body around while staying seated."
The upperclassman took him to the hospital, and the new member was released by early the next morning. (In the records provided to the
Inlander
through a public records request, names of students were redacted.)
Many of the incidents alleged to be hazing took place in what the frat called the "party room." There, records say, new members were lined up against the wall and yelled at, forced to do wall sits and finish bottles of beer.
When they did "Edward Forty-Hands," one new member reported that his hand was taped to another member's hand with a bottle in between. Each person had another bottle taped to their free hand. They were told to finish all three bottles between the two of them.
At least once, the upperclassmen dumped out bean bags and made the new members clean all of it up while taped to one other person. In another incident, a new member had his finger burned by an upperclassman's lighter used to illuminate the dark party room, according to records.
In early October, days before WSU launched their investigation of hazing, a new fraternity member, after drinking, fell out of his bed and got a concussion. He was taken to the hospital.
WSU officials interviewed dozens of people in its investigation. Initially, members said they didn't feel like any of it was hazing, records show. One investigator noted that a member "didn't think what we were doing was wrong," that it was "not meant with malicious intent," and instead was supposed to be about teaching accountability. He said the "definition of hazing has become muddy." Even a couple victims told university investigators that they didn't feel like it was hazing.
Nearly all the fraternity members initially told investigators that nobody was forced to drink. "There's the door," for anyone who chose not to, one member said. Consistently, they told investigators that they didn't know where the underage members got the alcohol they were drinking.
But despite what they may have said, MacKay says new fraternity members still were pressured into drinking.
"The upperclassmen were pressuring new members to do this," she says. "In these situations, there's not really a way for them to say no."
The frat was
put on interim suspension
in mid-October. The fraternity's national chapter was involved in their own investigation and said there would be repercussions.
"What was done was not bonding or character building," wrote Jeremy Slivinski, CEO of the fraternity, in an email to members of WSU's AKL chapter. "Instead it was abusive and a demonstration as to why fraternities are viewed poorly in this day and age. Brothers don't hurt each other to prove or receive a demonstration of loyalty."
B
y December, MacKay says, the fraternity members at WSU had changed their tune. No longer denying the allegations, they agreed to a "negotiated resolution," MacKay says. Less than a week later, the national headquarters of the Alpha Kappa Lambda fraternity sent out a press release announcing WSU's chapter had closed for "various potential risk management violations," without sharing any details.
The AKL frat revoked the charter, and WSU took away the frat's affiliation from the university. The AKL frat had a 90-year history at the university, the press release said.
"Closing a chapter is never an easy or ideal situation
however
student safety is a priority for both the Fraternity and the University," the
press release said
. (Slivinski, the frat's CEO, says he cannot provide any additional information for this article.)
The individual students involved are facing charges through the university's student conduct process that could result in discipline, MacKay says.
"We take this stuff really seriously," MacKay says. "Protecting the health and safety of our students is critical."