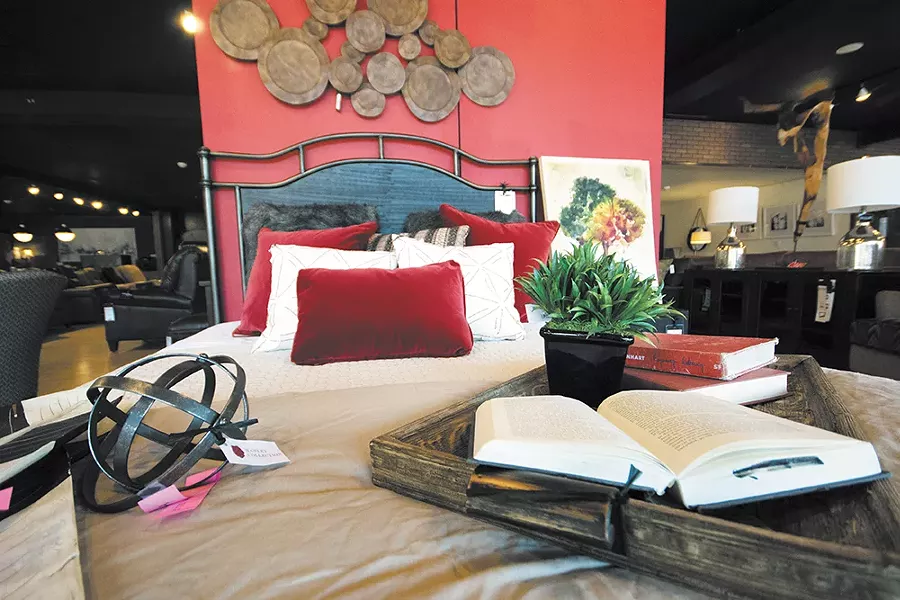 Stuart Danford photo
Get inspired at the Tin Roof.
Is that sofa really comfortable? Is that armchair too big for my space? The price seems right, but how well made is that dresser? These are the kinds of questions that are tough to answer when you're shopping online. All the more reason to step away from the screen and explore these brick-and-mortar shops that can help transform a house into a home.
FURNITURE STORES
1900 House and Home
This Francophile's dream is tucked away in a warehouse district on Pacific and Browne in downtown Spokane. While it's a little off the beaten track, 1900 is worth finding for its rustic and French-inspired furniture, along with housewares Joanna Gaines would totally use to outfit a fixer-upper. 114 W. Pacific Ave., Spokane • 363-1900
Ennis Fine Furniture
Ennis has furnished some of the city's finest homes over the past 50+ years, establishing itself as one of Spokane's premier home furniture stores. Part of its success is a result of its complimentary design services. Staff designers will work with you on every aspect of your home design project, creating a storyboard with the colors, textures, furnishings and accessories to pull together a cohesive look. 8313 N. Division St., Spokane • 467-6707
Hurd Mercantile & Company
If you haven't made the pilgrimage to Hurd Mercantile in Rockford, Washington, then by god get this low-commitment road trip on the books. A short and scenic drive through the rolling wheat fields of the Palouse will lead you to one of the biggest home and garden shops in the state (8,000 square feet!). This massive store is exquisitely merchandised with themed vignettes perfect for outfitting a shabby chic cottage or a rustic lake cabin. 30 S. First St., Rockford, Wash. • 291-4077
Madison Country
Shabby chic and French country style interiors supreme at Madison Country. Shop here for slipcovered sofas, farmhouse tables, antique-inspired buffets and a massive selection of faux florals. The shop transforms with the seasons, so be sure to stop by whenever your home needs an autumn wreath or a stellar Christmas centerpiece. 2928 N. Madelia St., Spokane • 340-1952
Madison Home
Madison Home sells top-dollar, heirloom-quality furniture in a variety of styles, most of which are American-made. With a higher price tag comes an even higher level of customer service — the store offers in-home consultations, accessorizing services and real estate staging. 2826 N. Ruby St., Spokane • 325-1815
Rail Creek Furniture Co.
Look to family-owned Rail Creek Furniture Co. for truly unique, one-of-a-kind pieces, like a killer bar with a base made from a Tata truck grill that actually lights up, or a wine barrel end table. A strong, industrial-inspired aesthetic is mixed throughout their expansive inventory. If you're worried about getting the best deal, they'll beat any advertised price. 1801 E. Sprague Ave., Spokane • 795-4536
Reskued
You won't find any better deals on high-quality, stylish designer pieces than at Reskued, the Tin Roof's clearance center. We're talking about 40 to 70 percent off retail prices for designer styles for your living room, bedroom, dining room and home office. Accessories like lamps, vases and rugs are discounted 40 to 90 percent. Just know that with prices that good, inventory turns over in a hot minute. 1702 E. Riverside Ave., Spokane • 209-3954
Runge Furniture Company
Family-owned Runge Furniture has a massive showroom full of appliances and furnishings from nationally recognized brands including Ashley, Hooker and Flexsteel. Hunting for a bargain? Don't miss Runge's Clearance Center for deep discounts. 303 E. Spokane Ave., Coeur d'Alene • 208-664-2131 • Clearance Center, 2424 N. Fourth St., Coeur d'Alene • 208-765-3674
The Tin Roof
We'll admit, we've found some design inspiration at the Tin Roof's upscale showroom by following #ShopTheTinRoof on Pinterest, but we've learned it's even better to put yourself in the hands of one of their excellent interior designers. They offer a variety of design services, from paint consultations, to a finishing service where designers accessorize your space and you basically shop their selection at home, to whole-house interior design that spans beyond furniture to things like floor and counter selections. Exceptional home staging services for resale or new construction properties are also offered. 1727 E. Sprague Ave., Spokane • 535-1111
Walker's Furniture and
Mattress
Walker's started as a small family-owned furniture store back in in Spokane in 1980 and has expanded to 15 locations throughout Eastern Washington, North Idaho and Oregon, with inventory in classic and contemporary styles at a variety of price points. Part of their success can likely be attributed to a commitment to having the most affordable everyday prices (and they'll price match if you find one lower). 15 E. Boone Ave., Spokane • 326-1600 •14214 E. Sprague Ave., Spokane Valley • 928-2485 • 7224 N. Government Way, Dalton Gardens, Idaho • 208-762-7200
HOUSEWARES
Chrissy Roach photo
French country style is always in fashion at 1900.
Into the Woods
This Coeur d'Alene shop is the perfect blend of wine-bar-meets-cottage — you'll find rustic wall hangings and furniture, with a sprinkling of beautiful drinkware, Le Creuset cookware, candles and housewares to complete a lakeside retreat. 509 E. Sherman Ave., Coeur d'Alene • 208-292-4274
Kizuri
Kizuri means "good" in Swahili, and shopping in this funky little store is all kinds of good. The housewares, clothing, bath and body items and art in stock are all fair trade or otherwise ethically sourced from more than 40 countries, with a sprinkling of locally made items as well. 35 W. Main St., Spokane • 464-7677
Lucky Vintage and Pretty Things
While Lucky does carry inspired vintage goods (we picked up some beautiful vintage coupe glasses on our last visit), much of their inventory is new and and vintage-inspired. Think rustic light fixtures, beautiful glass cloches and handcrafted wall hangings. Keep in mind, Celeste Shaw, the editor of Flea Market Style owns this place and she's always on point. Whatever you do, don't miss Lucky's Fall Festival Sept. 29. 1406 S. Inland Empire Way, Spokane • 321-7230
Mix • It • Up
Mix • It • Up is aptly named, with a refreshing mix of housewares and home décor ranging from nautical to rustic. You'll find blown-glass wasp catchers, wall hangings of cute-but-not-tacky phrases, and fair trade art from around the world. 513 E. Sherman Ave., Coeur d'Alene • 208-667-8603