This year offers your last chance to skate at Riverfront Park's Ice Palace.
When the in-laws, cousins, parents, aunts, uncles and grandparents come to town this holiday season, don't be caught without a plan. Sure, you'll definitely want to spend some quality time catching up on everyone's busy lives, but after a few days around the house, the stir crazy might start setting in. Good thing we compiled this guide of 50 events from Thanksgiving to New Year's to keep you and the family distracted, and therefore at peace with each other. Now, you really have no excuse when the relatives ask, "What's there to do?"
With something for every interest and age, this year's Holiday Guide has you covered. Take the restless kids to ice-skate for a couple of hours at the Ice Palace — this season is your last chance to visit the Riverfront Park venue before renovations relocate the rink. Want to show your mom and sisters how amazing Spokane's vintage shopping scene has recently become? Beyond all the local shops, don't miss the annual Country Christmas Vintage Sale in early December. Looking for something more traditionally Christmas-y to see with the complete extended family? Besides all the regional theaters' seasonal offerings, the Cirque Dreams Holidaze revue-style show will mesmerize the youngest and oldest in the audience. If you're a host responsible for entertaining a crowd more into nightlife, beer and food, plan on getting tickets to a winter beer fest, or a downtown holiday pub crawl.
—CHEY SCOTT, Holiday Guide editor
---
Now through Feb. 26
ICE PALACE'S LAST RUN
Even though Riverfront Park is slowly morphing into a full-on hard-hat zone as work moves forward for the park's big redevelopment project, many of its attractions remain open. Some not for long, though, including the Ice Palace. This winter offers a final chance to glide across the glassy rink beneath the net-like cables of Spokane's iconic Pavilion. If all goes as planned, at this time next year we'll be able to engage in ice-capades at a new, ribbon-shaped rink near the gondola. Until then, enjoy the Ice Palace while you still can. Skating is offered daily (except Christmas Day), with discounted admission some days of the week. Riverfront Park, $5/adults; $3.59/ages 3-12, 55+ and military with ID, open Tue-Sun, hours vary by day. spokaneriverfrontpark.com (CHEY SCOTT)
Nov. 25-26
OPEN STUDIO: KAREN MOBLEY, NAN DRYE, TOM QUINN
A trio of local artists are featuring new paintings, drawings and textile works in Karen Mobley's studio this Thanksgiving weekend. Nan Drye is known for her work with textiles, and Tom Quinn for his paintings in various mediums. A prominent public artist, Mobley is known for serving as Arts Director for the city of Spokane for 15 years, from 1997 to 2012. Open to the public with free admission, this event offers a great chance to pick up a Christmas gift for any art lovers in your life. Karen Mobley's studio, 3515 S. Lee, Fri-Sat, from 10 am-5 pm. bit.ly/2fhOLiI (HAYLEE MILLIKAN)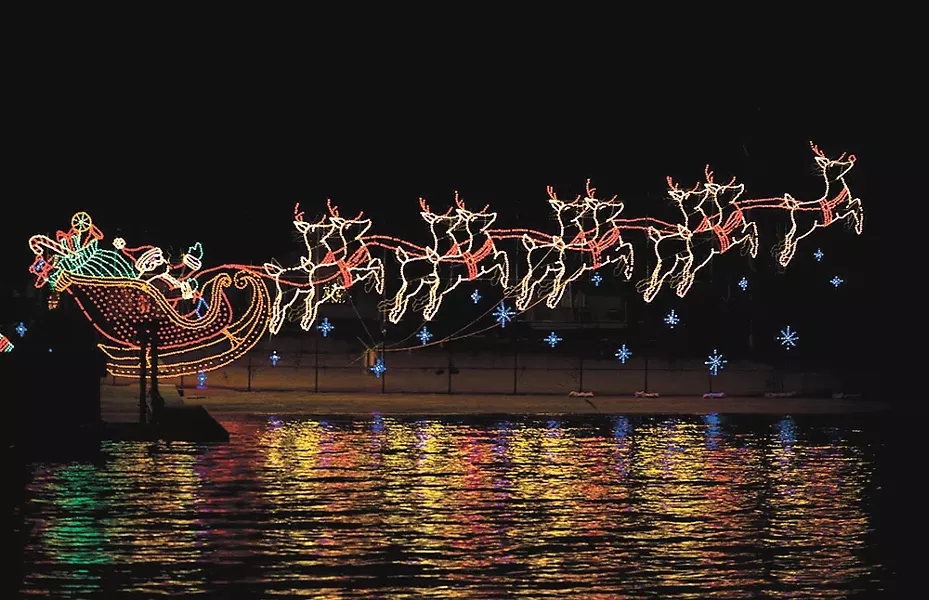 See the 30th annual holiday lights display in Coeur d'Alene.
Nov. 25-28
FESTIVAL OF TREES AND BRUNCH
Thankfully, the city of Coeur d'Alene doesn't begin the celebration of Christmas until after the turkey and all the trimmings have been served. One day after Thanksgiving, the community is invited to bask in the glow of the downtown Christmas trees for the first time with a tree lighting ceremony from 5 to 8 pm. The kickoff weekend also includes a festival gala, family day and fashion show, but the Festival of Trees Brunch on Sat, Nov. 26, is a can't-miss holiday treat that will give you a chance to view the trees while enjoying local entertainment. The menu includes quiche, ham with a brie croissant, fruit salad with champagne vinaigrette and myriad desserts. Coeur d'Alene Resort Convention Center, $25 for brunch (advanced tickets required), 9-11 am, cdaresort.com. (LAURA JOHNSON)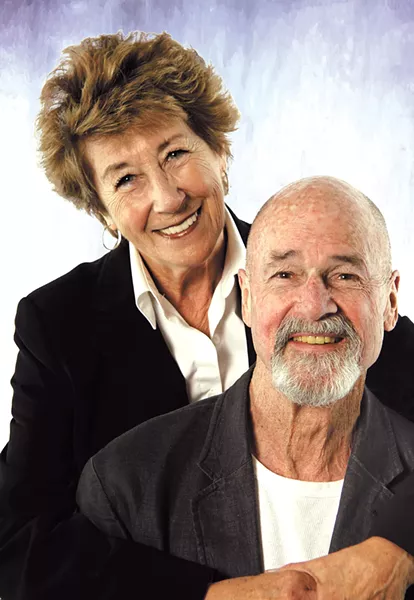 Ellen Travolta and hubby Jack Bannon perform together for their fourth annual production, "The Christmas Show."
Nov. 25-Dec. 18
THE CHRISTMAS SHOW FEAT. ELLEN TRAVOLTA
For what has quickly become an annual tradition for many local families, Ellen Travolta is back with her fourth annual heartwarming holiday performance. Alongside her husband Jack Bannon, sister Margaret Travolta and musicians Katie Strohmaier and Scott Steed, their cabaret-style performance of stories and songs for "The Christmas Show" is directed by renowned local director Troy Nickerson. The Coeur d'Alene Resort, $27.50, Thu-Sat at 7:30 pm, Sun at 5 pm. cdachristmas.com (CS)
Nov. 25-Dec. 18
FOREVER PLAID: PLAID TIDINGS
Originally written as an homage to the male barbershop quartets popular in the 1950s, this musical features four guys — Francis, Jinx, Smudge, and Sparky — who are (spoiler alert) killed on the way to perform for the Ed Sullivan Show. A call from the heavenly (literally) Rosemary Clooney gives the boys a purpose in the afterlife: spread as much Christmas cheer and harmony as they can. The show is packed with holiday favorites, including "Have Yourself a Merry Little Christmas" and "Jingle Bells," as well as some groovy versions, like "Mambo in a Winter Wonderland" and "'Twuz the Nite B4." Spokane Civic Theatre is offering proceeds from ticket sales on Nov. 25 and 26 to raise money for Second Harvest. If you plan to attend either of those shows, call the box office instead of ordering online. Spokane Civic Theatre, $22-$30, Thu-Sat at 7:30 pm, Sun at 2 pm. spokanecivictheatre.com (HM)
Nov. 25-Jan. 2
JOURNEY TO THE NORTH POLE CRUISES
Where, exactly, is the North Pole? And just what goes on there? Here's your chance to find out. Coinciding with Coeur d'Alene Resort's 30th annual Holiday Light Show, which kicks off with a parade and fireworks on Friday, Nov. 25, the holiday cruises are your ticket to the North Pole (and Santa's Toy Workshop), where you'll meet old St. Nick and his elves, the Grinch — even Rudolph. The 40-minute journey takes passengers out across Lake Coeur d'Alene in cozy, decorated ships with views of the city, 1.5 million lights and, back by popular demand, a 60-foot-tall floating Christmas tree. Dress for cold and snow; yes, even you, sandals-and-shorts-in-winter guy. Parents, make sure the elves in the Plaza Shops get the names of your kids for Santa's list before departure; hopefully they've been nice. Inclusive overnight packages (Santa's Family Getaway and Holiday Night on the Lake) are available through the Resort for those who want to stay and really soak up the Lake City's cheery Christmas vibes. Coeur d'Alene Resort, $7.50-$22.25 (free for kids 5 and under), departs daily at 5:30, 6:30 and 7:30 pm. cdacruises.com (CONNOR DINNISON)
Nov. 26
KELLOGG CHRISTMAS LIGHTING FESTIVAL
Kellogg, Idaho, may have been "founded by a jackass and inhabited by his descendants" (the town's official motto), but there's more to the historic mining town than just, um, donkeys. What better way to discover it than by hitting the slopes — or just riding the world's longest gondola — at nearby Silver Mountain Resort (expected opening Thanksgiving weekend), followed by a picture with Santa, a parade and fireworks. Celebrate Small Business Saturday while you're at it. Downtown Kellogg, free, Sat, 10 am. silvervalleychamber.com (CD)
Nov. 28-30
THE PRICE IS RIGHT LIVE
When I was a kid home sick from school, there was nothing I loved more than watching The Price is Right on TV. The mix of random games like Plinko and guesswork involved in determining if, say, the box of mac-n-cheese was more expensive than the dishwasher detergent was oddly satisfying. And, of course, the excitement of watching contestants "come on down" after hearing their name called out, and some of them spinning the Big Wheel, was always thrilling. Clearly I'm not alone — the touring version of the show has been going for 10 years now, and sold a million-plus tickets to people who have won more than $10 million. Northern Quest Resort & Casino, $35, Mon-Wed at 7:30 pm. northernquest.com (DAN NAILEN)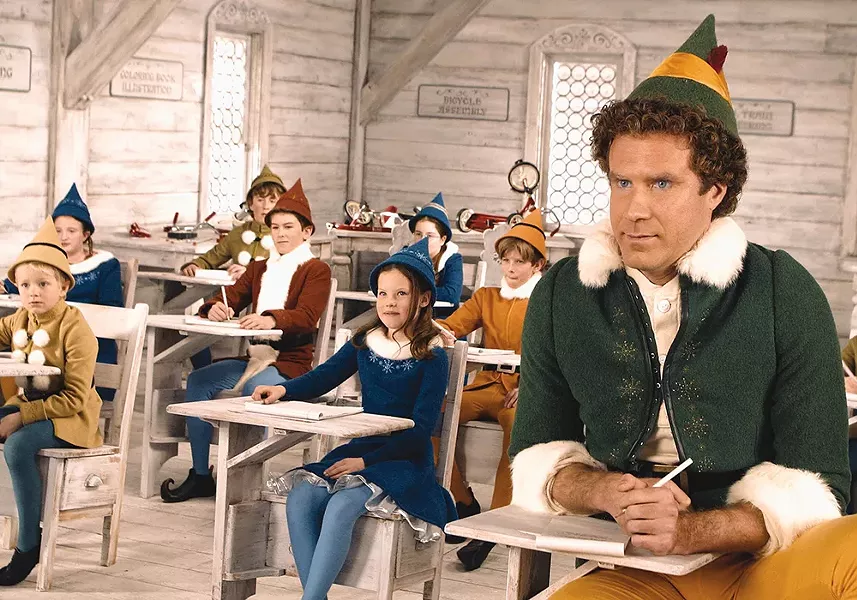 See Elf on the Garland's big screen Dec. 20.
Nov. 29-Dec. 20
GARLAND HOLIDAY FILM SERIES
Every year between Thanksgiving and Christmas, the Garland's Totally Tubular Tuesday film series of oldies but goodies veers into holiday territory, offering you the opportunity to see some classic Christmas flicks on the big screen while enjoying a beverage or two with family and friends. This year's holiday-film run starts with the mightiest Christmas action flick of them all, Die Hard, on Nov. 29, and continues with Love Actually (Dec. 6), Polar Express (Dec. 13) and Elf (Dec. 20). If those flicks don't make you jolly, you're not trying. Garland Theater, $2.50, Tuesdays at 7 pm. garlandtheater.com (DN)
Dec. 1
FIND YOUR PARK: MT. SPOKANE NORDIC SKI AREA
Sure, area mountain resorts have set opening days on their calendars, but no one can accurately predict when there will be enough snow for skiers and boarders to get going downhill. That's why REI has set up a free class for folks to get acquainted with the vast network of Nordic (cross-country) ski trails at Mt. Spokane State Park. You'll learn where all the best hot spots are in a fun group setting. Register at rei.com/stores/spokane. In the meantime, pray for snow (in the mountains only)! REI Spokane, 6-7 pm, free; register to save a spot. (LJ)
Dec. 1-4
SPOKANE SYMPHONY: THE NUTCRACKER
Live performances of young Clara Stahlbaum's dance-y dreamtime adventures, set to Pyotr Tchaikovsky's unforgettable score, have captivated audiences for more than a century, and continue to. Once again, the State Street Ballet from Santa Barbara, California, stops in Spokane for a four-day engagement featuring music by the Spokane Symphony, an event that's now a 38-year tradition for the orchestra. With the added elegance of the Art Deco Fox Theater, this show has cemented itself as a holiday tradition that many anticipate year after year. Martin Woldson Theater at the Fox, $25-$75/adults; $12.50-$30/ages 17 and under, Thu-Sat, at 7:30 pm, Sat-Sun at 2 pm. spokanesymphony.org (CS)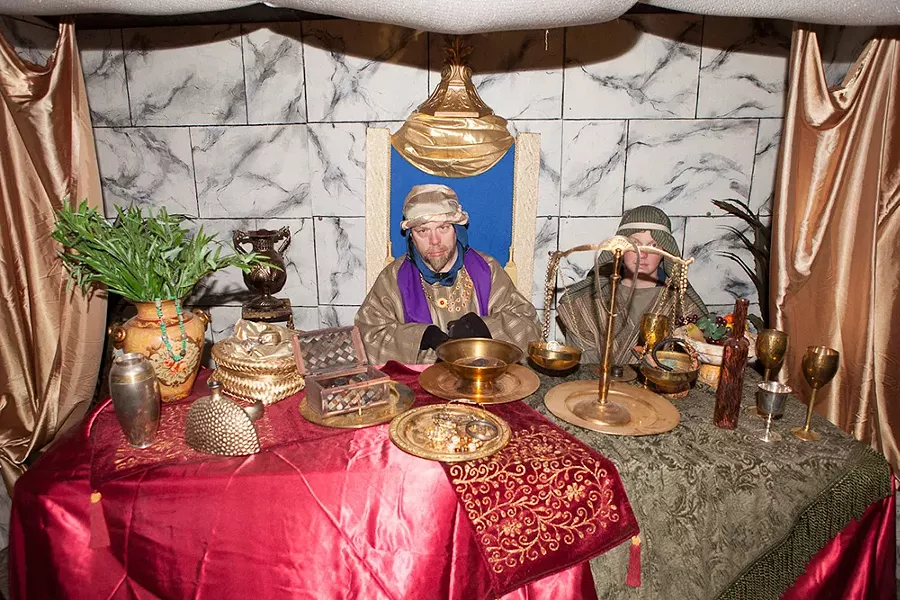 The annual "Journey to Bethlehem" Nativity display, Dec. 2-4, features more than 11 live actors.
Dec. 2-4
JOURNEY TO BETHLEHEM
The events surrounding Jesus' birth more than two millennia ago are, understandably, a bit hazy, but one thing is certain: Bethlehem is where it all went down. To mark the beginning of Advent, the South Hill Seventh-day Adventist Church reenacts the infamous night with a Nativity pageant featuring more than 100 actors and animals, including a camel. The free guided tour, a popular annual tradition, draws about 5,000 visitors from around town and the Inland Empire hoping to get a glimpse of the newborn babe. Christmas is, after all, a celebration of the little guy. South Hill Adventist Church, free, Fri from 6-8 pm, Sat-Sun from 5-8 pm. jtbspokane.org (CD)
Dec. 3
SCRAPS HOLIDAY OPEN HOUSE
There are hundreds of animals in shelters across our region and beyond who aren't as lucky (yet) as the furry friends who get to cozy up inside a warm house this time of year. If you can't add another four-legged member to the family, consider volunteering or donating to help shelters like SCRAPS, which invites the community to come by during its annual holiday open house. Pet some soft, fluffy kitties and tail-wagging pups, and enjoy snacks and games. Maybe, just maybe, you'll fall hard for one of these sweet souls, and discover that the best present of all is endless companionship from a new pet. SCRAPS, free, 11 am-3 pm. bit.ly/2fWKmD5 (CS)
Dec. 3
BING CROSBY HOLIDAY FILM FESTIVAL
Considering the length and breadth of his career, it's remarkable how much Bing Crosby is associated with Christmas. He's right up there with Santa and the Grinch. So it makes sense for the theater bearing his name to celebrate the man and his work with this annual daylong celebration that mixes movie screenings and a live musical tribute to Spokane's favorite crooner. The festivities run all day, so you can drop in and drop out depending on your preferences. Love White Christmas? You have two chances to see it on the Bing screen, at 10:30 am and 7:30 pm. In between come a couple of other Crosby flicks, The Bells of St. Mary's at 1 pm and Birth of the Blues, featuring the likes of Louis Armstrong, Duke Ellington and other greats, at 4 pm. The Hot Club of Spokane kicks off a musical tribute to White Christmas at 6 pm, playing songs from Crosby and fellow Spokanites Mildred Bailey and Al Rinker, with the help of some of the Lilac City's finest musicians. Bing Crosby Theater, $10; free/kids 12 and under, 10 am. bingcrosbytheateradvocates.org (DN)
Dec. 3
ORNAMENTAL ORIGAMI
Need an interactive way to make more ornaments for your Christmas tree that gets the whole family involved? Head to Spokane Public Library's South Hill or Shadle branches to create your own origami ornaments! Open to all ages, this is a good chance to get fingers-deep in something other than your holiday bird. Local artist Aleta Wiedenman leads the crafting sessions, for which all materials are provided. South Hill Library, at 11 am; Shadle Library, at 3 pm, free. spokanelibrary.org (HM)
Dec. 3
WRECK THE HALLS WITH BRET MICHAELS
I have no idea what to expect from this '80s-centric extravaganza of hair-metal bands headlined by Poison frontman Bret Michaels. Will Michaels wear a Santa outfit? Will RATT hit the stage dressed as elves? Will Dokken hit the eggnog too hard backstage to sufficiently hit on groupie Mrs. Clauses in the audience? Who knows? But I can vouch for the fact that the bands on hand will make holiday headbangers and the people who love them recall an era when L.A. Guns was yuge and Great White was going to be the "next Zeppelin." Spokane Arena, $39/$59, 3:30 pm. spokanearena.com (DN)
Jingle and jog during the YMCA of the Palouse's annual Jingle Bell Fun Run.
Dec. 3
JINGLE BELL FUN RUN
Want a head start on your New Year's resolution to get back into those jeans you wore in college? Head to Pullman for the Jingle Bell Fun Run, and bring your kiddos. Every child participant receives a jingle bell. If you're brave enough to dress up in costume as an elf or a snowflake (get creative!) you could win a prize (Best Child Costume, Most Creative, Best Group Costume). The short course starts behind the YMCA, winds down the Riverwalk trail and concludes in Pine Street Plaza with free hot cocoa, cookies, activities and a tree lighting ceremony. Leave your skates, bikes and pets at home, however, unless you're a reindeer in training for the upcoming big day. In that case, no flying allowed. YMCA of the Palouse, $10, race day registration at 3:15, run begins at 4 pm. palouseymca.org (CD)
Dec. 3
NASHVILLE NORTH CHRISTMAS PARTY
Yee-haw! Go ahead and get your boots in gear for the seventh annual Jeremy McComb Christmas Extravaganza. The country singer-songwriter comes home to play a whole bunch of originals, along with holiday tunes, at the Stateline venue he co-owns. Country artist Rick Huckaby, who's written songs for Thomas Rhett and Trace Adkins, will be on hand along with a few other surprise guests and Nashville North local favorite Luke Jaxon. This is live pop-country music at its finest. Proceeds from the event benefit the Post Falls Food Bank. Nashville North, $10, ages 21+, 6 pm. thenashvillenorth.com (LJ)
Dec. 3
12 ALES OF CHRISTMAS
Grab your favorite ugly Christmas sweater and head to Coeur d'Alene for Capone's 20th annual celebration that welcomes the holiday season with a whole lot of winter beer. With your ticket, you'll receive 12 8-ounce pours of mostly porters and darker beers. Though the selections are kept secret until the party begins, it sounds like this year's celebration may involve a spiced hard cider. Expect a DJ, holiday buffet and ugly sweater competition to keep you entertained between beers. A taxi ride home within Coeur d'Alene, a T-shirt and a few other goodies are also included. Capone's Bar and Grill, $55, 6:30 pm-2 am. bit.ly/2gj0hQ1 (FRANNY WRIGHT)
Dec. 3-4
COUNTRY CHRISTMAS SHOW VINTAGE SALE
Two Women Vintage Goods in downtown Spokane is taking its antiques, vintage goods and other arts and crafts items on the road for its annual Country Christmas show and sale. Keep your energy up with some of the baked goods and other seasonal foods provided by Mrs. Claus' Kitchen as you scour all the offerings to find the perfect items for the vintage lovers on your list. Because Two Women's owners Dianna and Fielding Chelf are so passionate about a project to restore hosting venue the Moran Prairie Grange, they plan to donate $1 from each weekend pass to support it. Moran Prairie Grange, $5 weekend admission; kids free, Sat from 10 am-5 pm; Sun from 10 am-4 pm. twowomenvintagegoods.com (FW)
Dec. 3-4, 10-11
A CHARLIE BROWN CHRISTMAS
Once again, students of the Spokane Civic Theatre's Academy Winter Intensive Program perform A Charlie Brown Christmas, based on the classic television special with all the jazzy Vince Guaraldi Trio tunes. In the play, Charles M. Schulz's Peanuts characters deal with the over-commercialization of Christmas, an especially bossy Lucy and finding the true meaning of the holiday season. A silent auction to benefit the Civic's Academy scholarship fund will accompany all performances. Spokane Civic Theatre, $10/adults; $5/ages 12 and under, Sat at 1 and 3 pm; Sun at 7 pm. spokanecivictheatre.com (LJ)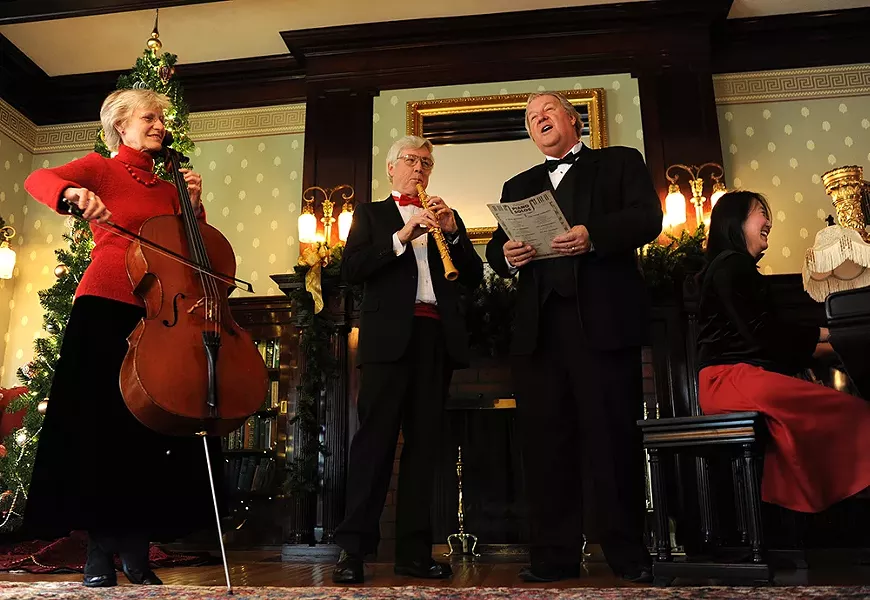 Hear classic Christmas music in an historic South Hill home Dec. 7-8.
Dec. 7-8
MUSIC IN HISTORIC HOMES CHRISTMAS CONCERT
Ever drive around the South Hill and wonder what some of those majestic homes look like on the inside? Step into the past with the Music in Historic Homes Series' Christmas shows at Keith and Janie Slater's Arts and Crafts-style home in the Marycliff-Cliff Park neighborhood. The Larsen-Lindholm House, as it's known, was built in 1909 and is registered as a historic property locally and nationally. To set the mood, the intimate concerts features a number of musicians, including pianists Yi-chun Chen and David Dutton, playing Christmas favorites on a new Steinway piano as you bask in the nostalgia and nibble on seasonal refreshments. Home located at 1243 S. Wall, $10-$25, Wed and Thu at 3, 5 and 7 pm. spokanehistoricconcerts.org (CD)
Dec. 8
HOLIDAYS AT THE HEARTH
While our giving spirits are high, get to know one of the major programs of local nonprofit Transitions, whose mission is to end poverty and homelessness for women and children in Spokane. The annual holiday open house at Women's Hearth, Transitions' day shelter in downtown Spokane, invites the community to tour the facilities, play games, decorate cookies, and sing carols with the staff and women there. Though the event is free, find a donation wish list online. With the cold already here and bringing snow with it, you may choose making a difference as a high priority on your holiday to-do list. Women's Hearth, Free to attend, 4:30-5:30 pm. help4women.org (HM)
The Sweeplings play a holiday show in Spokane on Dec. 9.
Dec. 9
SWEEPLINGS CHRISTMAS CONCERT
Over the past few years, Spokane singer-songwriter Cami Bradley has continued to work her magic on the rest of the country. After placing sixth on America's Got Talent in 2013, Bradley joined up with Alabama native Whitney Dean to create a powerhouse folk-pop duo. Together, the pair has toured the country and received national attention from NPR, Spotify, iTunes and more. Armed with a brand-new Christmas EP, Winter's Call, the Sweeplings come to Spokane for an intimate Christmas performance that will include some of their favorite holiday songs. Vessel Coffee Roasters, $25, 7:30 pm. (LJ)
Dec. 9-11
EIGHT REINDEER MONOLOGUES
A doe, a deer, mass media and Santa Claus: what more could you want in a holiday musical? With sexual harassment allegations against prominent male figures currently fresh in the public's minds, this dark comedy is not only Christmas-appropriate, but topical! What happens when one of Santa's reindeer accuses him of sexual harassment? What do all the rest of the reindeer have to say about their supposedly jolly and good-natured boss? An R-rated piece of theater with plenty of social commentary to go around, this comedy may not be one to bring your kids to, but it's sure to be a raucous alternative to watching Hallmark movies. Stage Left Theater, $10, Fri-Sat at 7:30 pm, Sun at 2 pm. spokanestageleft.org (HM)
Dec. 9-18
GAISER CONSERVATORY HOLIDAY LIGHTS
Of all the events across the Inland Northwest this season, the stunning holiday lights display at Manito Park's Gaiser Conservatory is one that my family has never missed in more than a decade. Though undoubtedly a beautiful sight year-round, the conservatory transforms into the most breathtaking setting when its lush, green flora and dozens of seasonal poinsettias and mums are decked out in twinkling lights. Because of this event's growing popularity, you'll most likely have to wait outside in a line for a time, but the wait is well worth it once you step inside the glowing, balmy greenhouse. It's free to go, but donations at the door to the Friends of Manito allow them to continue hosting this event year after year. Manito Park's Gaiser Conservatory, free, open daily from noon-7:30 pm. thefriendsofmanito.org (CS)
Dec. 9-23
TRADITIONS OF CHRISTMAS
With a large cast, live animals and classic Christmas songs guaranteed to have you tapping your toes along with the tap dancers, Traditions of Christmas transports audiences to Radio City Music Hall without ever leaving Coeur d'Alene. This show, filled with singing and dancing, ends with a grand Nativity scene, reminding us why this season calls for celebration. Kroc Center, $20/ages 12 and under; $26/seniors, military; $33/adults, showtimes vary. traditionsofchristmasnw.com (FW)
Dec. 9-30
WINTER GLOW SPECTACULAR
Back for its third year, Winter Glow takes the concept of outdoor holiday light displays and, with more than a million lights and a little holiday magic, creates a bright, winter world. This year's new features include several nights of fireworks and the Enchanted Forest — dancing trees and lights that perform to the beat of holiday tunes. For those looking for a challenge rather than a relaxing stroll, enter into a holiday maze of lights. End your night with a visit to the North Pole, where you can watch Santa's helpers in workshops and see a 15-foot reindeer. Spokane County Fair & Expo Center, free/ages 6 and under; $5/ages 7-13, seniors, military; $7/adults, Dec. 9-11, 15-23, and 26-30, from 4-10 pm. spokanewinterglow.com (FW)
Bring a teddy to toss on the ice when the Chiefs score their first goal on Dec. 9.
Dec. 9
SPOKANE CHIEFS' TEDDY BEAR TOSS
Between the fast-paced plays, game-time snacks and the potential for a good ol' American fight on the ice, there are plenty of reasons to buy tickets to a Spokane Chiefs game. But attending this game against the Kootenay Ice also allows you to help kids in need while you're there. Bring a few stuffed animals to the game, and after the Chiefs score their first goal, throw them onto the ice. All collected stuffed animals are donated to the Spokesman-Review's Christmas Fund. Help this year's Teddy Bear Toss break the franchise record from the 2013-14 season of 6,787 bears donated. Spokane Arena, $10/kids; $12-$23/adults, 7:05 pm. spokanechiefs.com (FW)
Dec. 10
REINDEER RUN 5K
A little snow doesn't stop reindeer from keeping in shape during the winter months, so join the herd running 3.1 flat miles at this annual 5K in Coeur d'Alene. A portion of entry fees, along with additional food and monetary donations, are given to Idaho Community Action Food Bank. You receive a pint glass with registration, perfect for a well-deserved, post-run glass of eggnog. McEuen Park, $22, 8-10 am. fleetfeetcda.com (FW)
Dec. 10
SNARKY HOLIDAY CARDS
Love or hate holiday cheer, local nonprofit Spark Central is providing the creative space to help you channel those emotions into cards with more sass and snark than those of a Hallmark designer. Few cards say "Merry Christmas" quite like one with an image of a grumpy cat on the front, so come create your own unique paper cards, gift tags and digital e-cards in this special class. Unfamiliar with how to begin making an e-card? Beyond the craft supplies, this class provides digital assistance. Spark Central, free, 3-5 pm. sparkwestcentral.com (FW)
Dec. 10
FEZZIWIG'S BALL
If you've ever dreamed of celebrating the holiday season in an authentically old-fashioned spirit, plan on this first-time event that gives a nod to its literary namesake as featured in Charles Dickens' classic A Christmas Carol. Guests are invited to come in costume (hit up the Spokane Civic Theatre's costume rental shop) or semi-formal attire. Tickets include an Old English-themed dinner, with carved meats, puddings and drinks. Wear comfortable shoes, since this immersive evening also offers guests the chance to learn some Victorian-era dance moves. Hosted by the local nonprofit women's ministry Whatever Girls, ticket proceeds support its programs. Moran Prairie Grange, $75/person, 5:30-11 pm. bit.ly/2f2dLK8 (CS)
Dec. 10-11
URBAN ART CO-OP HOLIDAY BAZAAR
The Inland Northwest has no shortage of chances to pick out amazing original creations for the art lovers in your life. The nonprofit Urban Art Co-op's Holiday Bazaar features unique works from a host of local artists, and a small percentage of the sales goes back into the Co-op. Textiles, glass, felt, jewelry and pottery pieces are all available for purchase at this two-day event. For the more hands-on artists in your life, the Co-op regularly offers classes on wheel throwing and handbuilding, as well as memberships to the studio space for those who are already well-versed in the art of ceramics. Five Mile Prairie Grange, free, Sat, from 10 am-5 pm and Sun from 10 am-4 pm. bit.ly/2fWkW8L (HM)
Dec. 10-11
WHITWORTH CHRISTMAS FESTIVAL CONCERT
The Fox Theater once again hosts Whitworth University's acclaimed chorus and choir ensembles for an enchanting evening and afternoon of yuletide carols. Come feel the spirit, without intermission, through the traditional songs of Christmas. Organ, piano, percussion and brass accompaniment will guide the singers (more than 100 students) through interpretations of works like John Rutter's "Gloria," Wilbur Chenoweth's "Of the Father's Love Begotten," "O Come, All Ye Faithful" and a candlelight encore of the Austrian carol "Still, Still, Still." Martin Woldson Theater at The Fox, $15-$20, Sat at 8 pm and Sun at 3 pm. foxtheaterspokane.com (CD)
Chris Kitchen's annual Gingerbread Build-off on Dec. 11 is one sweet holiday tradition not to miss.
Dec. 11
CHRIST KITCHEN GINGERBREAD BUILD-OFF
This beloved Spokane tradition inviting professional, local culinary teams to assemble their most glorious gingerbread abodes is hosted again this year at the Davenport Grand Hotel. Each year, close to 2,000 families attend to watch these architectural marvels of sugar come to life before their eyes (building is from 10 am-1 pm). This year's theme is "Favorite Christmas Gift Ever," and anyone present can cast one free vote for their favorite creation made by one of the six professional teams. Gingerbread house kits are also offered for $7, with proceeds going to support the programs and services of local nonprofit Christ Clinic and and its counterpart, Christ Kitchen. Beyond the chance to decorate your own sugary masterpiece, also take photos with the Gingerbread Man and shop for products from Christ Kitchen. Afterward, the pros' gingerbread creations are on display for two weeks. Davenport Grand Hotel, free, 10 am-4 pm. christkitchen.org (HM)
Dec. 11
AFFINITI CELTIC CHRISTMAS
Blending classical music and Christmas seems natural. Add in some Celtic vibes in the form of Irish trio Affiniti and you quickly get a nice twist on the same ol', same ol' holiday sounds. Harp, violin and a classically trained soprano voice provide the sounds on tunes ranging from "O Holy Night" to "Danny Boy" to movie songs of yesteryear. They'll be joined by Howard Crosby, Bing's nephew and an accomplished singer in his own right, at this show. Bing Crosby Theater, $22, 7 pm. bingcrosbytheater.com (DN)
Dec. 11-13
THE NUTCRACKER WITH EUGENE BALLET COMPANY
The Nutcracker is the most widely performed and seen ballet in America. Each year, dance companies dust off the old choreography and set to once again tell the classic German children's story of Clara and her beloved nutcracker. Continuing that tradition, the Eugene Ballet Company brings its version of the show to smaller towns across the Pacific Northwest, giving audiences outside of Spokane a chance to enjoy this beloved classic. Dec. 11, Beasley Coliseum at WSU Pullman, $16-$37, 3 pm; Dec. 12, Panida Theater, Sandpoint, $12.75-$31.50, 7 pm; Dec. 13, Schuler Auditorium at North Idaho College, Coeur d'Alene, 7 pm. eugeneballet.org. (LJ)
Take a holiday baking class with Mika Maloney on Dec. 15.
Dec. 15
HOLIDAY BAKING CLASS
Inspired to create a community-based food system after reading Full Moon Feast: Food and Our Hunger for Connection by Jessica Prentice, Teri McKenzie founded the Inland Northwest Food Network. McKenzie believes that the more people can cook, the more potential they have to control their own health, so she started the Seasonal Kitchen: Cooking with the Bounty of the Region, a hands-on cooking class held on the third Thursday of each month. The classes aim to offer people ways to eat seasonal, local food grown in sustainable ways. BATCH bakeshop owner Mika Maloney is teaching December's "Moon of the Long Nights" holiday baking class. Maloney plans to teach how to bake treats made with regional grains and fruits — such as winter fruit mini tarts, holiday cookies and a buttermilk cake — that can easily be wrapped for gifts or served at holiday parties. McKenzie says the classes have turned into more than just a place to learn recipes or techniques; they're also an opportunity for people to share stories and cooking tips with each other, reinforcing interest in cooking and community. Jacklin Arts & Cultural Center, Post Falls, $20-$25, 6:30-8:30 pm. inwfoodnetwork.org (FW)
Dec. 15
CHRIS TOMLIN ADORE CONCERT
For those looking for a more religious-themed Christmas concert, Chris Tomlin comes to town to fill that void. One of the biggest artists in contemporary Christian music (thanks to hits like "How Great is Our God"), Tomlin is currently touring behind his 2015 album Adore: Christmas Songs of Worship. Don't be surprised if songs from his previous holiday work, Glory in the Highest: Christmas Songs of Worship, make the show as well. Expect this family-friendly concert to include a lot of audience singing. INB Performing Arts Center, $35-$75, 7 pm. inbpac.com (LJ)
Dec. 15
ITCHY CHRISTMAS SWEATER PARTY
For their upcoming show, local punk act Itchy Kitty isn't satisfied with your Christmas sweater just being ugly; they want it to be itchy as well (go ahead and raid your grandpa's closet for his most heavy-duty wool sweater). Also expect a contest to determine whose sweater is the itchiest of them all. Come prepared to sweat in that sweater, as the four-piece band's music, which fuses cuss words with anything cat-related, will make you want to jump around and scream along. Local rock bands Dark White Light, Hallows and Lucky Chase open the show. The Big Dipper, $5/$7 day of, 7:30 pm. bigdipperevents.com (LJ)
Dec. 16-17
CIRQUE DREAMS HOLIDAZE
Now in its eighth year, Cirque Dreams Holidaze is the definition of a winter extravaganza, complete with angels, Santa, toy soldiers, reindeer, ornaments, gingerbread men and other familiar symbols of the season. Thirty performers from 12 countries perform 20 acts, from acrobatics to complex song-and-dance numbers and illusions, all while wearing intricate and whimsical costumes designed to spread holiday joy throughout the audience. A show for all ages, Holidaze celebrates the season with pageantry and flair, and will leave you feeling ready for Christmas to come as quickly as it possibly can. Good thing it's less than 10 days after this performance. INB Performing Arts Center, $79-$368, Fri at 7:30 pm, Sat at 2 and 7:30 pm. inbpac.com (HM)
Dec. 16-17
BARTLETT CHRISTMAS SPECIAL AND CD RELEASE
The Bartlett music venue continues its fun tradition of asking local bands to record original or traditional Christmas songs for a special holiday album. The year's CD release party event has expanded to two nights of holiday cheer, with a different lineup for each concert. Friday's show features Mama Doll, Mini Murders, Curran Long, Lavoy and Violet Catastrophe, while Saturday night's lineup is Lavoy, Curran Long, Windoe, Water Monster and Jenny Anne Mannan. Expect these same names on the forthcoming album, which is sure to be a treat. The Bartlett, $8/$10 day of, 8 pm. thebartlettspokane.com (LJ)
Dec. 17
SECOND ANNUAL INTERNATIONAL MIDNIGHT MARMOT BEER FESTIVAL
What would the season be without lots of tasty, boozy beverages to enjoy as they warm us up from the inside out? Lucky for local beer lovers, the folks at River City Brewing are bringing back their Midnight Marmot Beer Festival for round two. This one-day event celebrates the brewery's limited-release Imperial stout, a medium-bodied brew that's rich with chocolate, coffee, fruit and molasses notes — a perfect wintertime treat at 78 IBUs and 8.7 percent ABV. But wait, there's more: Guests can sample nine variations on the original Midnight Marmot, including the Oako-Coco Nitro, Vanilla Coffee Marmot, Orange and Star Anise Marmot and Pomegranate Marmot. It's smart to get tickets in advance, since there are only so many of these brews to go around. River City Brewing Co., $25/advance; $30/door, 3-8 pm. bit.ly/2fhWYUp (CS)
Dec. 17
DOWNTOWN HOLIDAY PUB CRAWL
Some of the best holiday frivolity I've ever experienced was at a Santa Pub Crawl, so you know I was excited to see that holiday bar crawls are a thing in Spokane when I moved to town. The folks behind BestSpokaneBars.com are throwing this year's to-do the weekend before Christmas, making it a perfect way to show visitors around town, or get away from the family for a night of boozy revelry. Stops at bars in downtown Spokane, $18.57, 7 pm. bestspokanebars.com (DN)
Morihiko Nakahara conducts the Symphony's Holiday Pops concert Dec. 17-18.
Dec. 17-18
SPOKANE SYMPHONY'S HOLIDAY POPS
This year's Holiday Pops, SuperPops No. 3 of the six-part concert series, features Resident Conductor Morihiko Nakahara directing the Spokane Symphony's Orchestra and Chorale, as well as the Spokane Area Youth Choirs. They promise to perform the magical classics fans have come to love, plus some surprises. "Grandma Got Run Over By a Reindeer" for a large ensemble, perhaps? Martin Woldson Theater at The Fox, $28-$62 (half-price for ages 17 and under), Sat at 8 pm and Sun at 2 pm. spokanesymphony.org (CD)
Dec. 17-31
CAMPBELL HOUSE HOLIDAYS
Life with servants meant you had someone to make you sugar cookies every day, or, at least at Christmastime. Visitors to the historic Neoclassical Revival-style Campbell House in Browne's Addition can imagine such a life (and make/eat actual cookies) this holiday season while interacting with actors depicting the Campbell family and their staff. Marvel at the architectural splendor, the old-world charm and the period Christmas decorations as you wander through its storied rooms. There are no guided tours during the holidays, but instead an open-house format. If you get separated from your child, look in the dumbwaiter lift. Northwest Museum of Arts & Culture, $5-$10 admission, Tue-Sun, from noon-4 pm (closed Dec. 25). northwestmuseum.org (CD)
Dec. 23-24
IT'S A WONDERFUL LIFE: A RADIO PLAY
It's a Wonderful Life —Frank Capra's classic tale of George Bailey's magical, life-changing Christmas Eve in idyllic Bedford Falls — is a classic flick that you can probably find on the TV more than once during the holidays. But wouldn't it be more fun to share the holiday spirit? This special live production tells the familiar story through the production of a radio broadcast, complete with local voice actors and Foley artists creating all the effects necessary to bring the show to vibrant life. Bing Crosby Theater, $21.50/adults; $13.50/students, 6 pm. bingcrosbytheater.com (DN)
Dec. 30-31
FROZEN SING-ALONG PARTY
Parents everywhere have come to accept (perhaps with chagrin) by now that Elsa, Anna and Olaf aren't losing popularity any time soon. So just let it go, OK? Get the kids decked out in all that new Frozen gear gleefully unwrapped on Christmas morning, and head downtown for Friends of the Bing's second annual interactive screening, featuring successful Spokane pop-country singer Nicole Lewis as Queen Elsa. Of course, this event wouldn't be complete without Olaf and the gang; they'll all be there, too. Bing Crosby Theater, $20-$25/adults; $15-$20/ages 12 and under, 2 pm. friendsofthebing.org (CS)
Dec. 31
SPOKANE SYMPHONY NEW YEAR'S EVE: BEETHOVEN'S NINTH SYMPHONY
Called by some "the symphony of symphonies," Beethoven's Ninth is a New Year's Eve classic. It's now part of Spokane holiday tradition, thanks to conductor Eckart Preu bringing this joyous music to New Year's Eve performances after coming to town a dozen years ago. Consider this a chance to class up a bit as you say au revoir to 2016. Martin Woldson Theater at The Fox, $23-$28, 7:30 pm. spokanesymphony.org (DN)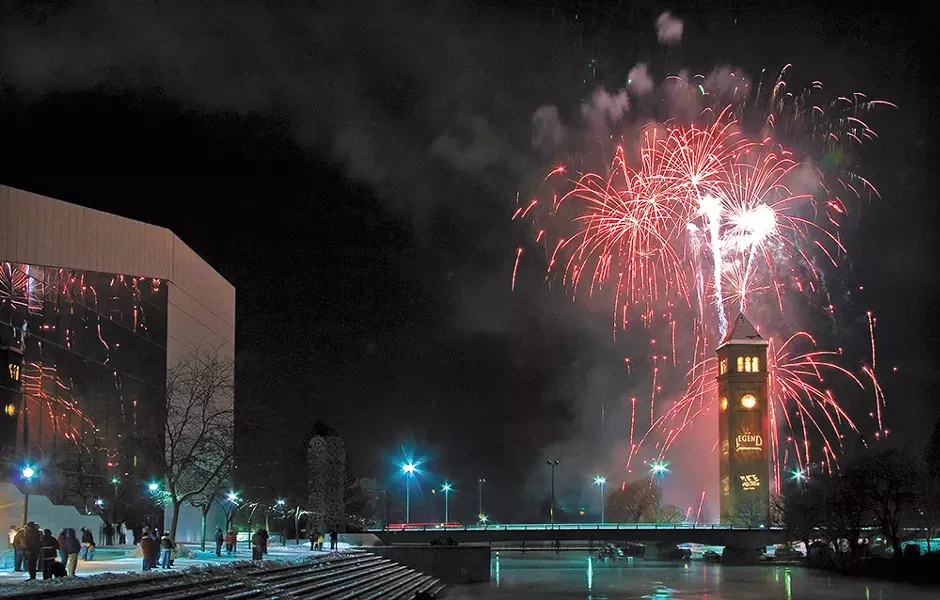 First Night Spokane is the ultimate family celebration to cap off the holidays and usher in 2017.
Dec. 31
FIRST NIGHT SPOKANE
If bundling up against the elements and getting out of the house with the whole family is more your style (versus the boozy, glam side of New Year's Eve), look no further than the annual First Night Spokane celebration. This year, the all-ages, family-friendly and alcohol-free event (no rule says that adults can't stop by a downtown bar for a drink or two between events, if you can find a seat) takes on the Lewis Carroll-inspired "Midnight in Wonderland" theme. First Night activities are centered around the arts, with performances across downtown in music, dance, live art, magic and more. Multiple venues, $15/advance; $18/day of, 7 pm-midnight. firstnightspokane.org (CS) ♦