Young Kwak photo
Dancers get down at nYne.
BEST ESCAPE ROOM
Eescape! Spokane
Decide your adventure. Break out before the warden gets back and sends you to Max, or infiltrate the central bunker to dismantle a missile coming toward the U.S., or escape the haunted manor or crack the code to return back from the galaxy in one piece. You have one hour to complete whatever mission you accept. Ready, set, Escape! (ARCELIA MARTIN)
2nd PLACE: Unit 55; 3rd PLACE: Key Quest Spokane; NORTH IDAHO'S BEST: 59: Escape Adventures, Post Falls
---
BEST CASINO
Northern Quest Resort & Casino
One way to make sure you're living up to your customers' expectations is to never rest on your laurels, and Northern Quest Resort & Casino has taken that idea to heart. A regular winner among Inlander readers for Best Casino, Northern Quest didn't let that stop them from adding several new features that surely helped it land in this spot again. From the expanded summer concert venue, to the new Riverbend Taphouse for beer lovers, and Windfall, A Kalispel Store for shopping (not to mention a new kids' area, Movie & Dinner's opening and more), Northern Quest seems determined to keep the people happy, and Inlander readers like what they're seeing. (DAN NAILEN)
2nd PLACE: Coeur d'Alene Casino; 3rd PLACE: Spokane Tribe Casino
---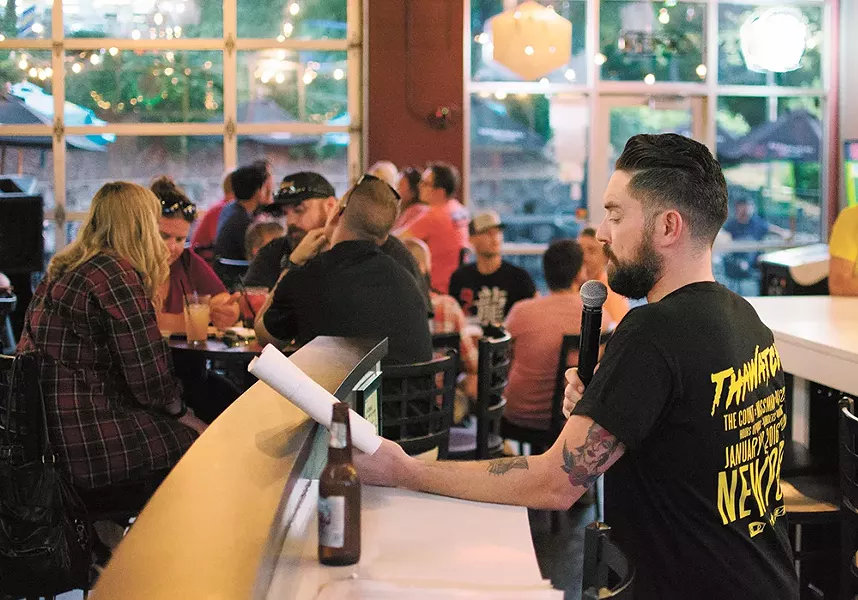 Stuart Danford photo
The guy behind so many trivia nights? Well, that's Colin Burk.
BEST SPORTS BAR
24 TAPS BURGERS AND BREWS
The Big Lebowski mural motif is enough for some of us to vote 24 Taps as our favorite sports bar in the region, but there's so much more to the place than Dude worship. Start with those 24 taps of cold local and regional brews, continue to a menu with some of the best burgers in Spokane, and don't forget to ask for a tabletop speaker so you can hear the commentary for your game of choice from one of the many TVs — including the screens outside on the heated patio. Game on. (DN)
2nd PLACE: The Swinging Doors; 3rd PLACE: The Ref Sports Bar; NORTH IDAHO'S BEST: Capone's
---
BEST PLACE TO DANCE
nYne Bar & Bistro
Downtown hotspot nYne seemingly has a crucially simple recipe for dancing success: a huge dance floor, incredible sound and a welcoming charm that makes it easy to dance — even when it isn't your thing. It doesn't hurt that they have a second bar set up by the front door, so you can keep steady reserves of liquid courage. (JORDAN SATTERFIELD)
2nd PLACE: The Globe Bar & Kitchen; 3rd PLACE: Zola; NORTH IDAHO'S BEST: Nashville North, Post Falls
---
BEST MOVIE THEATER
AMC River Park Square 20
As streaming services make watching movies at home more convenient, a superlative theatrical experience has become even more important to keeping the moviegoing industry alive. Luckily, Spokane's 20-screen AMC Theater, occupying the top floors of River Park Square, is a film lover's dream. They bring in all the major blockbusters you could want, but their Select program also makes space for indies, foreign films and documentaries, all from the comfort of those leather recliners. (NATHAN WEINBENDER)
2nd PLACE: Garland Theater; 3rd PLACE: Regal Cinemas
---
BEST BOWLING CENTER
Hugo's on the Hill
Hugo's has some of the best bowling lanes in the city. Of course, you're probably bad at bowling. At Hugo's, that doesn't mean you'll have a bad time. Eat some tasty food, drink a fancy cocktail or split a pitcher of beer with some friends. I bet the sorrow and embarrassment you feel from bowling a 49 will wash right away. (WILSON CRISCIONE)
2nd PLACE: Lilac Lanes; 3rd PLACE: North Bowl; NORTH IDAHO'S BEST: Sunset Lanes, Coeur d'Alene
---
BEST TRIVIA HOST
Colin Burk: Backyard, Press, Boiler Room
True or false: Colin Burk does trivia at every bar in Spokane. It's false, but Burk does host trivia all around town at the Backyard, Press and the Boiler Room. Maybe he's so ubiquitous because his trivia hits the sweet spot between pop culture, sports and academia. (WC)
2nd PLACE: Jonathan Bingle, Bent Trivia; 3rd PLACE: Mike Duke, Steel Barrel
---
BEST LIVE MUSIC VENUE
Knitting Factory
Able to hold 1,500 of your fellow music fans, the Knitting Factory regularly packs in shows across a wide variety of genres, from country to EDM, folk to rock 'n' roll. Inlander readers have long recognized the value of the downtown venue, voting it best in this category off and on for more than a decade. With more awesome shows already lined up this year, it's no wonder why they keep getting the love. (SAMANTHA WOHLFEIL)
2nd PLACE: The Bartlett; 3rd PLACE: Zola; NORTH IDAHO'S BEST: Nashville North, Post Falls
---
BEST SPOT FOR GAMERS AND NERDS TO ESCAPE
Jedi Alliance
Get nostalgic as heck at this shrine to all things sci-fi, gaming and 1980s-related in East Central Spokane. Jedi Alliance is a nonprofit arcade and pop culture museum that offers unlimited play on Friday and Sunday nights from 6-10 pm for $12 per person, giving access to more than 100 retro arcade games, old-school gaming consoles and pinball machines. Owned by brothers Tim and Tyler Arnold, the Alliance — legititmately registered as a Star Wars church — is open to all ages and is alcohol-free, with packaged concessions for purchase. Don't miss the insane memorabilia on display around the space, including authentic movie props, vintage toys, art and more. (CHEY SCOTT)
---
BEST BAR FOR READING AND NOT BEING BOTHERED
Heritage Bar & Kitchen
Tucked away on Railroad Alley in downtown Spokane with a solid food menu, full bar and decent lighting, Heritage Bar & Kitchen is one of the better watering holes for reading and knocking back a stiff one in blissful solitude. Of course, other people go there, and the bartender's choice of tunes on any given night may be a bit disruptive. So, it's not exactly a library. But, generally, it's reasonably quiet and people keep to their own and won't look sideways at you — let alone try to talk to you — while you sip a beer and bury your nose in whatever title is next on your reading list. (JOSH KELETY)