Young Kwak
Northern Quest is going all in on entertainment — with gambling, restaurants, bars, spas, concerts, clubs.
Best Arcade
GAMERS ARCADE BAR
There aren't many places around town where you can play Galaga, X-Men, Turtles in Time, air hockey, arcade basketball or any number of pinball games (Judge Dredd, Star Wars, Ghost Busters) to your heart's content (or at least until the quarters run out). But for the second year in a row, Gamers is the No. 1 choice in the Inland Northwest for pre-home-console-era nostalgia. (MR)
2nd PLACE: Jedi Alliance; 3rd PLACE: Garageland
---
Best Bowling Center
HUGO'S ON THE HILL
After many consecutive years atop Spokane's bowling scene, Hugo's on the Hill faltered in 2017. The Best Of mainstay relinquished its title to Lilac Lanes. Call it a blip, an aberration or a fluke, if you want. But I think what we have here is the beginning of a good ol' fashion rivalry. This year Hugo's is back on top, and Lilac slid back into second place. Stay tuned next year, dudes. (MR)
2nd PLACE: Lilac Lanes; 3rd PLACE: Sunset Bowling Center, Coeur d'Alene
---
Best New Nightspot (Opened in 2017-18)
COMMUNITY PINT
It's kind of like the Rookie of the Year award. They're new to the league. They have something to prove, maybe a little swagger. Perhaps a little too much swagger. For the past few years, winners of the Best New Nightspot have gone on to solid sophomore seasons and beyond, including The Bartlett, Durkin's Liquor Bar, the Observatory and Hogwash Whiskey Den. Now add to the list the craft beer and dog-friendly joint, Community Pint. The taps are rotating constantly. Trivia Wednesday nights. Live music sometimes. (MR)
2nd PLACE: The House of Soul; 3rd PLACE: GeeksNGlory Gaming Bar
---
Best Pub
O'DOHERTY'S IRISH GRILLE
2018 was supposed to be the year Manito Tap House claimed Jordan status. But the elusive sixth Best Of championship (Michael Jordan won six NBA Final championships) has been denied. Frequent contender O'Doherty's is on top this year. Have a Guinness and a Reuben. Then belt a tune from on top of the bar and they'll let you tack a dollar to the wall for eternity. (MR)
2nd PLACE: Poole's Public House; 3rd PLACE (tie): Manito Tap House and The Elk; NORTH IDAHO'S BEST: Capone's, Coeur d'Alene
---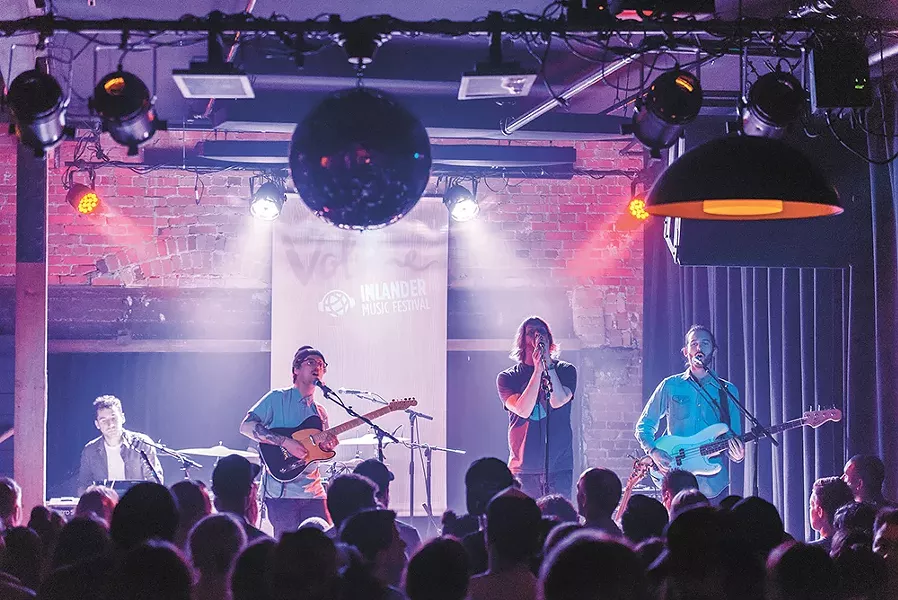 Erick Doxey
The Bartlett is a two-time winner, as Best Live Music and All-Ages Venue.
Best All-Ages Venue
Best Live Music Venue
THE BARTLETT
The intimacy in the room is staggering. Whether it's a local act or one of the country's best indie bands, the brick-and-beam-lined venue gives each of its 150 or so occupants a front-stage view. The venue has been named Best All-Ages Venue and Best Live Music Venue. It's here where up-and-coming musicians and connoisseurs witness first-hand the glory of live music. It's here where bands and lifelong love affairs are formed, both real, eventual and imaginary. (JB)
Best All-Ages Venue
2nd PLACE: The Knitting Factory; 3rd PLACE: The Big Dipper
Best Live Music Venue
2nd PLACE: The Knitting Factory; 3rd PLACE: Zola
---
Best Casino
NORTHERN QUEST RESORT & CASINO
There's an oasis in Airway Heights. There's a playground that captures the thrill of Vegas with the distinct culture of the Inland Northwest. There's gambling, a luxury spa, 14 bars and restaurants and a concert pavilion. You don't even have to leave if you don't want to. Instead, sleep over in a world-class hotel room. If you can't find what you're looking for here, you don't need it. (JB)
2nd PLACE: Coeur d'Alene Casino; 3rd PLACE: Spokane Tribe Casino
---
Best Sports Bar
24 TAPS
Truth in advertising: Can you guess how many beer taps are here? Since 24 Taps is a sports bar, it's probably fitting it's the same as the jersey number of arguably the Northwest's favorite sports star ever (Ken Griffey Jr., for those keeping track). If "The Kid" did come in, he'd not only like the beer selection, he'd want to try the Washington take on poutine (yum!). And shuffleboard. Who doesn't like shuffleboard? (SAL)
2nd PLACE: EPIC at Northern Quest; 3rd PLACE: The Swinging Doors; NORTH IDAHO'S BEST: Capone's
---
Best Trivia Night
THE BACKYARD
Colin Burk (who also hosts at third-place winner Press) has two major rules for his Tuesday-night Backyard trivia: 1. No phones whatsoever during play. 2. Don't be a dick. He'll make the crowd repeat that maxim just to drive home the point. And, really, who cheats at trivia with a phone and yells out answers? Psychopaths, as Burk jokes. "That's insane behavior for an adult. We don't stand for it at this establishment," he warns. With gift certificates (i.e., free booze) for winners on the line, it's a fair — and necessary — warning. (SAL)
2nd PLACE: Iron Goat; 3rd PLACE: Press; NORTH IDAHO'S BEST: Moose Lounge, Coeur d'Alene
---
Best Dance Club
NYNE
Maybe it's because of the basketball hoop. Maybe it's because of the worn brick walls. There's just something about nYne's dance floor that makes you feel limitless, as if you're back at a high school dance — the one that went really good — and everything in the world is just as it should be. Heart pounding, sweating and alive, all are welcome on the dancefloor at nYne. (JB)
2nd PLACE: Impulse at Northern Quest; 3rd PLACE: The Globe; NORTH IDAHO'S BEST: Nashville North, Stateline
---
Best Dance Club DJ
DJ C-MAD, NYNE
This late-night local stalwart spins most weekends at nYne, and for good reason. It's nearly impossible to stay off the dance floor during his set. From St. Patrick's Day to Halloween to New Year's parties, this DJ knows how to get the crowd moving and grooving for any occasion. (JB)
2nd PLACE: DJ MC Squared, Borracho; 3rd PLACE: DJ Zeastwood
---
Best Movie Theater
AMC THEATER
Located on the third floor of the River Park Square shopping mall, the AMC Theater is conveniently located in the heart of Spokane for food and drink before or after your movie. The reclining seats are comfortable, spacious and relaxing, the sound is great and chances are you'll find the movie you're looking for. What's not to like? (QW)
2nd PLACE: Garland Theater; 3rd PLACE: Magic Lantern; NORTH IDAHO'S BEST: Regal Riverstone, Coeur d'Alene
---
Young Kwak
Renee Fandt and her husband, Kevin, are two of the Spokane Comedy Club owners.
Best Place to See Live Comedy
SPOKANE COMEDY CLUB
The Spokane Comedy Club brings some of the country's best comedic talent to the Inland Northwest, from the likes of Tim Meadows and Bob Saget to lesser-known (but still hilariously funny) comics. The club offers an up-close experience with artists who would typically sell out huge theaters and gives local personalities the chance to open for some of the biggest names in comedy. (SW)
2nd PLACE: Blue Door Theatre; 3rd PLACE: Comedy Night at the Inn, Coeur d'Alene Best Western Plus