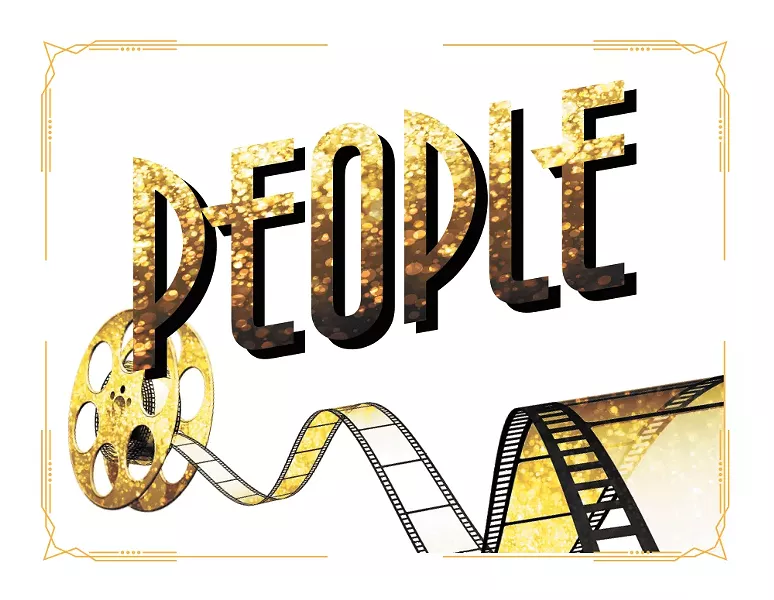 Best Athlete
KYLE WILTJER, GONZAGA
A transfer from the University of Kentucky, Kyle Wiltjer has made the most of his time as a Zag. Last year, the 6-10 redshirt senior started 37 of 38 games and averaged 16.8 points per game. This season, Wiltjer helped lead the Zags to a West Coast Conference tournament championship and the school's 18th consecutive trip to the NCAAs, and he was named to the All-WCC first team. His Zags are still playing, in fact, against Syracuse on Friday night. (AZARIA PODPLESKY)
2nd PLACE: Domantas Sabonis (Gonzaga); 3rd PLACE: Cooper Kupp (EWU)
Kyle Wiltjer, the Zags long-range man.
---
Best Bartender
CAMERON VESSER, GASLAMP/BORRACHO
With a job that requires cocktail knowledge, charisma and the ability to empathize with customers, Cameron Vesser isn't just a bartender; he's also a therapist. He loves playing both roles. "It's such a good time to stand behind the bar and see all these people that you love so much, instead of sitting in a cubicle," he says. "I'm literally being paid to have fun." (AP)
2nd PLACE: Tracey Touch (Borracho Tequileria); 3rd PLACE: Nehemiah Zilar (The Observatory); NORTH IDAHO'S BEST: Ryan Roberge (315 Martinis & Tapas)
---
Best Local Mascot
SPIKE, GONZAGA UNIVERSITY
If you've been to an event at Gonzaga, athletics-related or otherwise, you can't help but have seen Spike. GU's beloved bulldog mascot can take charge of any crowd, no matter the size, and entertain fans young and old with impressive athleticism and sweet dance moves to boot. Give him a scratch behind the ears next time you see him; the pooch has earned it. (AP)
2nd PLACE: Butch (Washington State University); 3rd PLACE: Otto (Spokane Indians)
---
Readers voted Mariah McKay the Best Tireless Community Volunteer.
Best Tireless Community Volunteer
MARIAH McKAY
For a dose of inspiration, look to Mariah McKay. Currently on the Inlander commentator's ever-full plate: work with the Spokane Regional Health District, Fuse Washington, Spokane Area NOW and the Spokane University District. "If I can share the joy of making a difference in the world with others, that will inspire people to overcome their own reservations about being involved and a ripple effect can be achieved," she says. (AP)
2nd PLACE: Mark Peterson (KXLY); 3rd PLACE: Billy Sexton; NORTH IDAHO'S BEST: Randy Oaks (Post Falls)
---
Best TV Anchorperson
NADINE WOODWARD, KXLY
In her more than 20 years in Spokane, Nadine Woodward has reported on it all. But Woodward, who began her local broadcasting career at KREM, still gets excited about her job. The Vancouver native's current favorite thing is posting behind-the-scenes footage on Facebook to better engage with viewers. "It's a really fun way to explain to our viewers in a format that they've not seen before how we do our job," she says. (AP)
2nd PLACE: Stephanie Vigil (KHQ); 3rd PLACE: Robyn Nance (KXLY)
---
Best TV Sportscaster
SAM ADAMS, KHQ
Luckily for Sam Adams, sports fans were once again able to overlook the fact that he cheers for the Arizona State Sun Devils, naming him best TV sportscaster for the second year in a row. Since joining the KHQ and SWX team in 2009, Adams' voice has become synonymous with sports in the Inland Northwest, especially high school and college football and hockey. "This really is a dream job," Adams says in his KHQ biography. (AP)
2nd PLACE: Keith Osso (KXLY); 3rd PLACE: Darnay Tripp (KREM)
---
Best TV Weathercaster
TOM SHERRY, KREM
Spokane is lucky enough to experience all four seasons, so Spokanites need a weathercaster they can trust, which they've found for more than 20 years in KREM's Tom Sherry. For Sherry, the affection is mutual. Every year he's seen the community's generosity during Tom's Turkey Drive, which last year gave 11,000 families Thanksgiving dinner. "I appreciate the viewers' time and never take it for granted," he says. (AP)
2nd PLACE: Kris Crocker (KXLY); 3rd PLACE: Leslie Lowe (KHQ)
---
Best Environmentalist
JERRY WHITE, SPOKANE RIVERKEEPER
As a program of the Center for Justice, the Spokane Riverkeeper is part of the larger, global Waterkeeper Alliance that protects and improves water quality in lakes and rivers. Jerry White took over the job in July 2014, and has maintained and built upon the programs of his predecessors. As a fish conservationist, he previously worked with Save Our Wild Salmon and volunteers with the Spokane chapter of Trout Unlimited. (SCOTT A. LEADINGHAM)
2nd Place: Amanda Parrish, Lands Council; 3rd Place: Mike Petersen, Lands Council; NORTH IDAHO'S BEST: Adrienne Cronebaugh, Kootenai Environmental Alliance (p. 62)