Samuel Sargeant
Figpickel's is right out of a kid's dream. |Samuel Sargeant photo
Best Women's Clothes
NORDSTROM
It can be hard to believe that Nordstrom once started as a humble shoe shop given the size and success it is today. After more than 100 years, Nordstrom still strives to make quality clothing while remaining fashion forward. Of course, Nordstrom carries its exclusive brands like Halogen and Zella, but at the same time sells clothing from popular retailers like Topshop and Madewell, making it accessible for women of every age to find what suits them best. (AD)
2nd PLACE: Macy's
3rd PLACE: Veda Lux
NORTH IDAHO'S BEST: Tiffany Blue, Coeur d'Alene
---
Best Gifts
BOO RADLEY'S
Named after the literary character from How to Kill a Mockingbird, Boo Radley's is one of Spokane's most off-the-wall novelty shops. I dare you to try being bored while perusing its array of quirky items. It's not uncommon to find a mug that might say something like "I drink the blood of my enemies" or a Shakespeare action figure. They'll leave you begging the age-old question: to buy or not to buy? (AD)
2nd PLACE: Atticus
3rd PLACE: Simply Northwest
NORTH IDAHO'S BEST: Lucky Monkey, Coeur d'Alene
---
Best Toy Store FIGPICKEL'S TOY EMPORIUM
The name Figpickel itself conjures up an image of a magical old man, not unlike Geppetto, welcoming kids in to test the latest and greatest models he himself must have engineered. Figpickel's is precisely the kind of toy store most children dream of getting lost in. It's the place where toys probably come alive at night. All fantasies aside, the reality is that both parents and progeny are equally charmed with it. (AD)
2nd PLACE: Whiz Kids
3rd PLACE: White Elephant
---
Best Tattoo Parlor ANCHORED ART TATTOO
When it comes to matters of permanence, it's vital to know the level of proficiency the individuals working at a tattoo parlor exhibit. With Anchored Art Tattoo, people receive creative, custom and unique art. Priding itself in skill and innovative design, it aims to deliver and manifest its clients' visions for the tattoos they desire. (AD)
2nd PLACE: Mom's Tattoo
3rd PLACE: On The Level
NORTH IDAHO'S BEST: Bleeding Hearts Tattoo Emporium, Sandpoint
---
Best Musical Instruments HOFFMAN MUSIC
Looking to get the band back together or wipe the dust off that saxophone and put it to use? Whether it's finding a new instrument or tuning an old one, Hoffman Music can do all that. It stands out from other music shops with a team who helps with various repairs, while selling new and thrifted instruments with accompanying musical accessories. Parents who have to pay for music lessons will be delighted to find frugally priced instruments that don't break the bank. (AD)
2nd PLACE: Mark's Guitar
3rd PLACE: Guitar Center
NORTH IDAHO'S BEST: Burt's Music and Sound, Coeur d'Alene
---
Best Med Spa SARAH HAMILTON FACE
This med spa's mission is to help others feel comfortable in their skin by performing services ranging from facial treatments to wrinkle relaxers. Although the services sound clinical, client reviews say that Sarah Hamilton, aesthetic RN, makes the experience warm, engaging and unintimidating. Sarah Hamilton FACE consists of a staff team who is passionate about meeting people's needs. (AD)
2nd PLACE: Glo Medical Spa
3rd PLACE: Shape Cosmetic Surgery & Medspa
---
Hector Aizon
Enjoy laid-back vibes at Brickyard.
Best Barber Shop
BRICKYARD BARBERSHOP
Brickyard Barbershop has only been open two years, and this is the second win for Best Barber Shop for owner Chris Banka and his team. Clearly, they're doing something right at the comfy and hip Monroe Street shop where stopping for a cut or a shave is a pleasure rather than a chore, thanks to the sweet tunes playing, laid-back vibe and the friendly barbers. (DN)
2nd PLACE: The Man Shop
3rd PLACE: (tie) The Barbers; Porter's
NORTH IDAHO'S BEST: Clean Cut, Coeur d'Alene
---
Best Retail Cannabis Shop
SATORI
Recreational marijuana users can find a favorite strain of weed or cannabis-infused cookie at many different shops, so the things that make a shop a person's "favorite" come down to a few basics: a knowledgeable staff, a large menu and great customer service, whether the store is busy or not. Satori's two Spokane stores, and one in Pullman, checks all those boxes, offering more than 500 products from more than 40 producers. (DN)
2nd PLACE: Cinder
3rd PLACE: Treehouse Club
---
Best Bookstore
AUNTIE'S BOOKSTORE
Auntie's Bookstore is the kind of dreamy institution that seems to exist only in movies. At once invitingly cozy and vibrantly immense, the iconic independent store turns 40 this year. Auntie's plays a substantial role in promoting and supporting local authors and frequently provides avid readers with a chance to see and hear from notable contemporaries through seminars and readings. (JS)
2nd PLACE: Barnes & Noble
3rd PLACE: The Well-Read Moose, Coeur d'Alene
---
Best Organic/Natural Foods
HUCKLEBERRY'S NATURAL MARKET
For more than 20 years now, Huckleberry's has been unmistakably synonymous with natural foods around these parts. Always up to date with what's going on in the world of organic foods, Huckleberry's is a great resource for eating conscientiously. They also have an incredible bistro and easily the best beer selection on the lower South Hill. (JS)
2nd PLACE: Trader Joe's
3rd PLACE: Pilgrim's, Coeur d'Alene
---
Best Pawn Shop
PAWN ONE
Few local chains have cemented a brand the way that Pawn One has, and if nothing else, it's easy to be in awe of how they've cornered the market in Eastern Washington. It's justifiable. Pawn One prides itself on a culture of sincerity and transparency, and that genuine approach goes a long way when it comes to buying and selling secondhand. (JS)
2nd PLACE: Double Eagle
3rd PLACE: Axel's Pawn
---
Best Pet Boutique
YUPPY PUPPY
People really love to spoil their pets, and it's getting ever-easier to go all out for your animal friend. Yuppy Puppy, a local business with locations in downtown and North Spokane, is a lovingly dog-obsessed, one-stop shop for everything canine, including toys, apparel and food, but also services like grooming and doggy day care. (JS)
2nd PLACE: Prairie Dog Mercantile
3rd PLACE: Urban Canine
NORTH IDAHO'S BEST: GoodDog, Coeur d'Alene
---
Meghan Kirk
4,000 Holes keeps plugging along, going on 30 years.
Best Record Store
4,000 HOLES
How's this for impressive? 4,000 Holes owner Bob Gallagher has managed to keep his local record store healthy and thriving through close to 30 years and at least three major record industrial revolutions. All formats are welcome under Bob's roof, and you couldn't ask for a more approachable guy to be in charge of getting you the sounds you need. (JS)
2nd PLACE: The Long Ear, Coeur d'Alene
3rd PLACE: Resurrection Records
---
Best Florist
LIBERTY PARK FLORIST & GREENHOUSE
Nothing quite gets the point across like flowers, and suffice it to say that local business Liberty Park wins this category most every year for a damn good reason. They're the real deal, a bar-setting floral shop with 90 years of experience and a gorgeous, fragrant greenhouse. (JS)
2nd PLACE: Appleway Florist
3rd PLACE: Beau K
NORTH IDAHO'S BEST: Hansen's Florist, Coeur d'Alene
---
Best Local Cannabis Grower
PHAT PANDA
With more than 40 strains to offer, Phat Panda continues to be one of the largest I-502 grows not only in Eastern Washington but in the whole state. The farm has grown from 2014 into a supplier throughout the state with its high-quality strains like their Golden Pineapple, a mood elevator with a big aromatic profile and an even bigger THC count. (TC)
2nd PLACE: Fire House Productions
3rd PLACE: Growing Like a Weed (GLW)
---
Best Bank
WASHINGTON TRUST
From helping sponsor community events like Bloomsday, to donating food and raising money for charities around the Pacific Northwest, Washington Trust Bank does a lot more than offer commercial banking to customers in the city where it started (oh hey, Spokane). It's grown to serve Washington, Oregon and Idaho with more than 40 locations. Maybe that's why they've won so much praise from readers over the years, taking the Best Bank title every year since 2011. (SW)
2nd PLACE: U.S. Bank
3rd PLACE: Banner Bank
---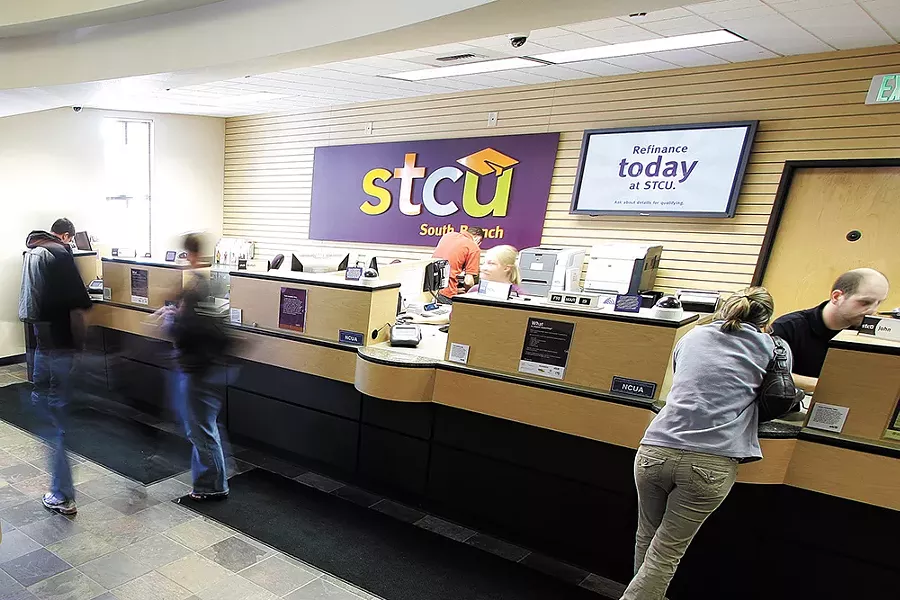 STCU boasts some 175,000 members
Best Credit Union
STCU
Way back in 1934, members of the Spokane Teachers Credit Union would ring a bell to get service from the Lewis and Clark High School classroom where the member-owned financial institution was started. Now, STCU's 175,000 members can access their accounts at any time on their cellphones. It's just one way the credit union has improved as it continues its long-time streak as a reader favorite with this 13th Best Of win. (SW)
2nd PLACE: Numerica Credit Union
3rd PLACE: Horizon Credit Union
---
Best Furniture
WALKER'S FURNITURE & MATTRESS
With showrooms around Eastern Washington, North Idaho and Northeast Oregon, Spokane-founded Walker's Furniture & Mattress has grown to be one of the most recognizable furniture sources in the region. With a commitment to have the most affordable everyday prices in the region (they'll match a quote if you find one lower), Walker's has earned plenty of reader support over the years. (SW)
2nd PLACE: The Tin Roof
3rd PLACE: Dania
---
Best Hair Salon
OASIS HAIR
With basic men's and women's haircuts starting at $13.99 and four locations in Spokane and the Valley, Oasis Hair offers affordable and approachable salon services, from cuts and colors to up-dos and waxing. They must be doing something right, because this is the sixth time readers have voted them top of the game. (SW)
2nd PLACE: House of POp
3rd PLACE: 14th and Grand
NORTH IDAHO'S BEST: Revive Salon, Coeur d'Alene
---
Best Local Hardware Store
MILLER'S HARDWARE
On Spokane's South Hill, Miller's Hardware provides the old-school customer service and feel of the mom-and-pop shops nearly gone extinct due to big-box competition, while still carrying all the stuff you need to fix everything from a leaky faucet to a burnt-out light bulb. People who sing the store's praises online credit the wide variety of goods and the friendly staff for keeping them coming back. (SW)
2nd PLACE: River Ridge Hardware
3rd PLACE: The General Store
NORTH IDAHO'S BEST: Rathdrum Trading Post Hardware
---
Best New Car Dealership
LARRY H. MILLER
2018 is shaping up to be a big year for Larry H. Miller Downtown Honda Spokane. In just a few weeks, the dealership will open its brand-new location on Third Avenue, just a block away from its current spot, with an opening scheduled for April 9. And for the fifth year in a row, our readers ranked the dealership top dog. (SW)
2nd PLACE: Dave Smith Motors
3rd PLACE: Wendle Motors
---
Best Hotel
DAVENPORT GRAND HOTEL
Don't mistake the big GH on the side of the building for General Hospital (of the soap opera fame). From the bold red carpets to the gleaming white lobby, Table 13's small plates, and the rooftop bar, the Davenport Grand Hotel, is elegant sophistication in the heart of downtown, and it is the grandest of choices. (BT)
2nd PLACE: The Historic Davenport Hotel
3rd PLACE: Northern Quest Resort Hotel
NORTH IDAHO'S BEST: The Coeur d'Alene Resort
---
Best Jewelry
JEWELRY DESIGN CENTER
Everyone knows the "4 C's of Diamonds" (carat, cut, color and clarity), but Jewelry Design Center upped the ante by adding an additional "C": customer service. They have custom-designed, one-of-a-kind pieces and beautiful diamonds, but it's their incredible customer service that allows customers to become lifelong friends. When it comes to being the best, Jewelry Design Center is a real gem. (BT)
2nd PLACE: Pounder's 3rd PLACE: Dodson's
NORTH IDAHO'S BEST: Clark's Diamond Jewelers, Coeur d'Alene
---
Best Kitchen Store
THE KITCHEN ENGINE
Allllll aboard! The Kitchen Engine gets you on track outfitting your kitchen, but it's the caboose — we mean the back — of the store that's the best part. The cooking classes offered in their back kitchen are often waitlist only. Whether it is knife skills, creating vegetarian appetizers or a specific recipe, the classes are informative and fun — and often filling! (BT)
2nd PLACE: Williams Sonoma
3rd PLACE: The Kitchen Collection
NORTH IDAHO'S BEST: Culinary Stone, Coeur d'Alene
---
Best Spa
SPA PARADISO
When "... a full day in paradise?" is teased as an option, it's impossible to resist the relaxation temptation of Spa Paradiso. Who would want to, with their full menu of beauty treatments, massage therapy and hair care as just a starting point? The only thing that could make it better is if Spa Paradiso would let us move in and stay. (BT)
2nd PLACE: The BrickHouse
3rd PLACE: LaRive, Northern Quest
NORTH IDAHO'S BEST: Zi Spa, Coeur d'Alene
---
Best Vintage Boutique
VEDA LUX
In a land of mass-produced clothing, Veda Lux Boutique is bucking the idea that it's OK to look alike. Tucked in the South Perry neighborhood, Veda Lux brings vintage-modern pieces to Spokane fashionistas. The unique fashion pieces are enviable enough, but don't even get us started on the handcrafted, hair adornments and accessories which are masterpieces of proprietor Summer Hightower. (BT)
2nd PLACE: Boulevard Mercantile
3rd PLACE: Chosen Vintage
NORTH IDAHO'S BEST: JUNK, Coeur d'Alene
---
Best Wedding Venue
ARBOR CREST
If you are going to take the plunge (and we mean get married), it should be from the highest point, or the spot with the best view. Arbor Crest, perched high above the Spokane Valley, checks both of those requirements, and adds a few more: gorgeous grounds, a historic home and some mighty fine wine from its namesake winery. Arbor Crest is completely plunge-worthy! (BT)
2nd PLACE: The Historic Davenport Hotel
3rd PLACE: Hagadone Event Center