INLANDER HISTORIES, VOLUME 2
PEOPLE WHO SHAPED THE INLAND NORTHWEST
Available across the Inland Northwest in November 2015
Since 1993, the Inlander has been sharing stories of the people and events that have made the Inland Northwest so unique. Now you can read 15 of them in Inlander Histories, Volume 2.
You'll meet the man who not only survived Prohibition, but thrived right on through the dry years. Read all about the Sisters of Providence, who built Spokane's first hospital from the back of a pony. And then there's the legend of Nat Park and how a certain couple's connections brought the Looff Carrousel to Spokane.
Local historians and authors first brought these people to life in the pages of the Inlander, and now they're collected here, including:
Jess Walter on Dashiell Hammett's Davenport detour;
Sheri Boggs on Bing Crosby's deep ties to his hometown;
Jack Nisbet on Mourning Dove's mark on regional literature;
and Robert Carriker on Lewis and Clark's continental crossing.
You'll find that and more inside Inlander Histories, Volume 2. And if you missed it, pick up a copy of 2014's Volume 1 as well.
VOLUME 2 CHAPTERS
The Prodigious Son: Bing Crosby
The Detective and the Davenport: Dashiell Hammett
Wobblies on the Corner: Elizabeth Gurley Flynn
The Prince of Prohibition: Albert Commellini
Frontier Dreambuilder: Kirtland Cutter
The Ringmasters of Nat Park: Louis and Emma Vogel
Captain Coeur d'Alene: Peter Sorensen
People of the Century: 1900 - 2000
Healing Pioneers: The Sisters of Providence
The Speaker from Spokane: Tom Foley
Blending In, Standing Out: Ed Tsutakawa
Father's Footsteps: Carl Maxey
A Tangled Legacy: James Glover
The Wanderer: Jaco Finlay
Into the Unknown: Lewis and Clark
---
---
INLANDER HISTORIES, VOLUME 1
Timeless Tales of Spokane and the Inland Northwest
Volume 1 available at these retailers!
Atticus -222 N. Howard St
Auntie's -402 W. Main Ave
Boo Radley's -232 N. Howard St
Hastings -1704 W. Wellesley Ave
-15312 E. Sprague Ave
-2512 E. 29th Ave
NW MAC Gift Shop -2316 W. 1st Ave
Well-Read Moose -2048 N Main St, CdA
Inlander HQ -1227 W. Summit Parkway

Volume 1 Now Available on Kindle!
If you call yourself an Inlander, you need to know the stories. Do you remember those ancient ivory tusks pulled from a farm down on the Palouse? What happened after fur trappers set up their first trading post on the Spokane River? Or how a local basketball team captivated the nation? What about "The Biggest Thing That Man Has Ever Done"? A World's Fair?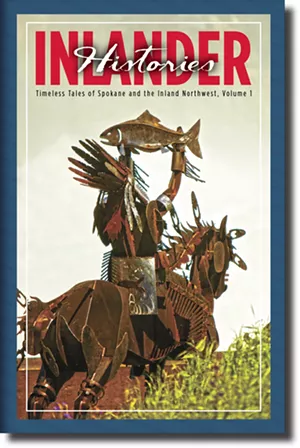 Those are just a few of the tales that define the rich history of the Inland Northwest — stories that were first retold in the pages of the
Inlander
newspaper starting in 1993. In
Inlander Histories
, you'll meet Nell Shipman, the silent film star who launched her own studio on the shores of Priest Lake. You'll hop a flight over Mt. St. Helens on a particularly memorable day. And you'll learn how Walt Worthy kept the dream of Louis Davenport alive in downtown Spokane.
Noted local historians Jack Nisbet, Robert Carriker and William Stimson join Inlander staff writers, including Sheri Boggs, Andrew Strickman and Mike Bookey, to take you on a tour of some of the most important moments in the region's past. Collected together for the first time,
Inlander Histories
pieces together the tapestry of Eastern Washington and North Idaho culture, creating a rare document of life in the "inland" part of this corner of the continent.
VOLUME 1 CHAPTERS
Signs of Life, Spokane County
The Missoula Floods
The Bard of Grand Coulee: Woody Guthrie
Life at Spokane House
The Good Indian: Spokane Garry
Mammoths of the Palouse
Man on a Mission: Fr. Joseph Cataldo
News of the Year: 1899
Winning the Vote: May Arkwright Hutton
Strange Days at Monaghan Mansion
Mystery of the Moscow Flowers
The Viewfinder: Charles Libby
The Brewmaster: Bernhardt Schade
Priest Lake Producer: Nell Shipman
Joe Peirone's First Truck
A Bing Crosby Christmas
Remembering Spokane in the 1950s
Clean-Cut Radicals: The Chad Mitchell Trio
Expo '74: 25 Years After
Flight With Destiny: Mt. St. Helens
Veteran Eclectic: Harold Balazs
Marquee Names: Fox and Woldson
Saving the Davenport Hotel
Zag Nation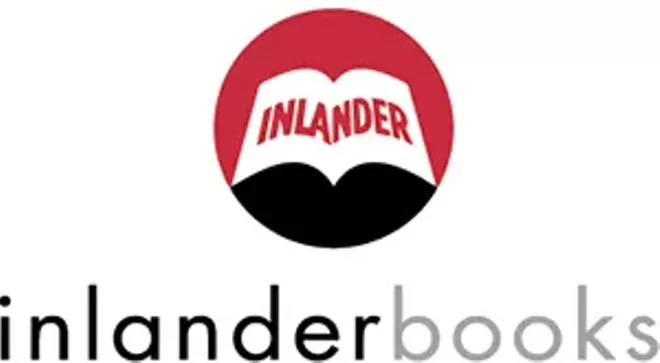 If you'd like to sell Inlander Histories, Volume 1 and 2 at your shop,
contact us at (509) 325-0634

Comments? Send them to editor@inlander.com


Images from Volume 1
10 slides