Young Kwak
FROM LEFT: Miss Shifters members Shelly Walsh, Annette Callesto and Heather Eller before a Powder Puff time trial, during the Summit #6 Sugar Bear Memorial at the Spokane County Raceway.
As the drone of engines fills the air along the drag strip in Airway Heights, Rachelle Stephens walks up to another woman to talk about the slight nerves she had using the transbrake on her 1984 Mustang GT for one of the first times.
"I thought I floored it all the way, but my husband said no way," Stephens says as she mimics her experience, scrunching up her face and holding her hands out as if clutching the steering wheel and smashing her thumb into the green button. The transbrake puts the car in first gear and reverse at the same time, holding the car steady while the driver revs the engine, ready to take off the second the light on the race track turns green.
Young Kwak
Shelly Walsh in her 2018 Ford Mustang GT before revving up for a time trial run.
"I know I wasn't quite there," she continues.
It's a new toy on her burnt-orange race car, which has been gutted of most everything not needed for the drag strip. Where there'd normally be a plastic dash and seats, instead there's a metal interior and a roll bar. There's one exception made for a basket on the passenger side floor, where Stephens throws her purse. On this late June Saturday, it's a sparkly silver bag that hearkens to the vintage rounded seat back of a '50s diner booth.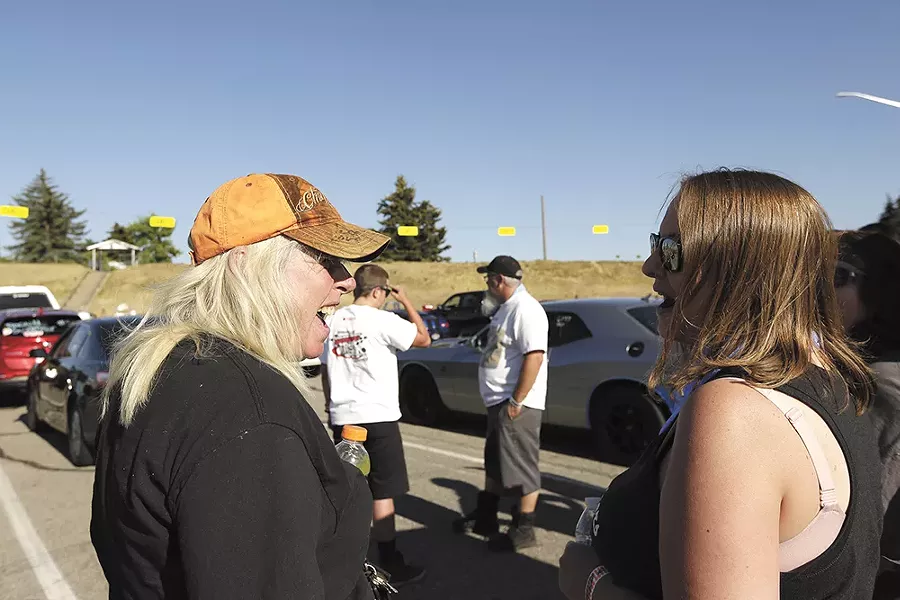 Young Kwak
Miss Shifters members Angie Weaver, left, and Jessica Boller compare notes before a race.
As her husband Casey comes over to hook up a charger to the batteries sitting in the back, making sure she's got full juice before her next time trial, Rachelle walks over to her friends mingling in the pit area behind the track.
Several women sit in camp chairs under the shade of an RV, wearing black matching "Miss Shifters All Girls Car Club" tank tops, each featuring a skull-shaped gear shifter topped with a pink bow. Their husbands and sons wear matching T-shirts.
Young Kwak
Rachelle Stephens shows off her 1984 Ford Mustang GT to 6-year-old Jacen Lake.
This is a pretty typical Saturday afternoon for the members of the Miss Shifters, an all-female, multigenerational car club. About 30 members show off their shiny vehicles at car shows throughout the region, including their own "Broads and Rods," and nine of the women also race in the Powder Puff class originally created by Jenifer Jennings here at the Spokane County Raceway.
All the members are car fanatics.
"We own an auto shop, he owns an auto shop, all we do is cars, cars, cars, cars, cars," says Stephens, who owns North Hill Auto Repair with her husband. "When we're not out doing car stuff, we're at home talking about cars."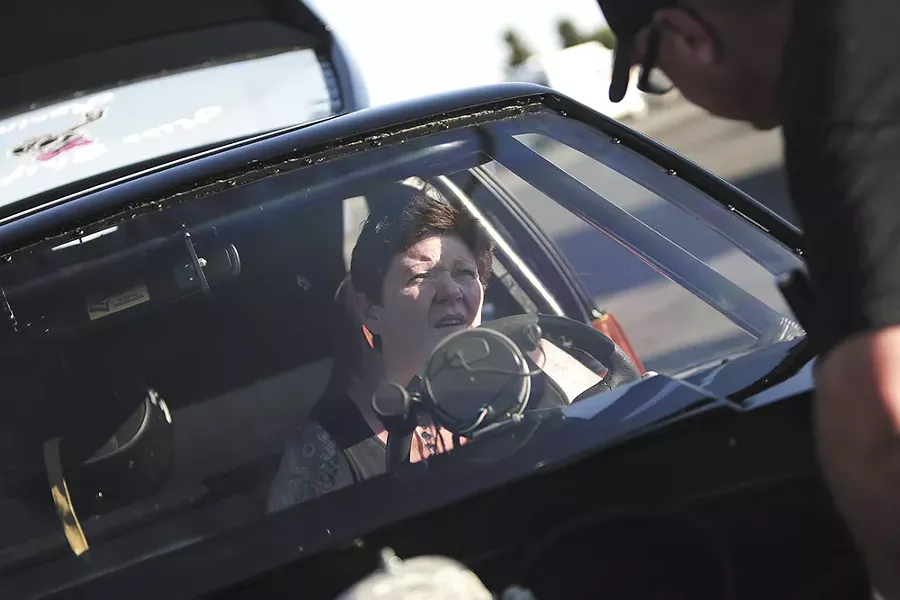 Young Kwak
Miss Shifters President Rachelle Stephens, left, and her husband Casey Stephens troubleshoot a broken line lock on her ride.
"We've been bit by the same bug — car craziness," adds Heather Eller, one of the club's newer members.
"That damn bug's expensive," Shelly Walsh says with a laugh.
The group's collection of race cars includes some you might expect to see blasting down the quarter-mile track, like Jessica Boller's '67 Camaro, and others you might not, like Eller's 2011 Buick Regal.
Young Kwak
Heather Eller, right, and her husband Cody Eller watch the action on the track.
That's part of the fun of the all-women Powder Puff division, where a track-only Mustang might race next to a Kia SUV used as a family vehicle, making for somewhat comical matchups during time trials.
Even after the cars are all tuned and paired up for races, at times Stephens says she gets placed in a race with someone whose car is significantly slower. She's typically got a "10-second car," meaning she can go the full track in 10 seconds, but if she's paired with a 17-second car, she actually has to wait behind the start line for seven seconds while the other car starts, wait for her own green light, then start down the track, catch up and hopefully be first across the line.
Young Kwak
Angie Weaver steers her 2013 Chevrolet Caprice Police Interceptor down the track.
Part of what inspired the car club is that men haven't always been inclusive of women in the car world, Stephens says. Her friend Alicia Wood founded Miss Shifters in June 2009 after men's car clubs wouldn't let her join, and Stephens was soon on board. They started participating in the women's racing division for similar reasons.
"Guys are kinda jerks to race with," Stephens says. "They'd say stuff like 'When are the hookers gonna start?'"
That said, she's fast to emphasize that that's a very, very small percentage of men involved in racing locally. Since the club has been racing, they've found most men to be extremely supportive.
Still, having other women to bond with over cars is a huge part of the fun.
"It's just cool to hang out with chicks that I can actually talk to about cars," Stephens says. "This helps all these women feel empowered and free doing this. It's phenomenal. It's like a sisterhood."
Young Kwak
Jessica Boller prepares to race.
And there's literally family connections in the group, too. Boller's daughter, Danyelle Boller-Lake, is another club member racing today, and her son races in the high school division.
From the pits, the group doesn't get to watch much racing, but they spend hours talking and helping make quick changes to each others' cars. A small radio plays racetrack announcements, and as soon as they hear their division called, the women rush to their vehicles, throwing on protective gear and pulling out to line up.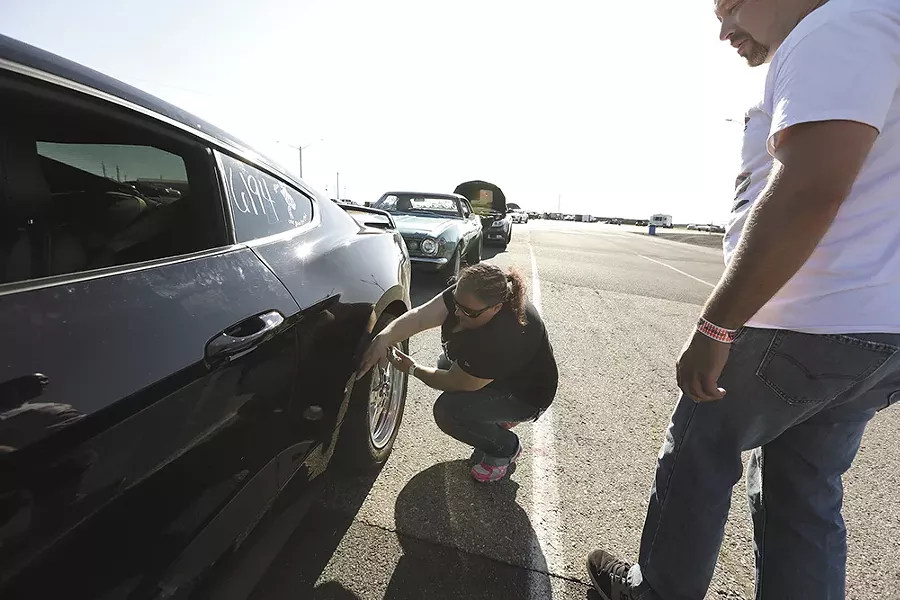 Young Kwak
Shelly Walsh checks the tire pressure on her 2018 Ford Mustang GT.
When they're finally called up to the track, each takes their turn approaching the line, waiting for that exact moment the light tree turns green, then speeding off toward the finish.
"You see your lane guide go, 'Helmets on,' you're thinking, 'Oh God, it's crunch time,'" Stephens says. "Then you get the butterflies and it's time to do your burnouts, and it's just go." ♦
CORRECTION: The print version of this story omitted the original founder of the Powder Puff racing division. It's been added online.
Young Kwak
Rachelle Stephens guns her 1984 Ford Mustang GT toward the finish line.
Young Kwak
FROM LEFT: Heather Eller, Shelly Walsh, Annette Callesto and Jessica Boller are ready for a night at the races.
Young Kwak
Rachelle Stephens, right, celebrates with members Shelly Walsh and Heather Eller after each advanced to the next round of races.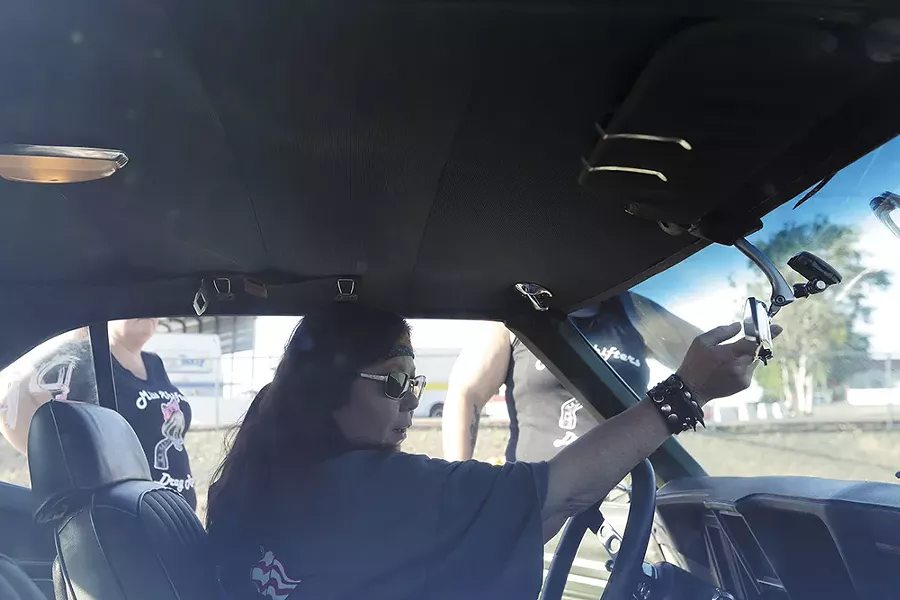 Young Kwak
Annette Callesto adjusts the mirror in her 1969 Chevrolet Camaro.
Young Kwak
Jessica Boller flies down the track in her 1967 Chevrolet Camaro.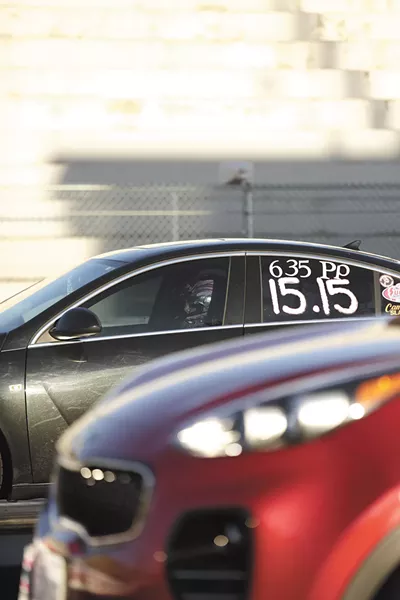 Young Kwak
Heather Eller is all business waiting at the starting line in her 2011 Buick Regal Turbo.
Young Kwak
Rachelle Stephens hugs her husband Casey Stephens post-race.
Young Kwak
Jessica Boller speaks with her 16-year-old son Dylan Boller.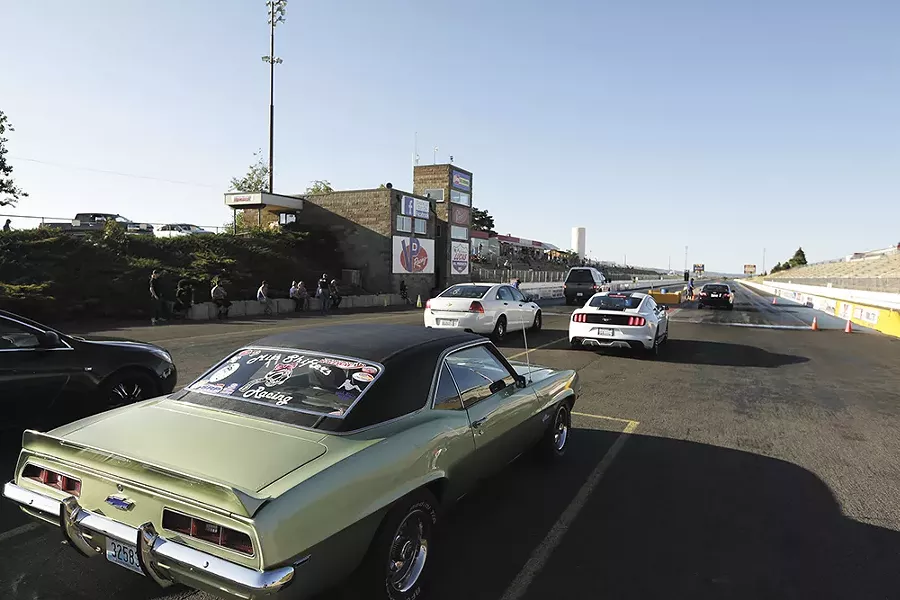 Young Kwak
Annette Callesto waits to race in her 1969 Chevrolet Camaro.