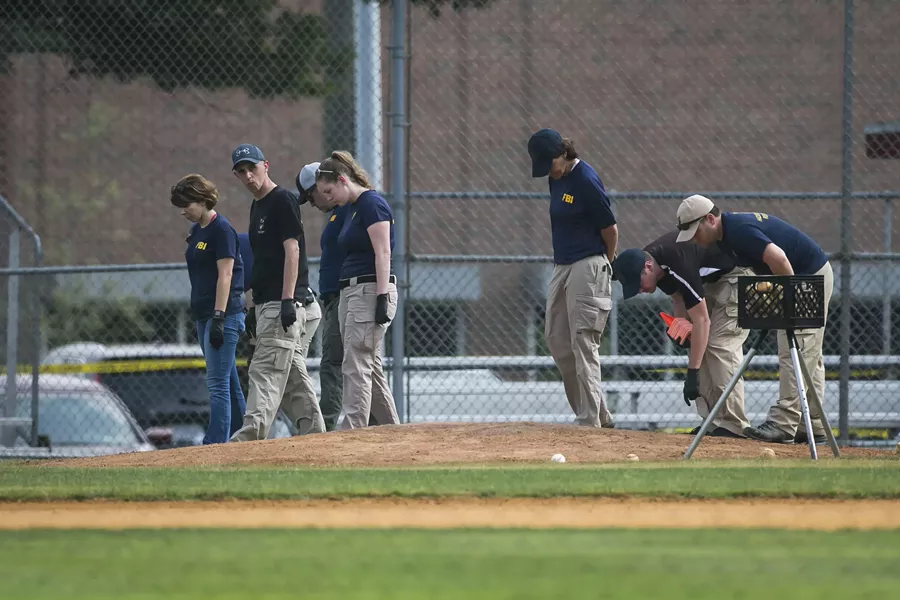 Al Drago/The New York Times
Members of the FBI Evidence Response Team search the field where House Majority Whip Steve Scalise (R-La.) was shoot during a congressional baseball practice at Eugene Simpson Stadium Park in Alexandria, Va., June 14, 2017. After a gunman opened fire on Republicans practicing baseball, lawmakers are pressing to lift regulations on silencers and allow members to carry guns.
By EMILY COCHRANE
© 2017 New York Times News Service
WASHINGTON — After the nation's worst mass shootings, in Newtown, Connecticut; Aurora, Colorado; Orlando, Florida; and Columbine High School in Colorado, gun control advocates rose to demand more rigorous laws, almost always to no avail
But in the weeks after the June 14 shooting of Republicans at a congressional baseball practice, the response has had a twist: Conservative lawmakers, some of whom were nearly the victims of gun violence, have pressed to loosen gun controls.
Three bills introduced in the Republican-held House during the past two weeks would allow lawmakers to almost always carry a concealed weapon. A fourth would allow concealed carry permits obtained in other states to be recognized in the District of Columbia.
Still
another would eliminate federal controls on silencers.
Most of the legislation has been in development for months, and in some cases, years. But the shooting in Alexandria, Virginia, which left Rep. Steve Scalise of Louisiana, grievously injured and three others less seriously wounded, served as motivation for Republicans on both sides of the Capitol to move.
To Republican advocates, it is now personal. Several pointed to a list
with
the names of six members of Congress that was found in the possession of the gunman, James T. Hodgkinson.
"Have they ever been shot at, multiple times, at close range, trying to save someone without any way to defend yourself?" Rep. Barry Loudermilk, R-Ga., who was on the field during the shooting, said of gun control advocates.
Gun rights legislation after the baseball practice shooting received a lift: The Concealed Carry Reciprocity Act, which would require each state to honor another state's concealed carry permits, reached 200 co-sponsors.
When lawmakers return this week from their Fourth of July recess, the politics of guns could return with them. Just before they left, Sens. Mike Lee, R-Utah, and Mike Crapo, R-Idaho, introduced a bill that would eliminate the federal regulation of silencers.
Before the end of July, Reps. Peter King, R-N.Y., and Mike Thompson, D- Calif., plan to reintroduce their bipartisan bill to expand federal background checks to cover all gun sales, including online purchases — legislation inspired by the massacre at Sandy Hook Elementary School in Newtown, Connecticut.