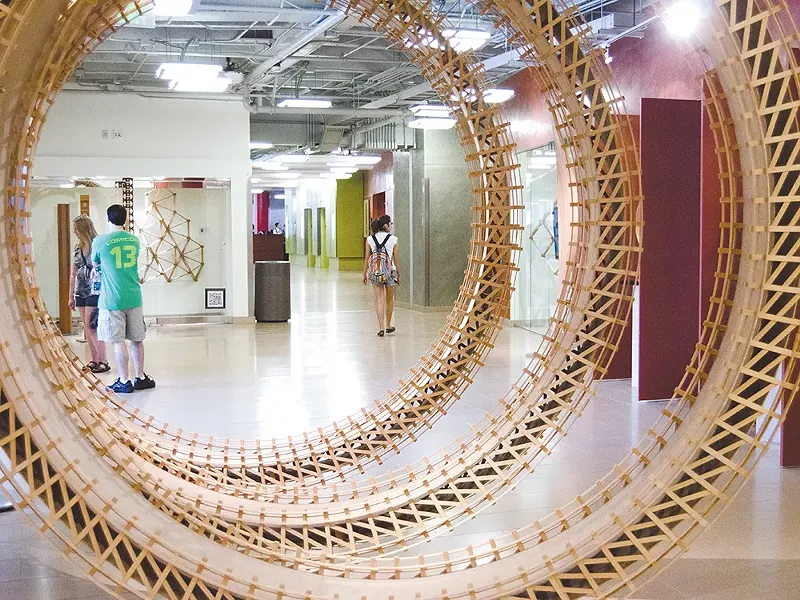 Lisa Waananen
Paul Vexler\'s "Thick and Thin" exhibit.
On the day before the first home football game at Washington State University, a group of visitors in khaki shorts and tennis shoes wandered through the Compton Union Building on a casual self-guided tour and paused in the gallery space outside the auditorium. "So this must be some sort of a free-form engineering exercise," one said.
In a way, yes. On display are the wooden sculptural works of Washington artist Paul Vexler, who crafts elegant forms that expose the natural relationship between art and mathematics. Both geometric and free-flowing, the sculptures invite the viewer to look from all angles and inspect the craftsmanship up close. The exhibit runs through Sept. 25, when Vexler is giving a closing lecture about his work, but one of his works will remain permanently: Yellow Knot, which the university purchased this year to hang in the light-filled atrium at the other end of the building.
"Thick and Thin" • Closing lecture from artist Paul Vexler on Wed, Sept. 25 at 6 pm • Compton Union Building Auditorium • 1500 NE Terrell Mall, Pullman • seb.wsu.edu