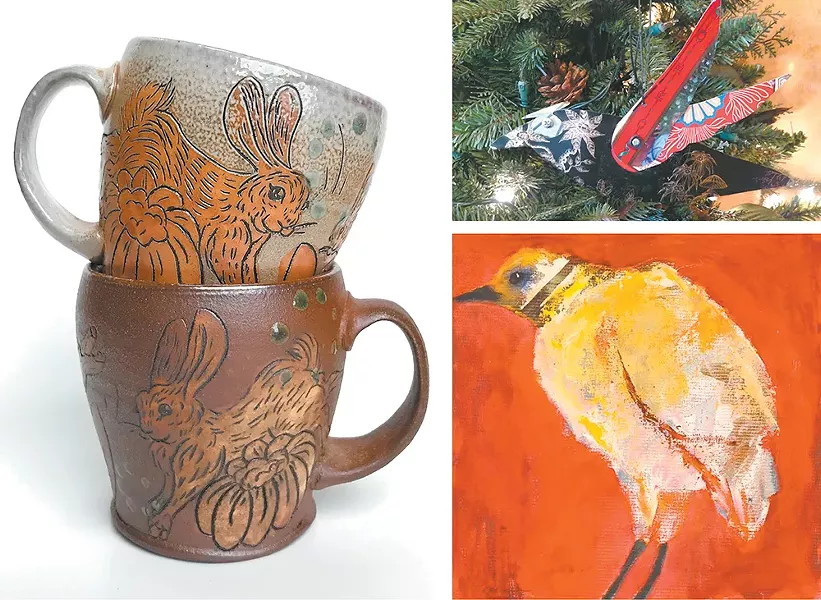 CLOCKWISE: Jordan Jones' rabbit mugs in Cup of Joy at Trackside, Karen Ciaffa in the Ornament and Small Works Show at Spokane Art School, and "A Change in Temperature" by Mel McCuddin in the Small Artworks Invitational at the Art Spirit Gallery.
Through Dec. 23
ORNAMENT AND SMALL WORKS SHOW
For many people, holidays involve complex rituals touching on faith, family, friendships, and the many ways we connect, celebrate, and contemplate times past and prepare for a new year. A cornerstone of our community, the Spokane Art School generously kicked off the Christmas holidays a little early with the work of 40 local artists. What a lovely tradition. Spokane Art School, Free, open Mon-Fri from 10 am-5 pm, Sat until Dec. 23 from 10 am-4 pm. spokaneartschool.net
---
Nov. 24-Nov. 26
FESTIVAL OF FAIR TRADE
If you want the gift to the special someone who receives it from you this holiday to also have been made by a special someone, this festival is a way to give to more than just the object you intended. Since 1985, this annual festival has been offering fair-trade items from around the world, courtesy of Ganesh Himal Trading and Kizuri Fair Trade Clothing & Gifts. Community Building, Free admission, Fri-Sun from 10 am-5 pm. festivaloffairtrade.com
---
Dec. 1-Jan. 12, 2018
CUP OF JOY EXHIBITION AND SALE
Coffee, tea, water, whiskey. Whatever your pleasure, if you have a favorite vessel for it, drinking from anything else doesn't seem to fit, somehow. Celebrate the simple ritual of filling and emptying a vessel, while nourishing your artistic appreciation of a wide range of ceramic techniques. Ceramic cups from 30 artists nationwide are on display (and for sale) during this annual event that runs through early 2018 — perfect for that New Year's toast or the morning after cuppa. Trackside Studio Ceramic Art Gallery/Kolva-Sullivan building, Free, Receptions Dec. 1 from 5-8 pm; also Dec. 2. and Dec. 16 from noon-4 pm. tracksidestudio.net
---
Dec. 1-Jan. 6 , 2018
19TH ANNUAL SMALL ARTWORKS INVITATIONAL
This Coeur d'Alene art tradition continues with the end-of-year wrap-up of good things in small packages from more than two dozen favorite local and regional artists. The Art Spirit Gallery, Free, Receptions on Dec. 1 and Dec. 8 from 5-8 pm. theartspiritgallery.com
---
Dec. 2
HOLIDAY ARTIST STUDIO TOUR
Why should kids have all the fun during the holidays? Join the Northwest Museum of Arts and Culture on a field trip just for adults. This self-guided tour includes a visit to six local artists' studios from whom you can redeem your advance-ticket purchase: Melissa Cole, Nicholas Sironka and Darcy Lee Saxton, as well as Kay O'Rourke, Dean Davis and Liz Bishop (attendees can also purchase same-day tickets from any of these artists). After the tour concludes, head to Maryhill Winery's new tasting room in Kendall Yards for a complimentary glass of wine. You'll also be entered to win a piece of Saxton's artwork, or art lessons from Sironka, an incomparable traditional batik artist. Northwest Museum of Arts and Culture, $10/tour only; $20/tour and winery visit. Dec. 2 from 10 am-6 pm. northwestmuseum.org
---
Dec. 2
WINTER CARD-MAKING PARTY
Anyone can buy a card; making your own takes something special. Come play with watercolor, collage, and cut paper, or learn to make a potato stamp and create a treasured memento. Complimentary hot cider and cookies will help you keep your creative energy flowing! Spark Central, Free, Dec. 2 from 5-7 pm. spark-central.org/events
---
Dec. 2 & 9
MOSCOW WINTER MARKET
It's like the farmers market, only indoors and much warmer. Spend a day exploring the best of the Palouse at this Winter Market, selling perishables like honey, kombucha, jams, baked goods, and meat and cheese, as well as artisan jewelry, fiber arts and other handmade wares. 1912 Center, Free, 10 am-2 pm. 1912center.org/wintermarket1.php
---
Dec. 8-Jan. 12
4TH ANNUAL LHS MINI ART SHOW
Think Tiffany lamps dripping with dragonflies, William Morris floral prints and illustrations of women with flowing hair ensconced in an undulating border of flowers and decorative swirls. That's Art Nouveau, an art movement at the end of the 19th century characterized by a fascination with nature and elaborate decoration. It's also the inspiration for an exhibition and sale by talented Lakeland High School students that also helps raise money for the school's art program. While you're there, have an eggnog latte, then pop over to the Coeur d'Alene Resort to see the lights and stroll through the charming town of Coeur d'Alene all decked out for the season. Calypso's Coffee & Creamery, Free, Reception Dec. 8 from 5-7 pm. bit.ly/2ALIXbA
---
Kayleen Gill photo
Learn to make a wreath over a little wine at Nectar.
Dec. 10, 14, & 17
WREATH MAKING
As if you needed yet another reason to love Nectar, they're hosting a wreath-making workshop with White Picket Fence, including beer and wine for purchase. In this festive class, you'll fasten locally harvested greens to a 14-inch wire frame, creating a fresh holiday wreath that smells as good as it looks. Nectar (120 N. Stevens), $30, Dec. 10 at 2 pm (sold out) and at 4:30 pm; also Dec. 14 at 11 am, Dec. 17 at 2 pm at Hotel RL at the Park. dianedecorates.weebly.com/workshops.html ♦