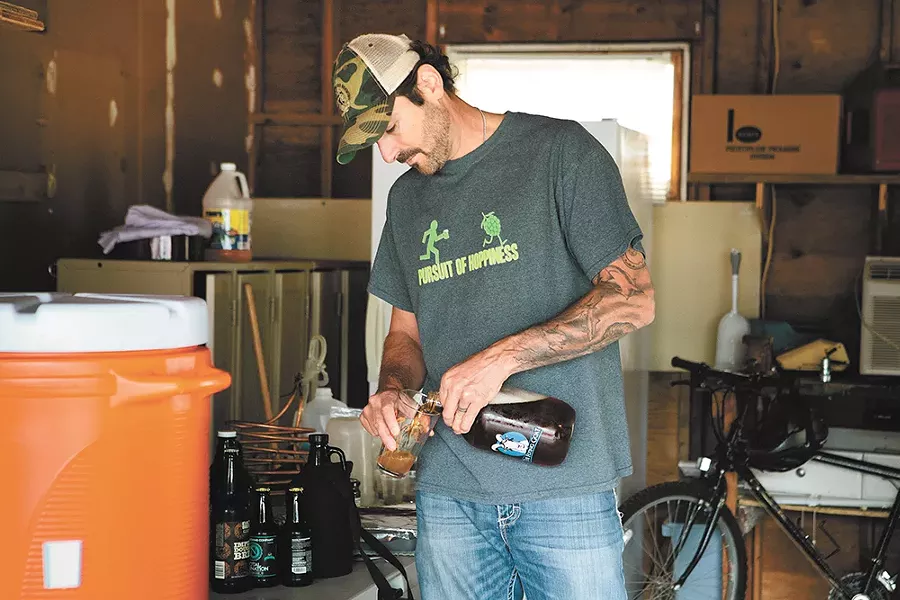 Kristen Black
Inland Brewers Unite's James Patterson samples the wares.
Your first beer is rarely going to be good. Drinkable, sure, but not great. The guys of Inland Brewers Unite homebrew club can attest.
"I don't even know what mine was; it was a kit from Jim's Home Brew. It didn't say what it was on the bag, but it came out kind of amberish, so I was like, 'It's an amber!'" recalls club member Adam Boyd as he tends to the gravity-fed brewing system set up in his backyard garage.
Five fellow IBU members are gathered around, sipping on beers they've made and talking shop as Boyd brews his 100th batch since getting into the hobby four years ago. After today's process, the saison-style beer should be ready to drink in about a month.
"Mine was the Elysian clone," IBU president Aaron Fernald chimes in. "It probably didn't taste like Elysian, but it was still a really good IPA. As soon as it was carbonated I was like, 'Yes, I'm drinking it!'"
"Mine ended up like champagne," adds J.D. Scott. "It was super under-attenuated [beer-speak that means the sugars weren't fully converted into alcohol during fermentation] when I put it in the bottle, so you'd pop it and pour it in a tall glass, and it would just shoot right up to the top."
Yet in the world of homebrewing, each new beer — whether a failure or success — is a valuable chance to learn, tweak, apply lessons and improve the next batch.
"As an experienced brewer, you can go back and look at your process and identify what happened," Boyd says. "As an inexperienced brewer, you're like, 'I did 18 things wrong, and it could have been any of those things!'"
Kristen Black
Adam Boyd examines the tap system.
As attentive students of their craft, Boyd and the rest of the crew hanging out in his garage on this overcast, Saturday afternoon have stuck with it, sharing firsthand knowledge and ideas with each other to become quite the talented group of home-based brewmasters.
Three of the brewers there — Boyd, T.J. Wallin and James Patterson — placed in the top three of about 20 entries at a peer-judged homebrew competition themed around session beers, hosted by IBU last month. The top two beers — Patterson's first-place session IPA and Wallin's second-place coffee amber stout — will be featured this spring and fall, respectively, at Black Label Brewing Co.
Boyd and Fernald also were recently chosen as two of the four finalists in another club event partnering with Orlison Brewing Co. A highlight of the second annual Spokane Craft Beer Week, IBU and Orlison's Pro-Am "Beer of Summer Showdown" event on Friday, May 20, lets the public vote for their favorite of four homebrewers' beers featured at the downtown taproom. The "amateur" brewmaster whose beer wins will partner with Orlison's "pros" to brew commercial batches for a featured tap handle, available at the tasting room from June through August.
Both of these amateur/professional collaborations are new for IBU, now in its sixth year.
"For us, this year, we feel like the prettiest girl at prom," Boyd jokes. "Everyone wants to work with us and it just suddenly happened, which is really great because we feel like the club is getting some cool recognition from the pro brewers."
Of the more than 1.2 million homebrewers in the U.S. according to a 2013 survey by the American Homebrewers Association, more than 60 percent have taken up the hobby in the past 10 years. Similarly, the total number of U.S. breweries (craft, microbrewery and commercial operations) has increased by more than 73 percent over the past five years. As of last fall, the number of breweries in America broke a historic record — surpassing 4,000 operations — reports the nonprofit industry trade group the Brewers Association.
If not for Inland Brewers Unite, casual homebrewers like Scott, who's dabbled in beermaking for the past decade to carry on the legacy of his grandfather, surely wouldn't be as active in the craft.
"I've brewed more in the past 6 to 8 months than in the past 10 years," he notes. "We get lots of amazing feedback, and there's the competitions on top of that. Everyone is really encouraging to each other to get involved." ♦
Craft Beer Week: "Beer of Summer" Contest feat. IBU Homebrew Club • Fri, May 20, from 4-9 pm • Orlison Brewing Co. • 1017 W. First • spokanecraftbeerweek.com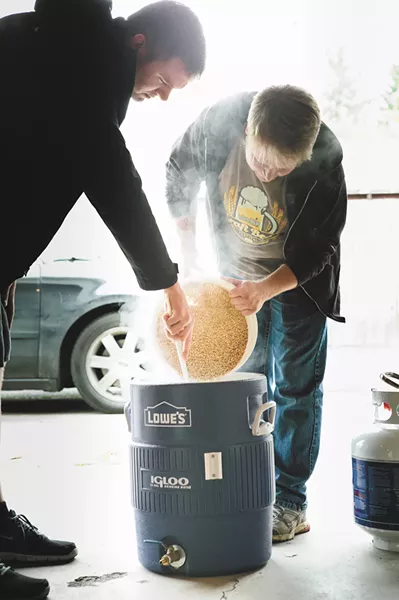 Kristen Black
Inland Brewers Club's Adam Boyd doing work.
---
IBU + Orlison "Beer of Summer" contest featured beers
• Dry-hopped (Citra hops) Pineapple Berliner Weisse: Adam Boyd
• Belgian Saison: Aaron Fernald
• Coffee Stout: Terry McMillan
• IPA featuring Green Bullet hops: Brian Wagner
---
DAY BY DAY
If you give it some forethought, the second annual craft beer week can serve as a chance to get a crash course in the region's beer scene. Here's one highlight per day for Spokane Craft Beer Week. Although there's no penalty for hitting up more than one brewery per day, of course.
Monday, May 16, at 5 pm
SCBW Kickoff Party
Perry Street Brewing
Get down to PSB for the opening ceremonies, if you will, of this celebration. You'll find swag giveaways, drawings, and of course specialty beers.
Tuesday, May 17, from 3 to 9 pm
Volume Vertical and Barrel-Aged Rarities
12 String Brewing
Head out to the Valley for a trio of 12 String's anniversary beers from recent years, as well as some of their barrel-aged creations.
Wednesday, May 18, from 4 to 7 pm
SCBW Collaboration Festival
No-Li Brewhouse
One the highlights of Beer Week is the collaborative beers that come as a result of breweries teaming up. At this festival, you can try the 15 beers produced by teams of local brewers. Come back on Saturday for No-Li's small-batch festival.
Thursday, May 19, from 4 to 9 pm
Barrel-Aged Beers Night
Orlison Brewing Company
The lager maker has been stretching its repertoire as of late; check out its barrel-aged creations at the downtown taproom.
Friday, May 20, at 6 pm
Kill the Firkin
Black Label Brewing
Black Label has a limited amount of their collaboration with Badass Backyard Brewing and Palouse Pint.
Saturday, May 21, from 11 am to 3 pm
Armed Forces Day
Big Barn Brewing
Wrap up Beer Week by heading out to Green Bluff and the pastoral setting of Big Barn Brewing, where members of the military get $3 pints and a free full growler. If you don't want to make the drive, brother-sister restaurants Manito Tap House and The Blackbird have a Firestone Walker sour release and a Deschutes Brewery showcase, respectively.