Young Kwak photo
Mizuna loves its veggies, including this Moroccan chickpea tagine.
BEST CUPCAKES
Sweet Frostings
With a tiny fondant heart topping off each treat on its extensive menu, Sweet Frostings' cupcakes are instantly recognizable by sight. When one bites into the soft cake in combos like cookie dough, apple pie, chocolate peanut butter and orange creamsicle, the decadent flavors, too, are instantly memorable. Which makes it no surprise that this local favorite takes tops in this Best Of category year after year. (CHEY SCOTT)
2nd PLACE: Celebrations Sweet Boutique; 3rd PLACE: Nothing Bundt Cakes; NORTH IDAHO'S BEST: Temptations Cupcakes, Coeur d'Alene
---
BEST NEW RESTAURANT (OPENED 2018-19)
Park Lodge
Raise your hand if you haven't been given a recommendation to dine at Park Lodge, one of Spokane's newest and most esteemed fine dining establishments, located in Kendall Yards overlooking the Spokane River gorge. Countless rave reviews on social media and elsewhere praise the attention to detail and delivery of technique on display at chef-owner Philip Stanton's seasonally driven eatery. Park Lodge's culinary philosophy centers around the use of a traditional wood-fired hearth to develop complex yet familiar flavors of many dishes on the menu, from meat to seafood to veggies. (CS)
2nd PLACE: Elliotts, an Urban Kitchen; 3rd PLACE: Cochinito Taqueria; NORTH IDAHO'S BEST: Honey Eatery & Social Club, Coeur d'Alene
---
BEST BREAD (BY THE LOAF)
The Grain Shed
Home to both Culture Breads and Grain Shed Brewing, the Grain Shed co-op is one of the most hyper-local food systems we've seen so far in the regional food economy's continued evolution. Ancient grains in each of baker Shaun Thompson Duffy's naturally leavened loaves are harvested from fields less than an hour away, at Palouse Heritage farms. The kernels are then stone milled into fresh flour in a back room at the bakery that's just steps away from its Old World-style brick oven, custom built to achieve ideal baking conditions to create the perfect rise, crust and flavor that Culture Breads' loaves have quickly become beloved for. (CS)
2nd PLACE: Great Harvest Bread Co.; 3rd PLACE: Central Food; NORTH IDAHO'S BEST: MAK Bread, Coeur d'Alene
---
BEST THAI
Thai Bamboo
Local diners love Best Of Hall-of-Famer Thai Bamboo for many reasons. Multiple locations (four total) across the Inland Northwest ensure that its popular phad Thai noodles, spicy curries and other traditional dishes remain easily accessible to all. A wide selection of gluten-free and vegetarian dishes allows customers with dietary restrictions to find something tasty, and affordable prices with huge portion sizes means dinner out with the whole family isn't going to break the bank. (CS)
2nd PLACE: Bangkok Thai; 3rd PLACE: Sala Thai
---
BEST VEGETARIAN \ VEGAN FOOD
Mizuna
Since 1996, Mizuna has been a leader in the region's restaurant industry, establishing an early focus on locally sourced, fresh, organic and seasonal ingredients that are now ubiquitous on menus. The fact that its care to these missions has not changed over the years is why Mizuna remains a top fine dining destination, paired with its commitment to serving a complete and separate vegetarian menu that's tasty enough to tempt even the most steadfast omnivores. (CS)
2nd PLACE: Boots Bakery & Lounge; 3rd PLACE: Allie's Vegan Pizzeria & Cafe; NORTH IDAHO'S BEST: Cosmic Cowboy Grill, Coeur d'Alene
---
BEST FOOD TRUCK
3 Ninjas
Feeding Spokane curbside, Steven, Mike and T-Dog, the Three Ninjas, take the cake. Or, in this case, the tacos for the best food truck. Their American, Asian and Mexican fusion on tacos, wraps and salads bring a gourmet flair to their on-the-go cuisine. (ARCELIA MARTIN)
2nd PLACE: Tacos el Sol; 3rd PLACE: Couple of Chefs; NORTH IDAHO'S BEST: Meltz Extreme Grilled Cheese, Coeur d'Alene
---
BEST CHEF
Chad White, Zona Blanca
Some chefs would have been content to simply leverage their Top Chef celebrity into a generic fine dining establishment with a pretentious name and even more pretentious price points. But part of the reason that Zona Blanca's Chad White keeps winning Inlander accolades isn't just his culinary talent. It's his ambition. He's not satisfied with mere ceviche. The guy just launched a lobster bar. In Spokane. In a skywalk. (DANIEL WALTERS)
2nd PLACE: Jeremy Hansen, Inland Pacific Kitchen; 3rd PLACE: Tony Brown, Ruins; NORTH IDAHO'S BEST: Adam Hegsted, Honey Eatery and Social Club
---
Young Kwak photo
Bring a big appetite when you head to De Leon's.
BEST MEXICAN FOOD
De Leon's
Anyone who's visited either De Leon Foods stores or the family's expanding array of De Leon's Taco & Bar spots knows that proprietors Sergio and Marya De Leon know their way around a taco. And a chimichanga. And a burrito, bowl of pozole, tamale, tortas, etc. In other words, if you're looking for some authentic, delicious dishes inspired south of the border (Mexico, not Oregon), you need to take the advice of Inlander readers and find the closest De Leon's. Pack an appetite. (DAN NAILEN)
2nd PLACE: Azteca; 3rd PLACE: Rancho Chico
---
BEST BURGERS
Wisconsinburger
Real estate is all about location, location, location. Being tucked away around a corner on the lower South Hill, Wisconsinburger might be hard to spot, but it's difficult to leave. The neighborhood that surrounds it is perfectly situated, and customers are perfectly seated to have their choice of at least 15 burgers, fries or cheese curds, and, perhaps best of all, copious beer selection of 10 taps and 80 canned options. The Midwest never tasted so good in the Northwest. (SCOTT A. LEADINGHAM)
2nd PLACE: D.Lish's Hamburgers; 3rd PLACE: Waddell's; NORTH IDAHO'S BEST: Hudson's Hamburgers, Coeur d'Alene
---
BEST ICE CREAM
Brain Freeze
Too many ice cream joints serve up ice cream flavors that are, well, vanilla. Your rocky roads. Your cookie dough. A moose track or two if you're lucky. But at Brain Freeze? They have your classics. But they also have flavors like Chocolate Cherry Bordeaux, Inland Grey Tea, Banana Pudding, an Oreo-like flavor called "Name Brand Cookie" (without all the trademark infringement). (DW)
2nd PLACE: The Scoop; 3rd PLACE: Sweet Peaks, Spokane and CdA
---
BEST DONUTS
Hello Sugar,
Donuts. They're hard to screw up, no matter what flavor, shape or size. And at Hello Sugar, the donuts are tiny and delicious. Order a dozen donuts with the "Carousel" menu option and get one of every flavor on the menu. (QUINN WELSCH)
2nd PLACE: Casual Friday Donuts; 3rd PLACE: Amy's Donuts; NORTH IDAHO'S BEST: Gross Donuts, Coeur d'Alene and Post Falls
---
BEST BRUNCH
The Historic Davenport
You've got to admire a meal that dares to take the place of two. Likewise, you've also got to admire the restaurant that perfects it. Each Sunday the Davenport does exactly that, providing diners with a spread that succeeds in simultaneously whetting — and sating — their breakfast and lunch appetites. Sumptuous seafood buffets, carvery meats and gourmet desserts are dished up in one of the hotel's historic ballrooms. (E.J. IANNELLI)
2nd PLACE: The Yards; 3rd PLACE: Bruncheonette; NORTH IDAHO'S BEST: Dockside Signature Sunday Brunch, Coeur d'Alene Resort
---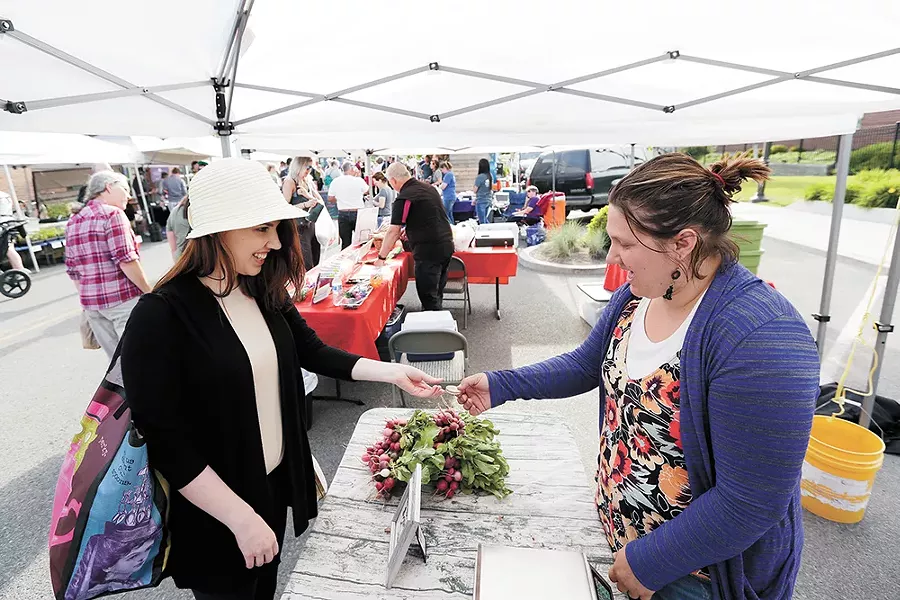 Young Kwak photo
Find food, flowers and fun at Kendall Yards Night Market.
BEST FARMERS MARKET
Kendall Yards Night Market
My job at the Inlander's office on West Summit Parkway makes a weekly stroll down the Kendall Yards Night Market hard to miss, May through September. I like to finish my evening run on the trail with a bite from one of the many food trucks at the market. If I'm feeling real good, I might buy a bouquet of flowers or some fresh produce. (QW)
2nd PLACE: South Perry Farmers Market; 3rd PLACE: Liberty Lake Farmers Market; NORTH IDAHO'S BEST: Downtown Farmers Market, Coeur d'Alene
---
BEST PUB FOOD
Waddell's
Skip the formalities of a "dinner out" and instead grab a pint of beer and a hot plate of something yummy at Waddell's. Waddell's 6-ounce patty, corned beef and Swiss cheese burger was enough to excite the legendary Guy Fieri on his national television show Diners, Drive-Ins and Dives this past summer. Clearly, our readers agree. (QW)
2nd PLACE: Poole's Public House; 3rd PLACE: O'Doherty's Public House; NORTH IDAHO'S BEST: Capone's
---
BEST PIZZA
The Flying Goat
On weekends you're well advised to get to the Flying Goat early, as it can fill up fast, especially in good weather when the masses come out to explore nearby Riverside State Park or Downriver Golf Course. After a hike or chasing a ball, sitting on the patio and enjoying the slightly charred "fire kissed" crust is sort of a Spokane tradition — since 2010, anyway. (SAL)
2nd PLACE: Veraci Pizza; 3rd PLACE: Fire, Spokane and CdA
---
BEST BURRITOS
Atilano's Mexican Food
If you've never made your way to Atilano's in that beautiful witching hour after the bars close and before the restaurant shortly shuts down at 3 am, you're missing out on what Inlander readers know are the best burritos in the Inland Northwest. There are dozens of affordable burrito possibilities; plus, did you know you can even get fried ice cream to go? You're welcome. (SAMANTHA WOHLFEIL)
2nd PLACE: Sweeto Burrito; 3rd PLACE: Neato Burrito
---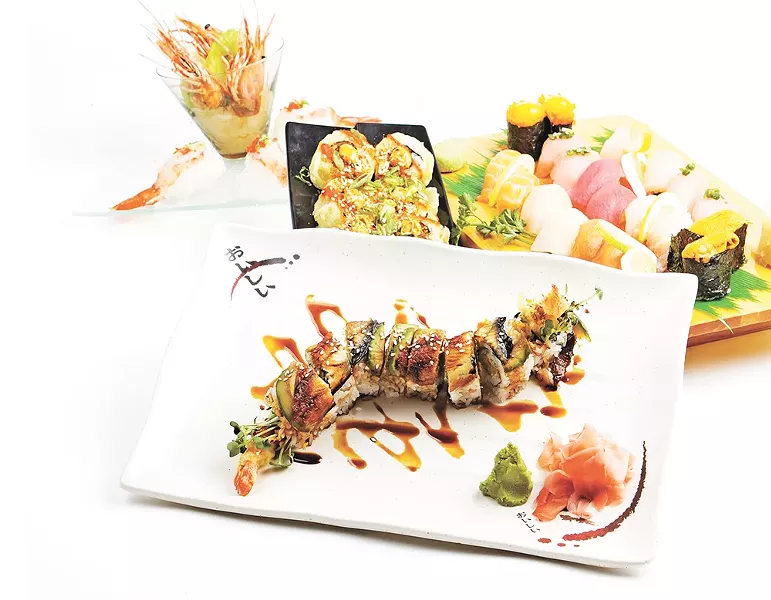 Young Kwak photo
Inlander readers love sushi and Sushi.com most of all.
BEST SUSHI

Don't let the name fool you, their website is actually mainsushi.com, but the real thing that matters at downtown's Sushi.com is the huge selection of delicious seafood, with both raw and cooked options available. From nigiri sushi and rolls to noodles and bento boxes, the chefs have your Japanese dining desires covered. (SW)
2nd PLACE: QQ Sushi & Kitchen; 3rd PLACE: The Wave Island Sports Grill & Sushi Bar; NORTH IDAHO'S BEST: Syringa Japanese Cafe & Sushi Bar, Coeur d'Alene
---
BEST BAKERY
The Rocket Bakery
A bakery and coffee shop is the de facto public space to get things done, be it in the PNW or Western world at large. But few get the workspace right quite like the Rocket Bakery does. If you need direct sunlight, they have a spot for you. Dark corner to hide and read? Look no further. Need some great tea or coffee to fuel you? Step right up. Need some food to maintain? PIZZA. BAGEL. RIGHT HERE. (TUCK CLARRY)
2nd Place: Boots Bakery & Lounge; 3rd Place: Bakery By the Lake, Coeur d'Alene
---
Young Kwak photo
Anthony's knows their seafood, including this tasty Alaskan king salmon.
BEST SEAFOOD
Anthony's, Spokane and Coeur d'Alene
Living in the Inland Northwest and a lover of seafood? Fear not, Anthony's restaurants on either side of the Washington-Idaho border have you covered. (Anthony's knows what it's doing: the founder opened his first restaurant in 1969 in Bellevue.) With menus that change regularly based on availability, feast on a variety of ocean delicacies. (JOSH KELETY)
2nd PLACE: Zona Blanca; 3rd PLACE: The Cedars, Coeur d'Alene
---
BEST SANDWICHES
Domini Sandwiches
Domini sandwiches are like a cheat code. While everyone else tries to stuff fancy ingredients between the bread, Domini enhances the best part of the sandwich and says to hell with everything else. You get bread, you get meat (and a lot of it) and you get cheese, plus the standard condiments. Done. It's the recipe that's won Domini Sandwiches this category for the 25th time. (WILSON CRISCIONE)
2nd PLACE: The High Nooner; 3rd PLACE: Brooklyn Deli; NORTH IDAHO'S BEST: Caruso's, Coeur d'Alene
---
BEST RAMEN
Nudo Ramen House
Slurping up a bowl of piping hot quality Japanese ramen can feel like one of the most wholesome and delicious acts in the world. Nudo Ramen House, with its impressive array of appetizers and ramen staples such as spicy miso and shoyu at reasonable prices, will provide that experience and more. Go hungry, leave full and happy. (JK)
2nd PLACE: King of Ramen; 3rd PLACE: Pho Van
---
BEST BREAKFAST
Frank's Diner
Honestly, I can't think of anything more "Spokane" than eating breakfast in the old-timey train car at Frank's Diner. Frank's is the one breakfast you can always rely on. If an actual train car carrying oil explodes and leaves the city in ruins, Frank's Diner would somehow still be there ready to serve you some eggs and hashbrowns. (WC)
2nd PLACE: The Yards; 3rd PLACE: Kalico Kitchen; NORTH IDAHO'S BEST: Garnet Cafe, Coeur d'Alene
---
BEST ITALIAN FOOD
Tomato Street
The menu at Tomato Street is a roster of Italian classics, featuring focaccia sandwiches, chicken parmigiana, pasta carne and tortellini al forno, to name a few. As one Yelp reviewer recently wrote: "The Smoked Gouda and Shrimp Mostaccioli was delicious! Saucy, perfectly salty, with lots of shrimp and artichokes." And it's family friendly! (JK)
2nd PLACE: Italia Trattoria; 3rd PLACE: Italian Kitchen; NORTH IDAHO'S BEST: Angelo's Ristorante, CdA
---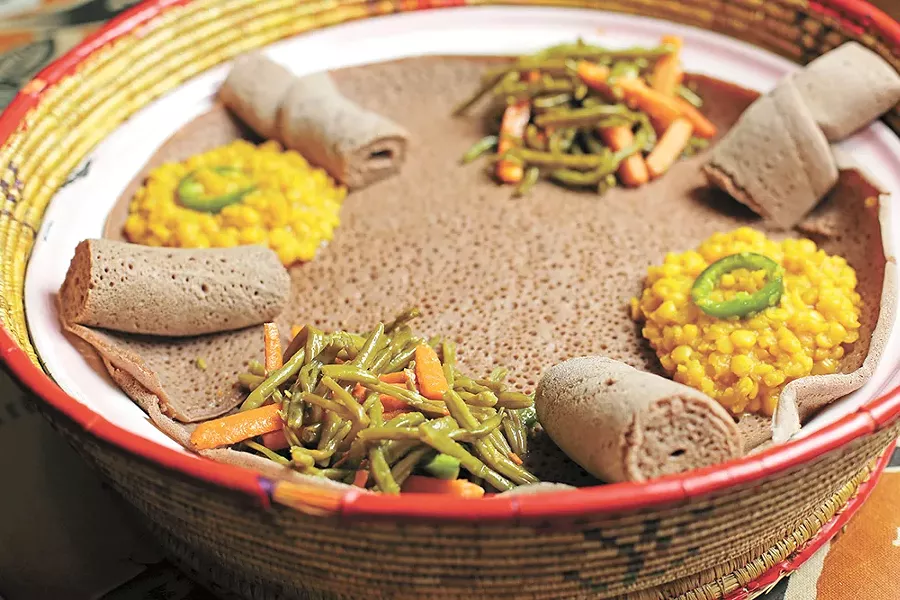 Young Kwak photo
The bread is called injera and you'll want plenty of it to scoop up all the yummy flavors at Queen of Sheba.
BEST PLACE TO GET HANDSY
Queen of Sheba Ethiopian Cuisine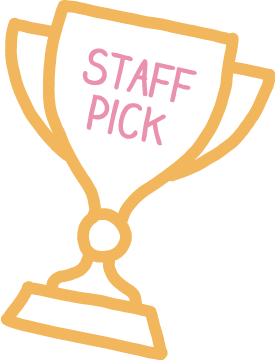 I was introduced to Ethiopian food just months before moving to Spokane where, reputation suggested, anything more exotic than a Red Robin would be hard to come by. That reputation proved bogus, of course, and happily I found Queen of Sheba Ethiopian Cuisine in the Flour Mill building to sate my new obsession. Whether I'm making another failed effort to go vegetarian, or satisfying a craving for a brilliantly spiced, remarkably tender bit of beef, lamb or chicken, chef/owner Almaz Ainuu is there for me, ready with rolls of spongy injera bread to scoop up her delicious concoctions. Nearly five years on, I can't imagine Spokane without this Ethiopian outpost. (DAN NAILEN)
---
BEST HOLE-IN-THE-WALL MEXICAN FOOD
Taqueria Guerrero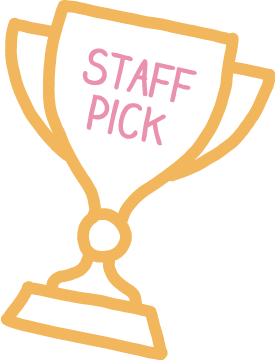 Located right next to Valley Bowl in Spokane Valley, Taqueria Guerrero looks more like a hole you may never escape than a hole in the wall. But if I were trapped there forever, I'd be perfectly happy. The service couldn't be friendlier, the prices are more than reasonable and you get free chips and salsa with each order. You'd be hard pressed to find better Mexican food in Spokane. (WILSON CRISCIONE)