Young Kwak
Longhorn's Texas chili.
Best Burgers
WISCONSINBURGER
The Inland Northwest is rich in delicious hamburgers, and this South Hill favorite manages to stick out from the crowd with its fresh-ground beef done daily on-site, creative array of ever-changing "grind of the week" special burgers and a cool vibe in which to chow down with a tasty beverage. There are always arguments about the "best" of an American classic, but Inlander readers have spoken and they love Wisconsinburger — this is their fourth straight win in this category. (DN)
2nd PLACE: D'Lish's; 3rd PLACE: Waddell's; NORTH IDAHO'S BEST: Hudson's Hamburgers, Coeur d'Alene
---
Best Italian Food
TOMATO STREET
To win a category like "Best Italian Food," you need to deliver the goods in the kitchen, for sure, but a friendly environment for diners doesn't hurt, and Tomato Street handles its business at both its brick ovens and the front of the house. From fresh soups and salads to pizzas to old-school classics like Chicken Parmigiana and Manila Clams with Angel Hair, there's something for everyone at Tomato Street's three locations. (DN)
2nd PLACE: Luigi's; 3rd PLACE: The Italian Kitchen
---
Best Mexican Food
RANCHO CHICO
When I was a new transplant to Spokane, in search of quality Mexican food, several people pointed me to Rancho Chico's two locations, and clearly our readers agree. From mole to chile verde, tacos to fajitas, Rancho Chico tackles their traditional Mexican fare with flavorful style, and it doesn't hurt that they know their way around a mean margarita. (DN)
2nd PLACE: Azteca; 3rd PLACE: De Leon Foods
---
Best Barbecue
LONGHORN BARBECUE
When folks in the Inland Northwest get a hankerin' for some juicy, Southern-style, home-cooked flavors, they most likely make the choice to head to one of the Longhorn Barbecue's two area locations, in Spokane Valley and Airway Heights. At both of the barbecue pit houses, you'll find plenty of lip-smackin' options, including its famous Texas-style chili "done right." Longhorn originally got its start in Houston, after all. (CS)
2nd PLACE: Outlaw BBQ & Catering Market; 3rd PLACE: Chicken N More; NORTH IDAHO'S BEST: Famous Willie's BBQ, Post Falls
---
Best Caterer
LONDON'S ULTIMATE CATERING
For more than a decade, London's Ultimate Catering has been the first choice of brides, local businesses and party organizers alike. From its kitchen at Riverside Place in downtown Spokane, London's prepares its visually appetizing dishes using seasonally and locally grown ingredients whenever possible. To ensure food served at all of its clients' events is served fresh, London's culinary team adds the finishing touches to each dish on site with its mobile kitchen approach. (CS)
2nd PLACE: Beacon Hill Catering and Events; 3rd PLACE: Couple of Chefs; NORTH IDAHO'S BEST: Black Tie Catering, Post Falls
---
Best Dessert
SWEET FROSTINGS
If you want to treat a girl right on her birthday, do as my guy did and order two dozen of Sweet Frostings' cupcakes (two of each rotating flavor in the case that day) and have them surprise-delivered to her office. (Thanks, sweetie!) The entire staff will be glad you did, and no matter what delectable flavor everyone ends up with, they'll all be happy and feel like it's their special day, too. Because, truly — who doesn't love a cupcake!? (CS)
2nd PLACE: Dockside Restaurant at the Coeur d'Alene Resort; 3rd PLACE: Just American Desserts
---
Best Fine Dining
CLINKERDAGGER
With its sweeping, year-round views of the downtown skyline and the Spokane River (and covetable deck seating in the warmer months), paired with consistent quality of menu and presentation, there's a reason locals choose Clinkerdagger as the spot to celebrate their most special and romantic occasions. A reputation so favorable is hard to come by these days, yet Clinkerdagger has definitely proven itself to its many loyal customers after more than 45 years and counting. (CS)
2nd PLACE: Churchill's Steakhouse; 3rd PLACE: Wild Sage; NORTH IDAHO'S BEST: Beverly's, Coeur d'Alene
---
Best Ice Cream
BRAIN FREEZE CREAMERY
From its catchy marketing campaigns to its proprietary "Flavor Alert System" and the annual "People's Flavor Awards," Brain Freeze truly is the creamery for the people of the Inland Northwest. (Feel free to steal this slogan for your next campaign, guys.) With so many flavors (they literally have hundreds in their recipe book) to choose from on any given day or time of the year, thankfully Brain Freeze's friendly employees are patient and well-trained in the art of flavor samplings. And, no matter how weirdly picky you are about ice cream (yes, this is a real thing and, yes, I am one of those people: chocolate is king; nuts are the enemy), Brain Freeze surely has something for every taste and craving. (CS)
2nd PLACE: The Scoop; 3rd PLACE: Mary Lou's Milk Bottle; NORTH IDAHO'S BEST: Roger's Ice Cream & Burgers, CdA
---
Best Patio Dining
TWIGS BISTRO & MARTINI BAR
Grab your sunglasses, pull up a chair and share a toast with friends (during happy hour!) this spring/summer on readers' favorite patio — or rather, patios — to drink and dine upon. Three of the four Spokane-area Twigs boast outdoor dining on expansive patios that offer a pleasant mix of sun and shade. We guess you could consider the River Park Square Twigs location's soaring catwalk seating area as something of a patio, too, considering the spectacular views offered of downtown Spokane's twinkling streets. (CS)
2nd PLACE: Clinkerdagger; 3rd PLACE: Central Food; NORTH IDAHO'S BEST: The Cedars Floating Restaurant, Coeur d'Alene
---
Stuart Danford
Pig Out's feast for the senses.
Best Food Event/Festival
PIG OUT IN THE PARK
A week would ideally allow you to try all of the options Pig Out's caravan of kiosks offer, but good luck. Azar's selection of baba ganoush and falafels will sideline you for a day. Oh, you think you're above ordering massive grilled cheeses a second time? Good luck landing on just one of the barbeque joints out there on the lawn. Does Mary Lou's and that nitrous miracle dessert back-to-back count as a meal? (TC)
2nd PLACE: Epicurean Delight, INBC; 3rd PLACE: Crave NW; NORTH IDAHO'S BEST: Mac & Cheese Festival, Coeur d'Alene
---
Best Breakfast
FRANK'S DINER
A Tour de Spokane must include a morning inside this little train car. The wait and the chance of sitting next to the mannequin conductor is well worth it, especially once you take your first bite of their blueberry muffin, French toast or spicy Creole benedict. Their conventional options are great too, just make sure you have enough space to put down their heaping portions. (TC)
2nd PLACE: The Cottage Cafe; 3rd PLACE: The Yards; NORTH IDAHO'S BEST: Garnet Cafe, Coeur d'Alene
---
Best Burritos
Best Tacos
ATILANO'S
Give Atilano's your hungry, your late-night masses in both Spokane and Coeur d'Alene, yearning to engorge themselves with the perfect heap of burrito to work out and absolve your evening of transgressions. But honestly, your California taco itch can't be scratched until you order two, three or seven pollo asado tacos with the verde sauce that will keep you coming back. (TC)
Best Burritos
2nd PLACE: Sweeto Burrito; 3rd PLACE: Neato Burrito
Best Tacos
2nd PLACE: Borracho Tacos & Tequileria; 3rd PLACE: De Leon Foods
---
Best Bakery
ROCKET BAKERY
Rocket Bakery is no stranger to this list. It's definitely not the first time it's been on here and in all likelihood it won't be the last. Great pastries. Amazing food. Chill vibes. What else do you need in a local bakery? Founded in 1992, the Spokane-based franchise has seven locations between downtown and Spokane Valley. (QW)
2nd PLACE: Boots Bakery; 3rd PLACE: Sweet Frostings; NORTH IDAHO'S BEST: Bakery by the Lake, Coeur d'Alene
---
Best Thai Food
THAI BAMBOO
Thai Bamboo shares many qualities with its most popular dish, pad thai. Pad thai, of course, is the first dish people think of when they want thai food. And Thai Bamboo, similarly, is the first place locals think of when they're in that mood, with locations all around Spokane. And like pad thai, you can't go wrong if you choose Thai Bamboo, with its huge array of menu options that even includes fried bananas. And it's consistently good, likely the reason it keeps winning this category year after year. (WC)
2nd PLACE: Bangkok Thai; 3rd PLACE: Linnie's Thai Cuisine
---
Young Kwak
Saranac's vegan mac and cheese is made with soy milk and cashews.
Best Mac and Cheese
SARANAC PUBLIC HOUSE
The odds are good that you'll remember the first time you try the mac and cheese at Saranac Public House. Odds are even better that you'll reorder it every time you're back. It's rich and decadent, made with a five-cheese blend. The vegan option is just as good, swapping out the cheese for a sauce of cashew and soy milk. It's filling as a main dish, but you also have the option of getting it as a side. That's the best of both worlds. (NW)
2ND PLACE: Manito Tap House; 3RD PLACE: Mac Daddy's Gourmet Grub; NORTH IDAHO'S BEST: Meltz, Coeur d'Alene
---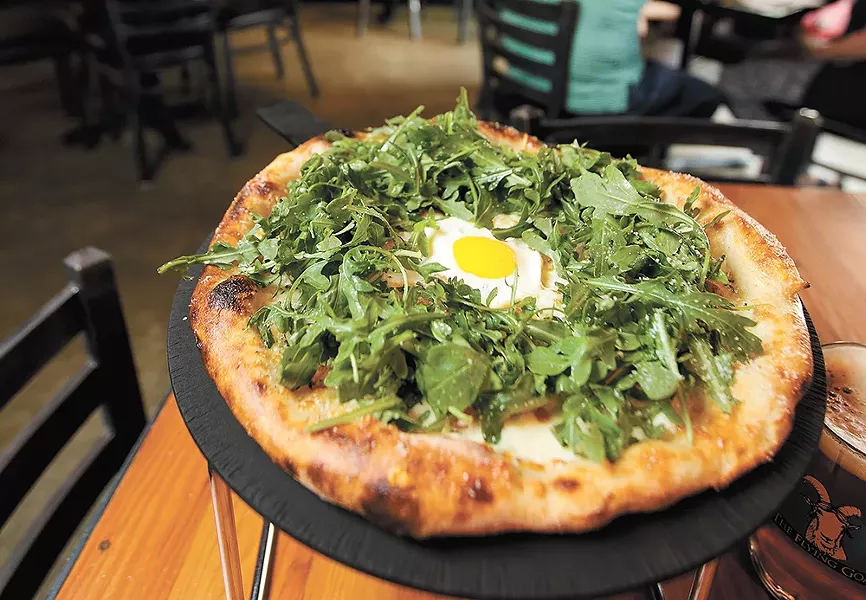 Young Kwak
Flying Goat's Kiernan pizza with arugula and a fried egg.
Best Pizza
THE FLYING GOAT
It's not hard to see why this artisan pizza place has been a go-to Audubon neighborhood destination since opening in 2010. Their Neapolitan-style pies, cooked in a roaring wood-burning oven, work wonders with unexpected toppings: peas, carrots and potatoes on the Walton; asparagus on the Wellington; pears and blue cheese on the Fairview; and coconut curry and cilantro on the D Street. Not even fruit-on-pizza cynics will balk at the sweet caramelized pineapple on the Waikiki pizza. (NW)
2ND PLACE: Veraci Pizza; 3RD PLACE: Fire Artisan Pizza, Spokane and CdA
---
Best Sandwiches
DOMINI SANDWICHES
It's no surprise that Domini snatched the sandwich crown for the 24th time this year. The beloved sandwich shop keeps things simple: You choose what kinds of bread, meat and cheese you want. Mustard and mayo are optional. And that's it, but we promise you won't miss the usual sandwich fixings. Your standard Domini sandwich is seriously stacked — even their so-called "tiny" and "small" sandwiches are gut busters — and are served with fresh popcorn. You'll become a regular for life. (NW)
2ND PLACE: The High Nooner; 3RD PLACE: Caruso's, Spokane, Valley and CdA
---
Best Sushi
Yeah, its name might seem a bit strange at first — comedian David Cross even made cracks about it when he performed here in 2016 — but this downtown spot takes its sushi seriously. Their selection of rolls is varied and extensive (you've got more than 50 to choose from), and their sashimi, teriyaki bento boxes and noodle dishes are also musts. The warm, inviting atmosphere and friendly service are added benefits. (NW)
2ND PLACE: QQ Sushi and Kitchen; 3RD PLACE: The Wave; NORTH IDAHO'S BEST: Syringa, Coeur d'Alene
---
Best Pho
PHO VAN
Pho should be at least a little bit of an adventure, and the prices at Pho Van are low enough, and the portions generous enough, that you can afford to take a bit of risk. Go for the full pho dac biet, a soup featuring eye-round steak, lean meat, meatballs and, yes, soft tendons. The tendons just might be the tastiest part.
Mix in the jalapeno peppers into the pho to give the broth an extra zing. (DW)
2nd PLACE: Vina Asian Restaurant; 3rd PLACE: Vien Dong; NORTH IDAHO'S BEST: Pho Thanh, Coeur d'Alene
---
Young Kwak
King salmon with smoked red pepper beurre blanc at Anthony's.
Best Seafood
ANTHONY'S
A restaurant isn't just about food, even — or especially — fancy ones. Anthony's can smoke up a fine fillet of salmon. But the tastiest dish is the view right out the window of their Spokane location: The sun setting over the Spokane Falls, illuminating the frothing waters at night. (DW)
2nd PLACE: Zona Blanca; 3rd PLACE: Cedars Floating Restaurant
---
Best Steaks
CHURCHILL'S STEAKHOUSE
In preparation for this write-up, I went to Churchill's and ordered a medium-rare rib-eye steak, béarnaise on the side, for the express purpose of researching a few sentences. It was almost entirely worth of it for the crispy, outside sear alone. Steaks this good are rare. Or, at least, medium-rare. (DW)
2nd PLACE: Wolf Lodge Inn, Coeur d'Alene; 3rd PLACE: Spencer's
---
Best Asian Food
GORDY'S SICHUAN CAFE
When I wanted to impress a date who'd just spent a year teaching in China, I knew that Panda Express, for all its wonders, wouldn't cut it. So all the most learned culinary advisors directed me to Gordy's. She ordered a delectable electric-purple eggplant dish called Yu Xiang Qiezi. That's right — Gordy's can make even eggplant delicious. (DW)
2nd PLACE: Red Dragon; 3rd PLACE: Ming Wah; NORTH IDAHO'S BEST: Syringa, Coeur d'Alene