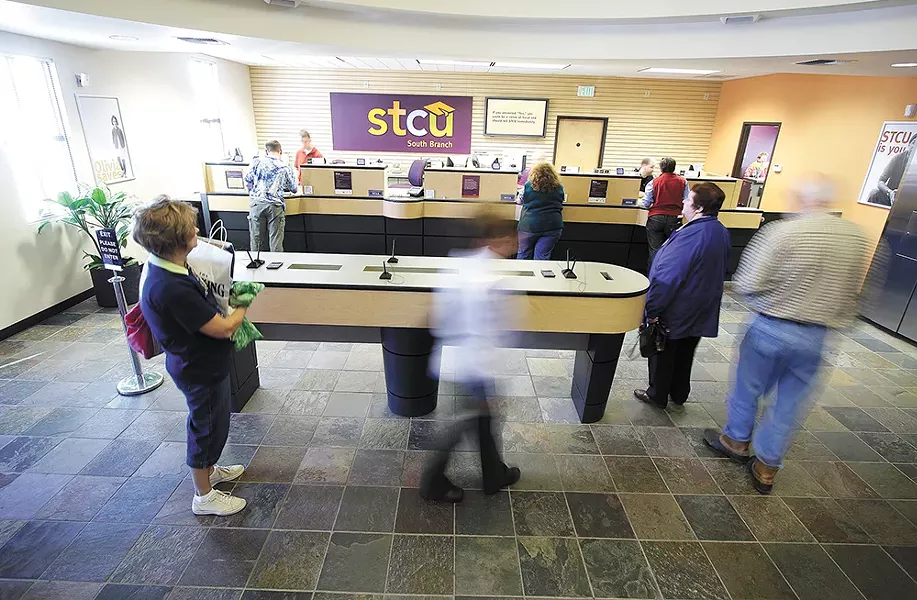 Young Kwak photo
STCU has won over Inlander readers.
BEST OF CREDIT UNION
STCU
Credit unions pride themselves on being financial institutions that prioritize people over profit. Many of them have an unusual knack for making their money perform remarkable acts of good in their communities, and STCU, which famously started out in 1934 with a shoebox for a vault, has earned an especially distinguished reputation for its generosity and local involvement. Small wonder that passion has been reciprocated and recognized with a Best Of win. (E.J. IANNELLI)
2nd PLACE: Numerica Credit Union; 3rd PLACE: Horizon Credit Union
---
BEST FURNITURE
Walker's Furniture
For the past 39 years, Walker's Furniture has been helping Inland Northwesterners turn their houses into homes courtesy of its huge selection of quality furnishings for every room. Yet it's about more than the comfort, style and practicality of its products. The regional chain — which now numbers 14 stores throughout Oregon, Washington and Idaho — puts serious emphasis on excellent value and customer service. (EJI)
2nd PLACE: The Tin Roof; 3rd PLACE: Dania Furniture; NORTH IDAHO'S BEST: Runge Furniture, Coeur d'Alene
---
BEST NEW CAR DEALERSHIP
Autonation
Shopping for a new car is widely regarded as a stressful, time-intensive process, but maybe that's because those car buyers haven't yet visited one of the many AutoNation locations across the region. Specializing in brands such as Land Rover, Subaru, Chevrolet and Toyota, the Spokane-area AutoNation dealerships aim to provide a car-buying experience that's truly customer oriented and as relaxed as possible. (EJI)
2nd PLACE: Larry H. Miller; 3rd PLACE: Wendle Motors; NORTH IDAHO'S BEST: Dave Smith Motors
---
BEST MED SPA
Sarah Hamilton FACE
Frank Sinatra famously extolled the delights of remaining young at heart, but the skilled team of skincare specialists at Sarah Hamilton FACE knows that no one has ever complained about remaining youthful in appearance, too. Their age-defying treatments and the importance they place on enhancing the natural beauty of their patients has helped this Liberty Lake spa notch yet another Best Of win. (EJI)
2nd PLACE: Werschler Aesthetics; 3rd PLACE: Whole Body Medi Spa; NORTH IDAHO'S BEST: Beyond Beauty Med Spa, Coeur d'Alene
---
BEST BARBER SHOP
The Man Shop
If you're looking for the bells and whistles while receiving a classic cut, look no further. Not only does the Man Shop pride itself on their staff of stylists, they offer a space for dudes to get their locks lopped regardless of age. Also, popcorn and basketball hoops can help corral your little man before his cut or during yours. (TUCK CLARRY)
2nd Place: Brickyard Barbershop; 3rd Place: Weldon Barber; North Idaho: Bulwark Barber, Coeur d'Alene
---
BEST BUDTENDER
Jeremy Paulson, Lucky Leaf
A good budtender knows their store, knows their clientele and knows their distributors. Lucky Leaf's Paulson knows all three, setting up returning customers with further knowledge and a direction for their needs and making it easy for those who aren't quite sure what they're getting into. Be it flower, concentrate or otherwise, Paulson has answers for all of your questions. (TC)
2nd Place: Cameron Gibbons, Cinder; 3rd Place: Leah Pape, Treehouse Club
---
BEST RETAIL CANNABIS SHOP
Cinder
The design of the Cinder stores is remarkable. Streamlined for both new and returning customers, anyone can find exactly what they're looking for immediately when they step into the store. Having a knowledgeable and helpful staff only makes the process easier, as you learn learning something new every time you visit. (TC)
2nd Place: Satori; 3rd Place: Lucky Leaf
---
Young Kwak photo
Huckleberry's is more than a store — it's a community gathering place.
BEST ORGANIC / NATURAL FOODS
Huckleberry's
Huckleberry's is more than a Spokane institution. When you walk in, you feel like you're in a community apart from the rest of Spokane. Customers are reading the newspaper, discussing politics and drinking wheatgrass smoothies. If this is the future liberals want, it smells like fresh produce and natural supplements. (WC)
2nd PLACE: My Fresh Basket; 3rd PLACE: Main Market Co-op; NORTH IDAHO'S BEST: Pilgrim's Market, Coeur d'Alene
---
Out of ideas? The White Elephant has something for everyone.
BEST TOY STORE
White Elephant
A staple of Spokane, White Elephant continues to offer one of the most unique shopping experiences out there. Be it for the outdoors or the indoors on rainy days, the friendly staff and affordable options are going to please customers regardless of age. A perfect stop to go shopping for someone in every walk of life. (TC)
2nd Place: Whiz Kids; 3rd Place: Boo Radley's; NORTH IDAHO'S BEST: Figpickels Toy Emporium, Coeur d'Alene
---
BEST USED CAR LOT
Jennifer's Auto Sales
It's hard to know who to trust when buying a car. But at Jennifer's Auto Sales, that's not an issue. There's a reason they keep winning this category. It's because Jennifer's isn't looking to fleece its customers, only sell a quality car. (WILSON CRISCIONE)
2nd PLACE: CAL Cars; 3rd PLACE: Valley Auto Liquidators; NORTH IDAHO'S BEST: Dale's Used Cars, Coeur d'Alene
---
BEST HAIR SALON
Lavish Salon
It's been a little more than two years since Lavish Salon moved into its new digs on First Avenue, where the salon's stylists offer everything from balayage and other color services to bridal up-dos, blowouts and makeup. Men and kids can get a cut starting at $25, and a variety of women's services start at $40 and up. (SAMANTHA WOHLFEIL)
2nd PLACE: Oasis Hair; 3rd PLACE: The House of POp; NORTH IDAHO'S BEST: Revive Salon, Coeur d'Alene
---
BEST WOMEN'S BOUTIQUE
Swank Boutique
This women's boutique across from NorthTown offers a wide range of fashionable clothing with new options received on the daily. The boutique also has a robust website featuring its latest gear and online shopping options, and new styles can also be peeped on Instagram @swankgirl. (SW)
2nd PLACE: Lolo Boutique; 3rd PLACE: Veda Lux; NORTH IDAHO'S BEST: Marmalade, Coeur d'Alene
---
Young Kwak photo
EyeGuys Optical came out on top among Inlander readers.
BEST EYEGLASSES
Eyeguys Optical Spokane Valley and Hayden
With designer frames, eye exams, premier lenses, contact lens fittings and an on-site lab, EyeGuys has everything you could envision for your eyewear needs. EyeGuys tries to make the process of choosing frames and lenses an easy, relaxing one. And that's why they're the best. (ARCELIA MARTIN)
2nd PLACE: Blink Eyecare; 3rd PLACE: (TIE) Everything in Sight; Garland Vision Source
---
BEST PET BOUTIQUE
The Yuppy Puppy
Sure, you could order online for home delivery or hit up a chain, but nothing beats the sincere care and expert knowledge offered by staff at locally owned pet suppliers like the Yuppy Puppy. The items stocked — durable toys, natural food, cozy bedding and more — at its two Spokane locations (north and downtown) are the same products its animal-loving staff use for their own furry friends, so you know it's the best. Because for all of our beloved kitties and doggos, we can all agree that nothing but the best will do. (CHEY SCOTT)
2nd PLACE: Prairie Dog Mercantile; 3rd PLACE: The Urban Canine; NORTH IDAHO'S BEST: GoodDog, Coeur d'Alene
---
BEST HOTEL
Davenport Grand
It says something that the Davenport Grand opened up and took over Inlander readers' Best Hotel spot from its sibling, the Historic Davenport, shortly thereafter. Maybe it says Spokane was ready for something sleek, shiny and new, a place with top-notch dining like Table 13, and a luxurious summertime patio like the Grand Terrace Bar. A place with plush Frette Italian linens on the beds, L'Occitane of France products in the bath. A place that's perfect to send friends and families visiting from out of town, or to take yourself for a high-end staycation. (DAN NAILEN)
2nd PLACE: Historic Davenport Hotel; 3rd PLACE: Northern Quest Resort Hotel; NORTH IDAHO'S BEST: Coeur d'Alene Resort Hotel
---
BEST SPA
La Rive Spa, Northern Quest Resort & Casino
Let's say you've spent a long day playing and partying at Northern Quest. Maybe you've hit a concert after a day at the slots, or spent hours watching games in the sports bar. How best to recover and rejuvenate? Easy. Pay a visit to La Rive, a four-star luxury spa, where you can follow up a massage or facial with time spent in the sauna or private whirlpool. Earning four stars from Forbes' Travel Guide since 2012, La Rive clearly has Inlander readers' votes when it comes to restoration and relaxation. (DN)
2nd PLACE: Spa Paradiso; 3rd PLACE: Davenport Spa & Salon; NORTH IDAHO'S BEST: The Coeur d'Alene Resort Spa


---
Young Kwak photo
The team at Liberty Park Florist.
BEST FLORIST

Liberty Park Florist
Founded in 1928 by an Italian immigrant, Spokane's largest commercial florist operation — Liberty Park Florist boasts over 70,000 square feet of growing area — is still going strong almost a century later. Visit this expansive nursery to grab anything from vegetable plants to flowers and hanging baskets. (JOSH KELETY)
2nd PLACE: Appleway Florist; 3rd PLACE: Parrish & Grove; NORTH IDAHO'S BEST: Duncan's Florist Shop, Hayden
---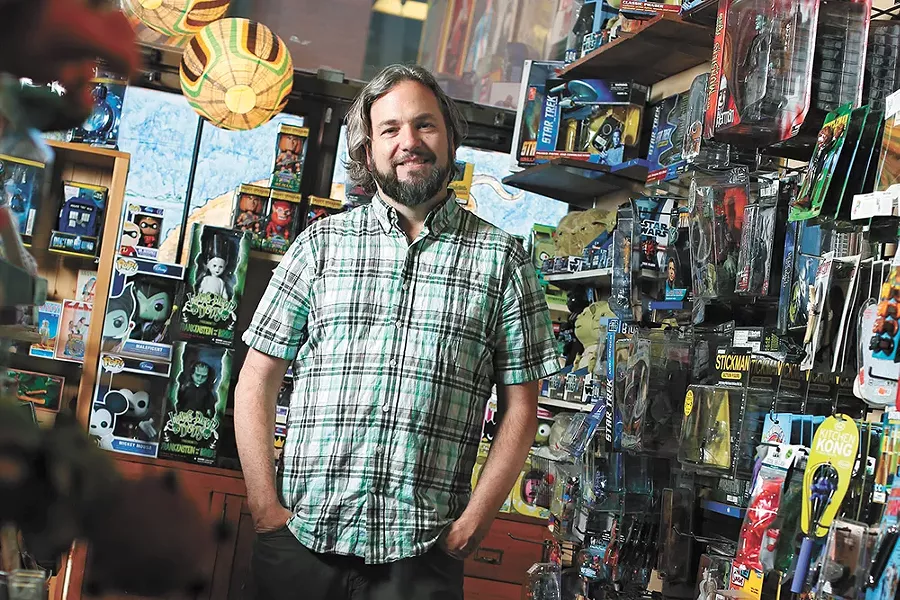 Young Kwak photo
Andy Dinnison, owner of Boo Radley's, readers' favorite place to buy gifts.
BEST GIFTS
Boo Radley's
You're panicking because it's your friend's birthday and you haven't gotten them anything. Boo Radley's is there to save the day. Named after a character in Harper Lee's To Kill a Mockingbird, this quirky store describes itself as a "wild toy experience for kids as well as adults" with "off the wall weird stuff." You're bound to find something special and hilarious! (JK)
2nd PLACE: Atticus; 3rd PLACE: Simply Northwest; NORTH IDAHO'S BEST: Lucky Monkey, CdA
---
BEST TATTOO PARLOR
Anchored Art Tattoo
The winners of last year's Best Tattoo Award, Anchored Art, continues laying down some of the best ink in Spokane since they opened their doors in 2011. The whole staff prides themselves in giving their customers what they want while helping bring brilliant ideas and exquisite execution to the tattoo table and chair. (TC)
2nd Place: Mom's Custom Tattoo; 3rd Place: On The Level Tattoo; NORTH IDAHO'S BEST: Bleeding Hearts Tattoo Emporium, Sandpoint
---
BEST LOCAL JEWELRY FOR GOOD VIBES
Zöm (Fring and Fray)
You don't have to believe that crystals and stones have magical healing powers to think they are enchantingly stylish when paired with geometric shapes and hammered brass. Nearly every Zmi necklace or pair of earrings highlights the natural allure of quartz, turquoise or another earthly gem in contrast with the rigid beauty of metal triangles, bars or semi-circles. Find the locally made brand (and others like it) at Fringe and Fray. (SAMANTHA WOHLFEIL)
---
BEST VINTAGE FASHION TREASURE TROVE
Horde Vintage
There are so many great vintage fashion resellers around the region, it's hard to pick just one to recognize, but I have to give props to rising newcomer Horde Vintage. Selling its carefully curated wares in a corner space at 1889 Salvage Co. on North Monroe, Horde offers men's, women's and kids' clothing and accessories, and a bit of home decor from the latter half of the 20th century. See highlights of Horde's latest inventory on Instagram @horde_vintage. That's how I was able to snag the most incredible 1960s red wool cape from Horde for a steal of a price, considering it's a one-of-a-kind find. (CHEY SCOTT)