Each book in the 33 Series takes on one noteworthy album. Among those featured: The Rolling Stones' Exile on Main Street.
THE THURSDAY SPEECHES
By Peter G. Tormey
In August of 1976, Pete Tormey — a stud linebacker from Gonzaga Prep, albeit only 190 pounds as a freshman — met Don James, the not-yet-legendary coach of the Washington Huskies in his second season leading the then-mediocre program. James told Tormey and the rest of the new recruits that their destiny was to win a Rose Bowl. In 1978, they did just that. For Tormey, director of the Gonzaga University News Service, that shared destiny has continued with The Thursday Speeches, a meditation on what it means to truly lead. James passed away last fall, but in 2007, relying on James' handwritten notes, Tormey made his coach's leadership the subject of his Ph.D. thesis. Now he offers The Thursday Speeches for sports fans and students of leadership alike. "It's not all rah-rah, let's-go-kick-their-butts stuff," Tormey says. "Coach James really cared for us players. These lessons were a kind of fatherly advice — things that really impacted a tremendous number of us." (TSM)
33 SERIES
Various authors
After more than a decade, the 33 Series of books has just hit its 100th title (Michael Jackson's Dangerous by Susan Fast). Referring to the speed per second at which vinyl records rotate on a turntable (for those who don't remember what a turntable is), each book takes on one noteworthy album as its subject. Some are straight-up stories about how the record came to be (The Rolling Stones' Exile on Main Street by Bill Janovitz, No. 18); others are social critiques that take off from the cultural moment created by the record (Liz Phair's Exile in Guyville by Gina Arnold, No. 96). The writing is consistently good, and as a gift you can customize it — Dylan's Highway 61 Revisited (No. 35) for your hippie uncle, AC/DC's Highway to Hell (No. 73) for your college buddy. Wikipedia has the chronological list, so check it out. (TSM)
HOW WE GOT TO NOW
By Steven Johnson
If you caught one of the six episodes of How We Got To Now on PBS earlier this year, you know how thrilling the power of an idea can be. Cutting and transporting ice from the frozen lakes of New England led to... Hollywood taking over the world via air-conditioned theaters. If you missed the series, maybe this is the book for you — or someone on your list. Steven Johnson is a noted TED talker and Silicon Valley startup guru who has a knack for delivering big ideas in clever packages. In a previous book, he argued that pop culture is making us higher-functioning, smarter humans. (So all that TV is actually good for you!) With chapters like "Glass," "Light" and "Time," and characters including Thomas Edison and Mark Zuckerberg, you'll see the wonders of the modern world through a fresh perspective. (TSM)
A BOAT, A WHALE & A WALRUS
By Renee Erickson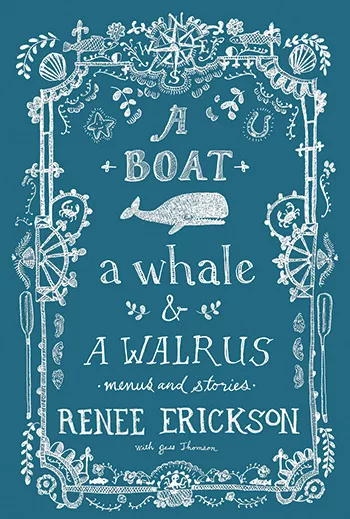 If you've ever watched a Seahawks game, you know they do seafood over there — the salmon flying at Pike Place Market prove it at every commercial break. Some of the best comes from Renee Erickson's restaurants — The Walrus and the Carpenter in Ballard, The Whale Wins in Wallingford and Boat Street Cafe near Seattle Center. The food blends classic French cuisine and techniques with Puget Sound ingredients like octopus. With lots of pretty pictures, this cookbook is a decent stand-in for a trip to the Emerald City, but it's getting noticed for Erickson's charming style. Even just flipping through, you'll feel like you've spent time in her kitchen. A James Beard-nominated chef, Erickson shares not only recipes, but entire menus, like her Fourth of July Crab Feast. (TSM)
BIG LITTLE LIES
By Liane Moriarty
Despite being an Aussie, Liane Moriarty seems to have our current American parenthood moment pegged. While taking place outside Sydney, the setting could be Anyplace, USA. It all centers on a kindergarten where parents — some rich and annoying, others just trying to get by — clash over getting the best for their little cherubs. Then mere gossip is replaced by a shocking mystery: "What, exactly, happened at Trivia Night?" As catty as high school, anyone who has navigated the hothouse of preening parents at a Christmas pageant will recognize the place — although like Gone Girl, there's a nasty, unsettling edge to all of it, too. (TSM)
NAPOLEON: A LIFE
By Andrew Roberts
If there's somebody on your list who actually prefers a door-stopper of a book to a pathetic little pamphlet, here's your book: Napoleon: A Life. Wow! What a life, what a story — and more than 900 pages. British historian Andrew Roberts, a noted Tory, restricts his work to only the truly Great Men: Lord Halifax, Churchill, Roosevelt and now Bonaparte himself. Relying on a horde of Napoleon's papers that were only made public a decade ago, and on personal visits to nearly all his battlefields (where millions died in his wars), Roberts, writes Duncan Kelly in the New York Times, "brilliantly conveys the sheer energy and presence of Napoleon the organizational and military whirlwind... " (TSM)
THE HOUR OF LEAD
By Bruce Holbert
Spokane author Bruce Holbert's second novel is more intricate and ambitious than his first. As a result, it satisfies in different ways. Opening with a legendary snowstorm in 1918, it tackles the Western myth — a recurring theme for Holbert — by creating a mythology of its own through larger-than-life characters inspired in part by the Greco-Roman pantheon. Suspenseful and sinister, with exquisite passages on love, loss and landscape, The Hour of Lead should make a welcome gift to anyone with an affinity for literary fiction; the local tie is just a bonus. Kirkus called the book a "masterpiece" when it appeared and recently selected it for inclusion among the 100 best works of fiction from 2014. (EJI)
CAN'T WE TALK ABOUT SOMETHING MORE PLEASANT?
By Roz Chast
After cartoonist Roz Chast watched her elderly parents decline physically and mentally in their cramped Brooklyn apartment, then move into assisted living and inevitably pass away (both well into their nineties), she did what anyone might do: She documented the bizarre emotional journey in a book of illustrations. Her first memoir chronicles her confusion, her frustration, her helplessness and her sadness, but it does so with sincerity, self-effacing humor and a hefty appreciation for the absurd. (EJI)
THE NARROW ROAD TO THE DEEP NORTH
By Richard Flanagan
Among the many atrocities of World War II, the construction of a Thailand-to-Burma railway that took the lives of about 13,000 prisoners of war and 100,000 forced laborers has become a historical footnote. Richard Flanagan's Booker Prize-winning novel about the Japanese "death railway" redresses that attention deficit. Drawing its title from a travelogue by the poet Bash and its events from the experience of Flanagan's late father, The Narrow Road to the Deep North offers a stark portrayal of human savagery and resilience through the story of an Australian surgeon toiling to save his fellow captives from disease and death. (EJI)
RICH AND POOR
By Jim Goldberg
Starting in 1977, Jim Goldberg spent eight years photographing San Franciscans who found themselves at opposing ends of America's socioeconomic extremes. The resulting work was equal parts art, politics and ethnography. Beyond its raw and occasionally unsettling imagery, what makes Rich and Poor all the more powerful is that Goldberg didn't deem his lens the sole arbiter of documentary truth. He allowed his subjects to caption their images, and they did so in candid and poignant ways: "I am Trying everyday to be Something, Instead of that nothing I Look like," one participant writes in a faltering cursive. The redesigned reissue by Steidl (the original has been out of print since 1985) includes an accordion-style foldout, new photos and reflections from the artist 30 years on. (EJI)
TENNESSEE WILLIAMS: MAD PILGRIMAGE OF THE FLESH
By John Lahr
If you managed to catch The Modern's recent staging of The Glass Menagerie, you might have wondered how much autobiography managed to seep into that self-professed "memory play." Critic John Lahr's absorbing biography of Williams answers that question and many others besides by delving into the life, writings and mind of the playwright himself. All the elements that have come to define great drama surrounded Williams: fraught family dynamics, artistic passion, sexual discovery, madness and fame. What he crafted out of those elements is what makes him a figure worth reading about, especially as told by Lahr. (EJI) ♦