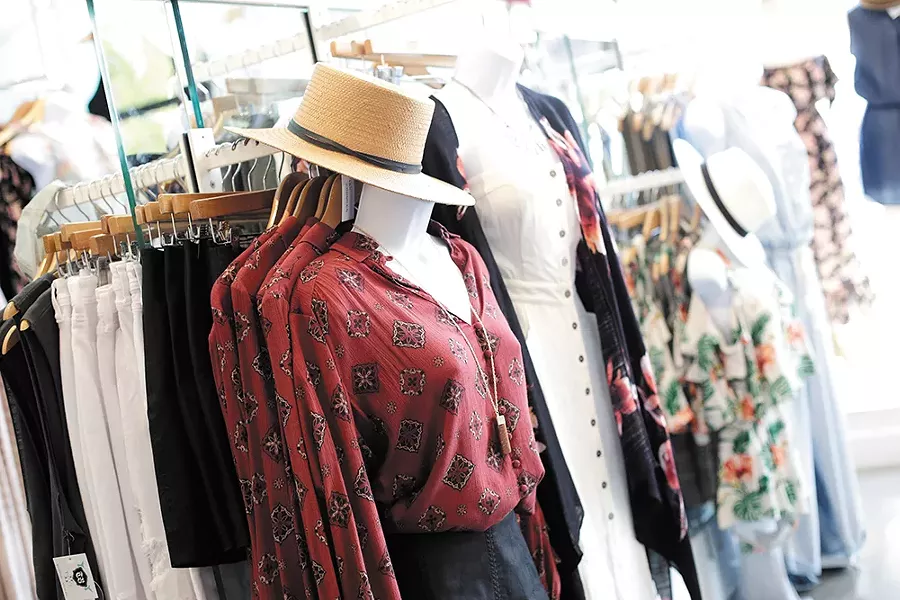 Young Kwak
Summer fashion on display at Tiffany Blue
&Kloth
A word of advice: don't follow &Kloth on Facebook or Instagram if you're a sucker for perfectly put-together casual outfits. Not only do they have great denim and effortlessly cute accessories, there's a coffee shop right in the store. We might just move in. 875 W. Main Ave., Spokane • 290-6821
Audrey's
We're going to give it to you straight, ladies. That bra you're wearing probably doesn't fit you the way it should. That's where the "bra whisperer" at Audrey's comes in. And she's not lying when she says the right bra can make you look thinner, and taller. But don't just stop in for foundation wear: Audrey's also carries cocktail and special occasion dresses, athleisure wear, swimsuits and separates. 3131 N. Division St., Spokane • 324-8612
Stuart Danford
Seperates showcased at Boutique Bleu in Kendall Yards.
Boutique Bleu
Shop at this bright and friendly Kendall Yards boutique for fresh, California-casual looks, perfect for an informal workplace, lunch with friends or an afternoon wedding. Price points are exceptionally reasonable, and if you're not in the neighborhood, you can shop their site online or stalk them on Pinterest. They're one of our favorite follows. 1184 W. Summit Pkwy., Spokane • 473-9341
Cues
If you like Nordstrom's denim selection but prefer to support local stores, you better get your buns over to Cues and into some jeans from designers like 7ForAllMankind, Citizens of Humanity, AG and J Brand. Cues is always on the cutting edge of styles and brands from around the globe, so they can help you put together a perfect look for any occasion. 108 N. Washington St., Suite 104, Spokane • 838-5837
Finders Keepers II Designer Dress Boutique
Flapper dresses are always in fashion at Finders Keepers, along with sequins, bling and anything sparkly. A popular choice for homecoming, prom, polo and Epicurean Delight, Finders Keepers keeps track of who's attending what event in what dress, so you never have to share the spotlight with a twin. 18 W. Main Ave., Spokane • 624-1251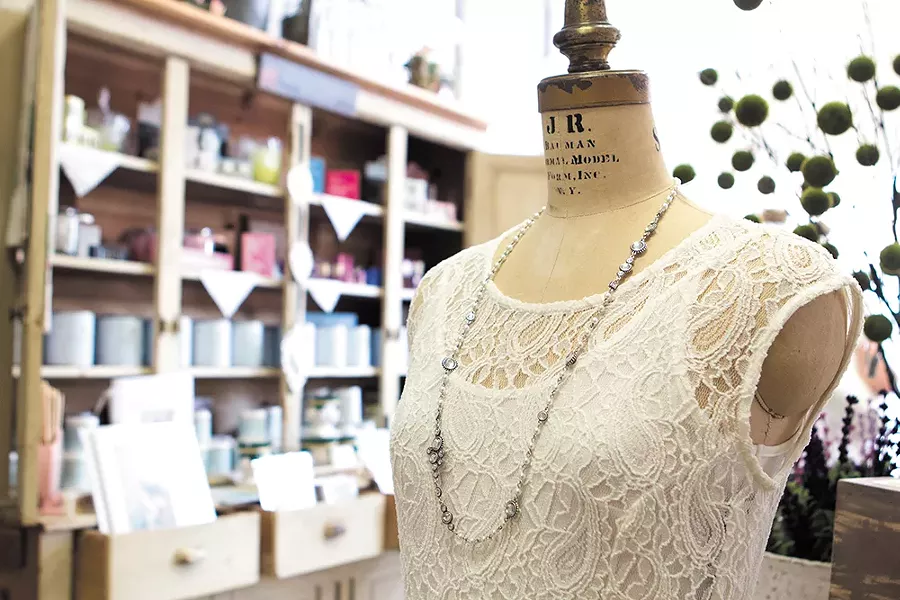 Emma Rogers
Feminine style at White Lavender
Fringe Boutique
Fringe is the kind of place where you can walk in looking like you just woke up, and walk out an hour later with a sassy new 'do and an outfit to match. Their salon receives rave reviews, and their boutique carries on-trend clothing that'll fit nearly any taste. 2622 E. 29th Ave., Spokane • 315-8138 | 12208 N. Division St., Spokane • 315-8138
Jema Lane Boutique
These pint-sized Spokane Valley shops are a delightful alternative to another long day trudging through the Valley Mall. Shop here for on-trend styles at reasonable price points that will appeal to mothers and daughters alike. 613 S. Pines Rd., Spokane Valley • 321-2330 | 6630 E. Sprague Ave., Spokane • 309-2655
Jigsaw
The Jigsaw woman is always stylish and elegant — but not necessarily a slave to the latest trend. Instead, this high-end boutique is a great place to invest in high-quality staples, as well as statement pieces, that you can wear for years. Owner Susan Carmody has an eye for styling, so trust her when she recommends the perfect accessories to complete your look. 601 W. Main Ave., Spokane • 835-3517
Lolo Boutique
Lolo wins our award for most Instagram-worthy local boutique. Like Anthropologie, Lolo is a lifestyle store, selling everything from ceramic pots filled with succulents to throw pillows, Born sandals, colored denim, and boho clutches — minus shocking price tags. Owner Lainey LaRue prides herself on seeking out unique styles. We applaud her efforts. 319 W. Second Ave., Spokane • 747-2867
Lucky Monkey Trading Co.
While Coeur d'Alene's Lucky Monkey is a beloved stop for goofy gifts, it's also a great place to find boho chic clothes like flowy tunics, patterned maxi dresses and chunky jewelry made with natural stones. 412 E. Sherman Ave., Coeur d'Alene • 208-664-9096
Marmalade Fresh Clothing
Marmalade sells clothes and accessories as fresh and sweet as their namesake. Their whimsical styles pair perfectly with their supply of the ever-popular MLKANHNY jewelry, made by Coeur d'Alene-born Madison (Etheridge) Bodenmann. 308 E. Sherman Ave., Coeur d'Alene • 208-819-9455
Swank Boutique
Shop this edgy, fun-loving boutique for their sassy selection of rompers, maxi dresses, crop tops, distressed denim, shredded concert tees and booties, and you'll be feeling like a #SwankGirl in no time. Northtown Square, 4727 N. Division St., Spokane • 468-1839
Tiffany Blue
Inlander readers consistently vote Tiffany Blue the best women's boutique in North Idaho, so it must be doing something right. With two locations filled with fab designer clothing, premium denim and trendy accessories on par with what you'd find at Nordstrom, it'd be silly not to ditch the mainstream stores and shop local. Look to the Riverstone store for slightly lower price points, and younger, trendier pieces and more classic lines at the Sherman Avenue shop. 404 E. Sherman Ave., Coeur d'Alene • 208-765-2583 | The Village at Riverstone, 2027 Main St., Coeur d'Alene • 208-292-4543
White Lavender
White Lavender is one store in a parade of charming shops in Steam Plant Square. It's stocked with charming home décor, gardening items, chalk paint, and feminine, flowy dresses made from natural fibers like linen and cotton. Take note, HGTV fans: White Lavender stocks merchandise from Joanna Gaines' Magnolia Market. Steam Plant Square, 159 S. Lincoln St., Spokane • 290-6191 n