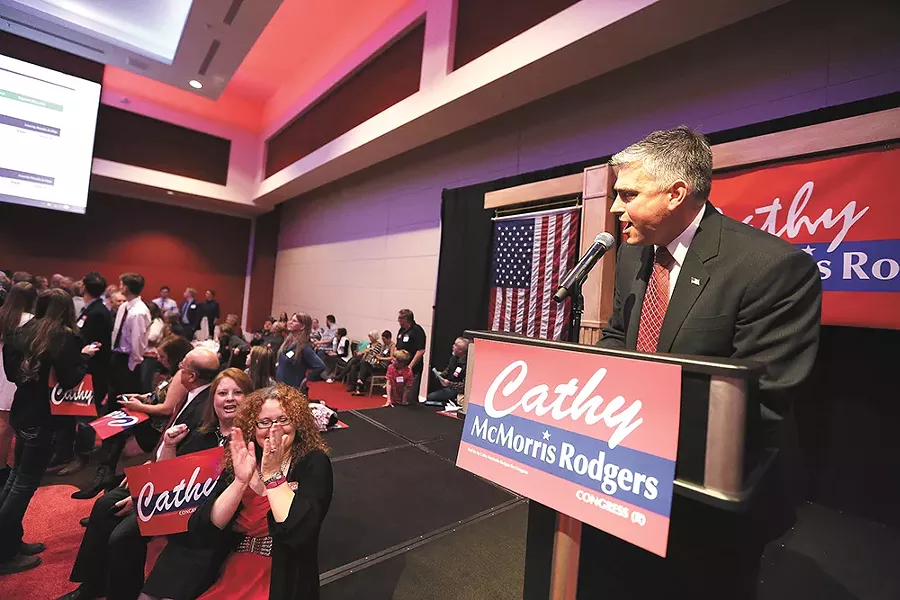 Young Kwak
State Sen. Michael Baumgartner has traditionally opposed regulations on businesses — but has come to support "ban the box" legislation.
For three years, Layne Pavey has been lobbying Washington state Sen. Michael Baumgartner, urging him to "ban the box." As the director of I Did the Time, an organization that helps felons after they've been released from prison, Pavey argues that preventing employers from asking about criminal history up-front will allow former prisoners to once again become productive members of society.
But while ban-the-box bills have overwhelmingly passed the Democratically controlled House in years past, they've always died in the Senate Commerce and Labor committee chaired by the 6th District's Baumgartner.
Until this year.
Last week, when Baumgartner proudly announced that he was sponsoring a ban-the-box bill himself.
"We never expected Baumgartner to be a sponsor of the bill. This is a huge jump," Pavey says. "I'm still sort of in shock."
Back in 2014, the city of Spokane eliminated criminal history questions from its own job applications. This legislation would go further, banning private businesses from asking applicants about criminal history until they've determined that applicants are already qualified for the job. There are exceptions: The bill wouldn't apply to certain financial and criminal justice jobs, and wouldn't apply to jobs involving residential home deliveries or unsupervised access to children. It wouldn't guarantee that a felon is hired, of course. But it eliminates an initial hurdle.
"My bill allows a foot in the door," Baumgartner says. "I would put it in the realm of small but significant reforms."
Mandating this statewide, Baumgartner believes, is better than a patchwork of regulations in places like Seattle.
Baumgartner objects to suggestions that he'd been skeptical of ban-the-box proposals previously — he just says the bill wasn't ready to move in previous years. In fact, he adds, he's been thinking about it for a long time. Baumgartner goes back to a woman he met when he was knocking on doors during his first campaign in 2010.
"She told a story about her son," Baumgartner recalls. "She was almost near tears."
Her son, Baumgartner remembers the woman saying, had had trouble with drugs and alcohol — but ever since he got out of prison he couldn't get a job.
He thinks back even further, talking about the counterinsurgency lessons he witnessed working for the State Department in Iraq: Rehabilitation is just as crucial as punishment.
"Certainly people need to be punished for crimes," Baumgartner says. "We have to do a much better job for rehabilitation. It's something that I've thought about for a while."
He says the testimony for ban-the-box legislation in previous years has been particularly powerful — and he's been working with businesses groups in Olympia to try to figure out how to make it work. He credits his legislative aide, former Washington State University linebacker Jeremiah Allison, of further affecting his views on the proposal.
Democratic Sen. Andy Billig, a co-sponsor of the bill who represents the 3rd District, credits Baumgartner for keeping an open mind and praises the persistence of advocates like Pavey.
"This is the legislative process at its best," Billig says. "With citizens coming to advocate for a policy and making the case well and sticking to it."
NAACP Spokane President Phil Tyler, who has received criticism for working with Republicans like U.S. Representative Cathy McMorris Rodgers, points to Baumgartner's support of ban-the-box legislation as proof of the value of reaching across the aisle.
"[Baumgartner] reached out to me, and wanted to have a sit-down. I met with him at the Davenport. And we just shared our stories and our experiences," Tyler says. "It was really worth having that conversation."
Ultimately, Baumgartner sees even more that needs to be done to help felons, from offering supervised skills training to funding college classes in prison. After all, there are also political benefits to consider in staking claim to these kinds of issues.
Two years ago, Baumgartner and other Senate Republicans seized ground traditionally occupied by Democrats by successfully pushing to reduce college tuition costs.
"Higher education has been an area... where Republicans can differentiate themselves from the Democrats. Criminal justice reform is an area like that as well," Baumgartner says. "[Democrats] get confused if the marching order from Republicans is something they like." ♦