Young Kwak
Bar Manager Ryan Roberge mixes up a Minnesota Bramble at 315 Martini & Tapas.
315 Martinis & Tapas
They're pretty chill about everything else, but drinks? That's serious stuff at 315 Martinis & Tapas, which occupies the ground floor of Coeur d'Alene's Greenbriar Inn. Not only have they won Inlander readers' votes with their cocktails, their bartenders have also wowed the crowd. Homemade syrups, bitters and a garden of fresh fruits, vegetables and herbs at the ready, this place'll school ya on cocktails. 315 E. Wallace Ave., Coeur d'Alene • 208-667-9660
Butcher Bar at Sante
The best seat in the house at Sante isn't in the restaurant — officially — but rather along the slab counter kitty-corner to it, inside the Butcher Bar, where thoughtful and efficient servers bring you amazing food — brunch, lunch, dinner, whenever! — like smoked blackberry salmon and cocktails like a pomegranate spritz with open-your-eyes-wide ginger syrup. Watch the kitchen bustle and the diners dine and smile at your good fortune. 404 W. Main Ave., Spokane • 315-4613
Clover
Call it cocktail hour or happy hour, Clover has the goods with beverages the same as they do with food. This is seasonal, innovative and scratch-made all the way, from the bacon and wild mushroom marmalade with their pate to the raspberry puree in their Clover Club. Fresh-pressed juices, scratch-made shrub soda and syrups and top-shelf spirits make for a drink as memorable as your meal. 913 E. Sharp Ave., Spokane • 487-2937
Durkin's Liquor Bar
Too many floors, too little time at Durkin's, which will have you plotting your next venture to the downtown drinkery and eatery, even as you're debating crafted cocktails upstairs or something classic downstairs. Seemingly effortless food, drinks and service in a contemporary speakeasy-like setting has made them a destination since opening in 2014. 415 W. Main Ave., Spokane • 863-9501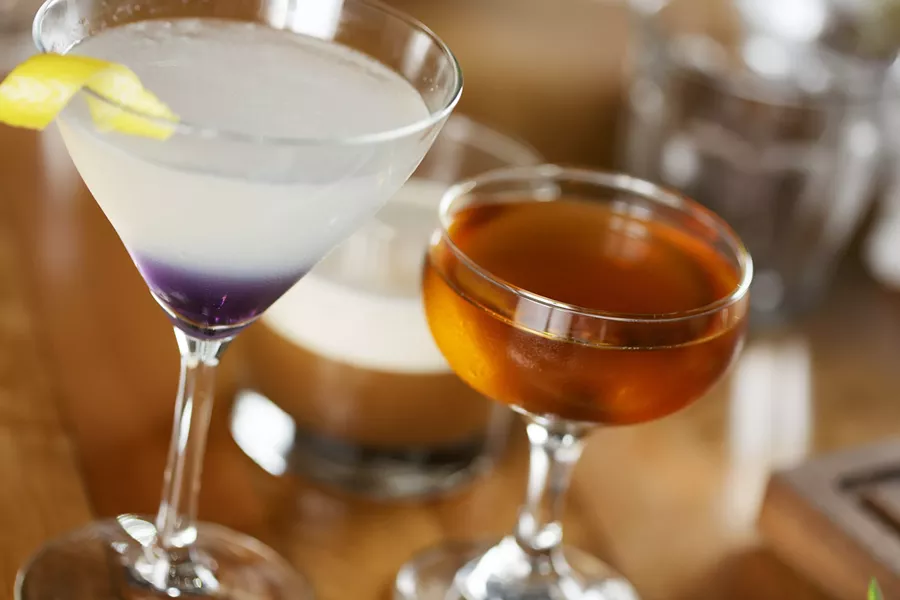 Young Kwak
An Aviation and Corpse Reviver at Durkins Liquor Bar.
Gaslamp Social Provisions
Getting lit in a shopping mall could be cheesy, except that River Park Square is no ordinary mall and Gaslamp doesn't do ordinary cocktails, lighting up your tastebuds with smoke-infused bourbon, for example, or the blackberry bramble with local Dry Fly gin. Oh, and happy hour 2-6 pm? Yes, please. 808 W. Main Ave., Spokane • 315-9549
Gilded Unicorn
There's something nostalgic yet evocative about descending stairs into the Montvale Hotel's old bones. Here, in addition to craveable comfort foods, they make cocktails with personality, like the Tea Party for Two, with Townshend Cellar's unusual India-meets-Italy Kashmiri Amaro liqueur. Coeur d'Alene-area diners will find a similar experience and cocktail menu at one of owner Adam Hegsted's sister restaurants, Honey Social Club & Eatery in Coeur d'Alene. 110 S. Monroe St., Spokane • 309-3698
Italia Trattoria
Their craft cocktail menu may be modest, but like their food offering, it's expertly curated. Their Bees Knees, for example, features their own honey, paired with botanical gin and fresh-pressed lemon, for a mouthful of summer in every sip. 144 S. Cannon St., Spokane • 459-6000
Kaiju Sushi & Spirits
They roared onto the Coeur d'Alene dining scene with a Japanese anime monster-themed menu, replete with cocktails like the Mothra-hito, with whiskey, ginger, citrus and mint. Open late-night, they're a fave with the after-hours crowd with drinks that include traditional Japanese ingredients — lychee, green tea, even sake — and select scratch-made accents like their lavender syrup. 424 E. Sherman Ave., Coeur d'Alene • 208-966-4019
Mizuna
You'll find their libations — a word that means drinks offered to a deity — heavenly at this longtime downtown restaurant. Try the Hemingway Daiquiri with Don Q Rum, grapefruit and lime, one of about a dozen drinks curated to pair with Mizuna's food, but also to standalone as a divine drink experience. 214 N. Howard St., Spokane • 747-2004
Nectar
Having made a name for themselves as a consummate provider of seasonal food — much of it locally sourced — Nectar continues to delight with seasonal drinks, too. Yes, you can get the classics, but why not start the evening with the Hundred Acre Wood: rye, brandy, honey, lemon, chamomile, sugar and spice. Now that's nice. 105 W. Sixth St., Moscow • 208-882-5914
Peacock Lounge
Does alcohol and fruit juice taste better if you call it a cocktail? What about if you're drinking it in some place fabulous like the Historic Davenport's Peacock Lounge? Whether you're an old fashioned drinker or a fan of newfangled cocktails crafted with scratch-made ingredients, this is elegance personified. 10 S. Post St., Spokane • 789-6848
Ruins
This near-downtown favorite is a funky little place where the only thing you can expect is that everything on the menu — food and cocktails both — will be a unique experience. Otherwise Ruins has an eclectic, ever-changing menu and freestyling approach to beverages and their housemade bitters, syrups and soda make your traditional or custom cocktail extra special. 825 N. Monroe St., Spokane • 443-5606