Thirty hours. Fourteen time zones. A whole other world.
I'm on a military-hosted media trip, flying from Fairchild Air Force Base to the Transit Center at Manas, Kyrgyzstan. The center houses KC-135 aerial refueling tankers from Fairchild and acts as a transit point for troops going in and out of Afghanistan. At least for now. Last summer, the Kyrgyz parliament voted to end the lease agreement with the U.S. government in 2014, and the fate of the tankers isn't yet clear.
My mission here is simple: Document the base, and the men and women who keep it running, far from home and their families. Over seven days in mid-December, I'll meet those who have been deployed for the first time and others who have been to Manas time and again. And after a grueling flight home, I'll see families reunited on the runway after months apart. In between, everything else: refueling missions, troops fresh from Afghanistan packing for home, long flights, sleeping on the floor of tankers, big skies, bigger mountains, hustling, waiting, security checks, a fenced-in slice of America in the middle of Central Asia. A trip there and back. ♦
Young Kwak
The late afternoon sky at Fairchild before our initial flight, with our military liaisons and fellow journalists.
Young Kwak
Before reaching Manas, the plane stopped over at a base in England.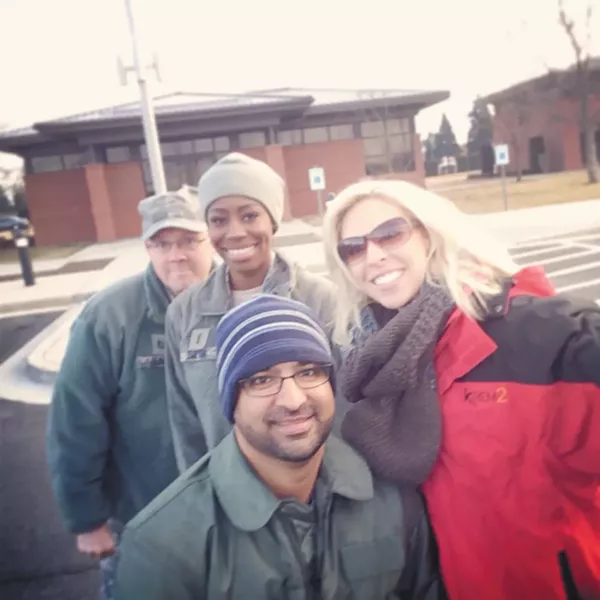 Young Kwak
Major Robert Mehan — stationed at Dobbins Air Reserve Base outside of Atlanta, Georgia — waits to disembark at the Transit Center at Manas, having flown from Fairchild to England before reaching Kyrgyzstan.
Young Kwak
Sunset over Manas.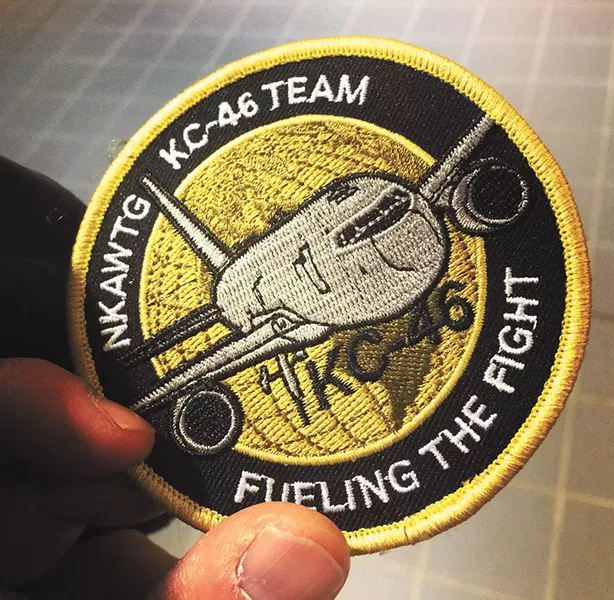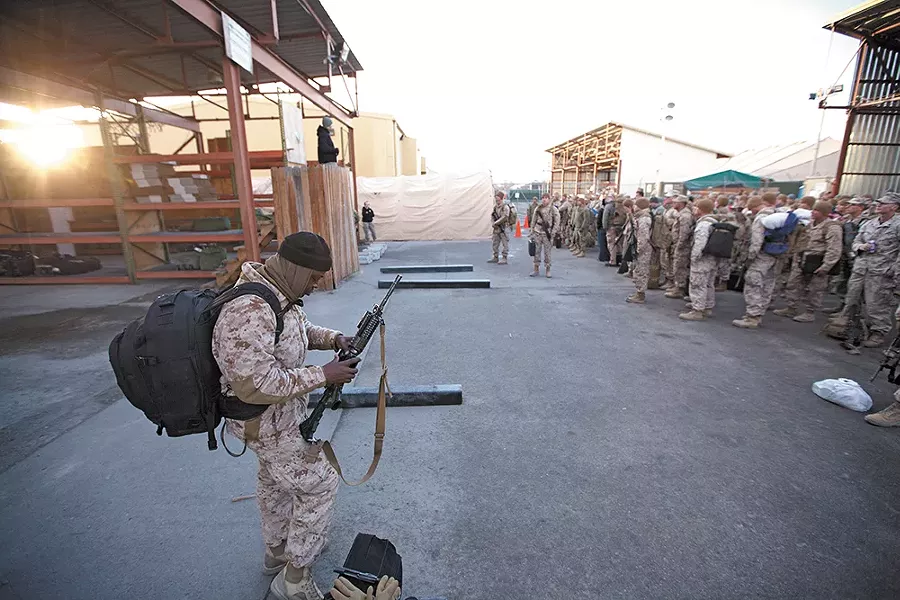 Young Kwak
Marine Sgt. Lloyd Beckford checks his rifle during a customs briefing, the first step to going home from a combat deployment in Afghanistan.
Young Kwak
Staff Sgt. Velinzala Wallace picks up food from the Manas Pizza Hut.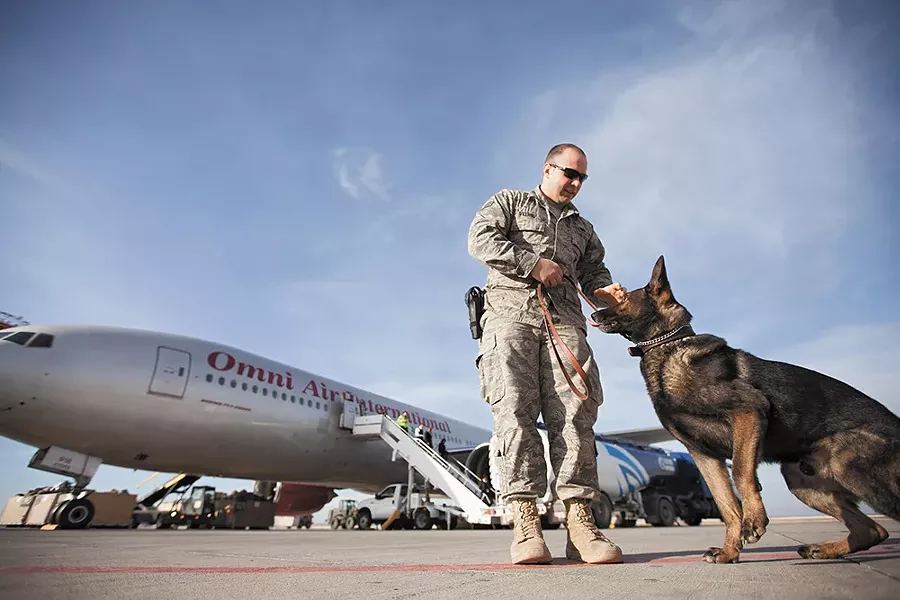 Young Kwak
K9 Handler Senior Airman Zach Villano and his dog Spikey prepare to do a security sweep of a plane.
Young Kwak
Marine Cpl. Arnold Alejo goes through his luggage, making sure he's ready for his trip home.
Young Kwak
Heading to work: a refueling mission.
Young Kwak
Senior Airman Dave Fernandez refuels an F-16 from a KC-135.
Young Kwak
An F-16 soars away after getting fuel from a KC-135 tanker over northern Afghanistan.
Young Kwak
Captain Mike Dobbs, right, checks the wheel well of a KC-135 at Manas, as Senior Airman Nick Stevens looks on.
Young Kwak
Welcome home.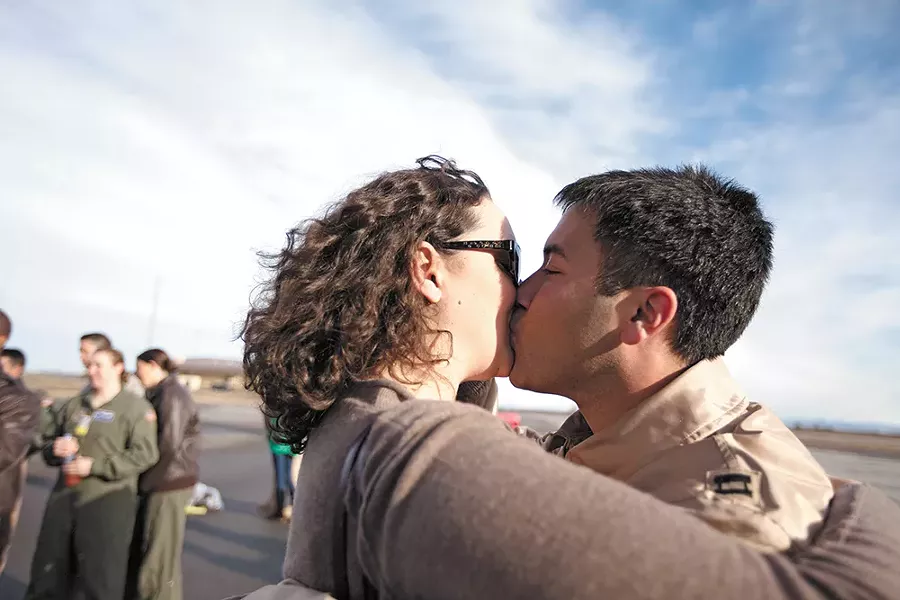 Young Kwak
Capt. Ariel Kayne kisses his wife, Sara, for the first time in three months, at Fairchild Air Force Base.