Little Women opens at the Spokane Civic Theatre on the first day of Restaurant Week.
Little Women: The Musical
Opening night of the staged production based on Louisa May Alcott's classic story of four sisters happens to coincide with the first night of Restaurant Week. Make reservations for an early dinner, then enjoy the heartwarming play. Feb. 26-March 20, Thu-Sat at 7:30 pm, Sun at 2 pm. $22-$30/person. Spokane Civic Theatre, 1020 N. Howard. spokanecivictheatre.com (325-2507)
Dine at: The Backyard Public House, 1811 W. Broadway
Spokane Empire vs. Wichita Falls Nighthawks
The second game of the season is the home opener for the newly named Spokane Empire arena football team. Restaurant Week offers plenty of options, so your experience can be casual or more formal. Sat, Feb. 27, at 7 pm. Spokane Arena, 720 W. Mallon. spokanearena.com
Dine at: Steelhead Bar & Grille, 218 N. Howard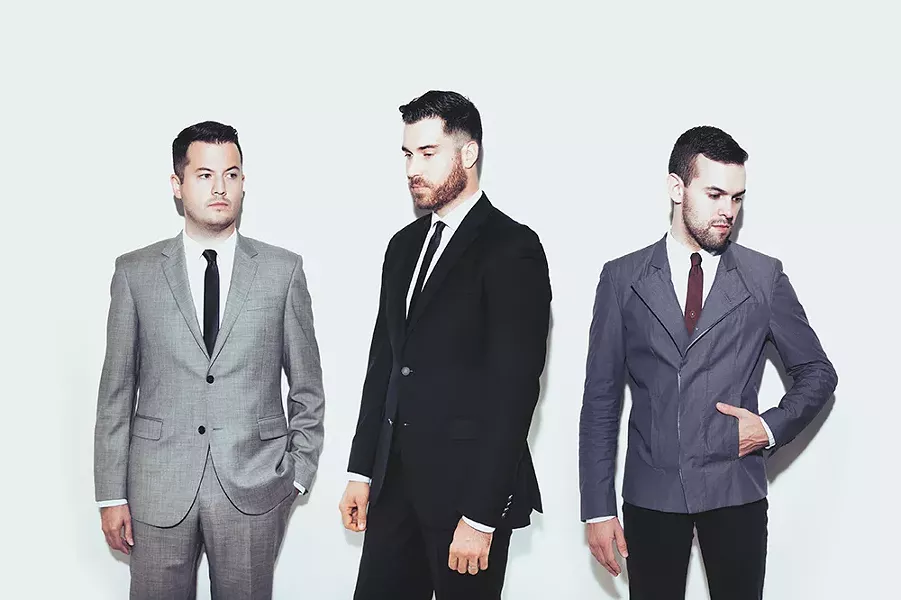 Barcelona plays The Bartlett on Feb. 27
Barcelona
The Seattle-based indie group heads through on their Absolutes Reunion Tour, during which the band performs the album Absolutes in its entirety with the help of original members. Sat, Feb. 27, at 8 pm. $18-$20. The Bartlett, 228 W. Sprague. bartlettspokane.com
Dine at: Lantern Tap House, 1004 S. Perry
Spokane Symphony Classics No. 7
In "Zen Fantastique," the Symphony performs a program of music that transcends emotions, featuring compositions by Karen Tanaka, Edward Elgar and Hector Berlioz. Also featuring Maja Bogdanovic on cello. Sat, Feb. 27 at 8 pm and Sun, Feb. 28 at 3 pm. $15-$54. Martin Woldson Theater at the Fox, 1001 W. Sprague. spokanesymphony.org (624-1200)
Dine at: Table 13, 333 W. Spokane Falls Blvd.
Gonzaga women vs. BYU
Before heading to dinner, watch the Gonzaga women's basketball team take on powerhouse WCC opponent Brigham Young University. Sat, Feb. 27, at 2 pm. $3-$8. McCarthey Athletic Center, 801 N. Cincinnati. gozags.com
Dine at: Thai Bamboo, 5406 N. Division
How the Other Half Loves
Ignite! Community Theatre presents the famous farce concerning three couples, and how a twisting affair involving two of them throws everything off balance. Through March 6, Fri-Sat at 7:30 pm, Sun at 2 pm. $10-$14. Ignite! Community Theatre, 10814 E. Broadway, Spokane Valley. igniteonbroadway.org
Dine at: Max at Mirabeau, 1100 N. Sullivan
Treasure!
This touring exhibit explores the history of treasure and treasure hunting, the technology used to look for it, and the people obsessed with finding it. Show runs through May 15; museum open Wed-Sun, from 10 am-5 pm. $5-$10 admission. The MAC, 2316 W. First. northwestmuseum.org (456-3931)
Dine at: Italia Trattoria, 144 S. Cannon
NW Bach Fest Twilight Concert
The two-hour concert is one part of the festival's Twilight Tour series, featuring Kurt Nikkanen on violin, Scott Rawls on viola and Bach Fest director Zuill Bailey on cello, performing Beethoven's String Trio — Serenade in D Major. Wed, March 2, from 6-7 pm. $20/person. Spokane Club Library, 1002 W. Riverside. nwbachfest.com
Dine at: Palm Court Grille, 10 S. Post
First Friday
March's visual arts showcase is a perfect way to spend an evening on the town, strolling the streets to pop into area art galleries and businesses displaying the work of the region's many artists. Fri, March 4, most artist receptions from 5-8 pm. Downtown Spokane and beyond; visit Inlander.com/FirstFriday for complete listings of all events.
Dine at: O'Doherty's Irish Grille, 525 W. Spokane Falls Blvd.
<
p>Safari
A night full of laughs from some of Spokane's funniest amateur improv folks at the Blue Door Theatre. The audience-suggestion-based improv show is rated for mature audiences. Saturdays at 8 pm. $7/person. Blue Door Theatre, 815 W. Garland. bluedoortheatre.com (747-7045)
Dine at: Downriver Grill, 3315 W. Northwest Blvd.
Maybe Baby
The Modern's 2015 resident playwright Matt Harget brings his romantic comedy about a couple's difficulties trying to conceive a child to the stage. March 4-20, Thu-Sat at 7:30 pm, Sun at 2 pm. $20-$24. The Modern Theater Coeur d'Alene, 1320 E. Garden Ave., CdA. themoderntheater.org
Dine at: Seasons of Coeur d'Alene, 209 E. Lakeside Ave.
CMT Next Women of Country feat. Jennifer Nettles
The live music event also features women of country music Brandy Clark, Lindsay Ell and Tara Thompson. Fri, March 4, at 7:30 pm. $65-$95. Northern Quest Resort & Casino, 100 N. Hayford Rd., Airway Heights. northernquest.com (242-7000)
Dine at: EPIC at Northern Quest, 100 N. Hayford Rd. ♦