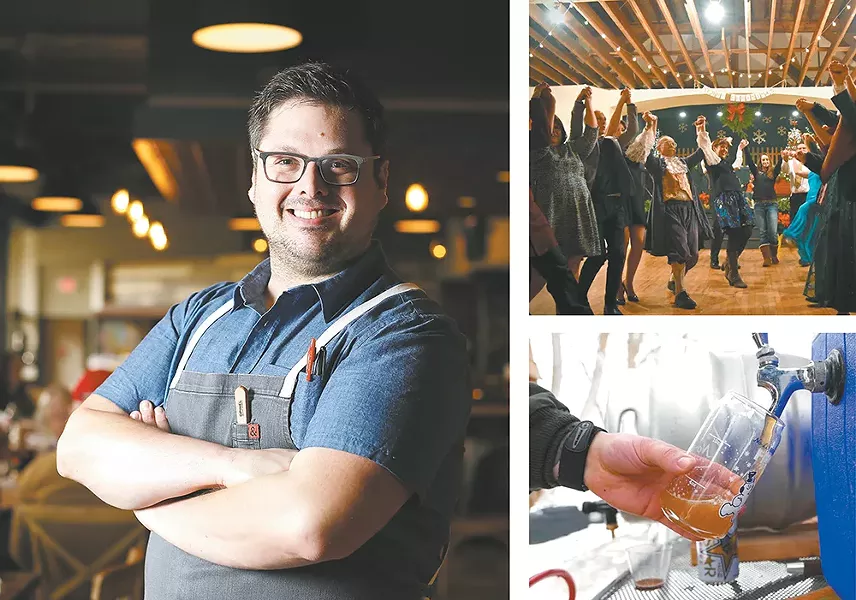 LEFT: Hotel RL Chef Ricky Webster has designed a life-sized gingerbread house. TOP: Fezziwig's Ball; ABOVE: No-Li FrostFest.
Nov. 24-Jan. 1
HOTEL RL GINGERBREAD HOUSE
You'll feel like you've stepped into the classic fairy-tale story of Hansel and Gretel (though this version is absolutely less scary) when you visit the utmost of holiday attractions this season: a life-size gingerbread house that's been constructed inside Spokane's Hotel RL at the Park. The marvel of architectural confection is the creative output of Ricky Webster, corporate executive chef for Hotel RL, and his team, including Pastry Chef Megan Gaines. Families and guests of all ages can stop by (no reservations needed) to tour the house and enjoy treats ($3-$12), including candy cane chocolate chip cookies and DIY gingerbread house kits. A portion of proceeds from the purchase of treats and select beverages support local nonprofit Blessings Under the Bridge, which aids Spokane's homeless population. Hotel RL by Red Lion at the Park, free to view, open daily. redlion.com/park-spokane (CS)
---
Dec. 2
INTERNATIONAL MARMOT BEER FESTIVAL
Back for round three, this popular winter beer festival from the brewers at downtown Spokane's River City Brewing features more than a dozen versions of its popular Midnight Marmot Imperial Stout. Some of these special one-offs were inspired by the flavors and culinary profiles of countries around the world. Attendees to this year's event can expect to find Thai-inspired, chili-spiced Marmot, as well as a mint leaf and cocoa nib Marmot, representing Ecuador. River City Brewing, $20-$25, 3-8 pm. bit.ly/2zG6LAY (CS)
---
Dec. 2
FEZZIWIG'S BALL
Get into the spirit of — and the reason for — the season with this Dickens-themed dinner. The second annual event, hosted by the local nonprofit women's ministry Whatever Girls, features an Old English-themed dinner complete with carved meats, puddings and spirits, including the Victorian classic known as Smoking Bishop, a wassail punch referenced in A Christmas Carol. Guests are encouraged to come in period costume (hit up the Spokane Civic Theatre's costume rental shop) or semiformal attire. Moran Prairie Grange, $40/person; $320/table of 8, 5:30-11 pm, ages 18+. bit.ly/2inLxOv (CS)
---
Dec. 9
NO-LI FROSTFEST
Warm up from the cold outside with a fuzzy beer buzz inside at the second annual No-Li FrostFest, this year at the Spokane Arena, allowing even more local beer lovers to sample the event's dozen small-batch beers. The carnival-style festival (costumes encouraged) is going all out in its new, bigger venue, with lots of live entertainment and beer tasting stations placed around the Arena concourse. There'll be ice carving, live music, circus-style performers, and food from the Arena's newly renovated food vendors. The only catch to this spectacular winter afternoon? You need to plan ahead, as no tickets will be sold at the door. Pre-sold tickets, which are very likely to sell out soon, are only available through Nov. 28. Entry includes a T-shirt, tasting glass and five 4-ounce beer pours. Make a full night of it and add a ticket to the Spokane Chiefs' game against the Seattle Thunderbirds (puck drops at 7:05; it's also the annual "Teddy Bear Toss" game) for just $10 more. Stay tuned for more word from No-Li on FrostFest's beer lineup; so far they've announced one called 'Tis the Saison, a festively spiced red saison. All proceeds from the event will benefit upkeep of the Fallen Heroes memorial sculpture on the Arena grounds. Spokane Arena, $30 (advance purchase only by Nov. 28),2-6 pm. nolibrewhouse.com/events (CS)
---
Dec. 13-14
EDIBLE GIFTS
Fans of local baking maven Mika Maloney's delightful desserts were no doubt sad to see her Batch Bakeshop's change in format, from a retail space with regular hours to one used only for special events and classes, and to fill custom orders. The bright side of this transition that happened almost a year ago? Aspiring home bakers get a chance to work alongside Maloney in her quaint, cozy kitchen. Just in time for holiday hosting and gift giving, Maloney is offering two evenings' worth of sessions, sharing some delectable goodies to make your holidays a little sweeter. On the class schedule, which goes "beyond the cookie tray," are tasty treats including dark chocolate truffles, the "best hot cocoa," homemade marshmallows and salted caramel sauce. If these sound like your sweet tooth's weaknesses, suitable for sharing with loved ones, sign up online soon; Wednesday's class already is sold out. During both sessions, Maloney will also share creative ways to package these sweets, as well as recipes to take home. Batch Bakeshop, Wednesday (sold out) and Thursday at 7 pm, $50. batch-bakeshop.com/classes (CS)
---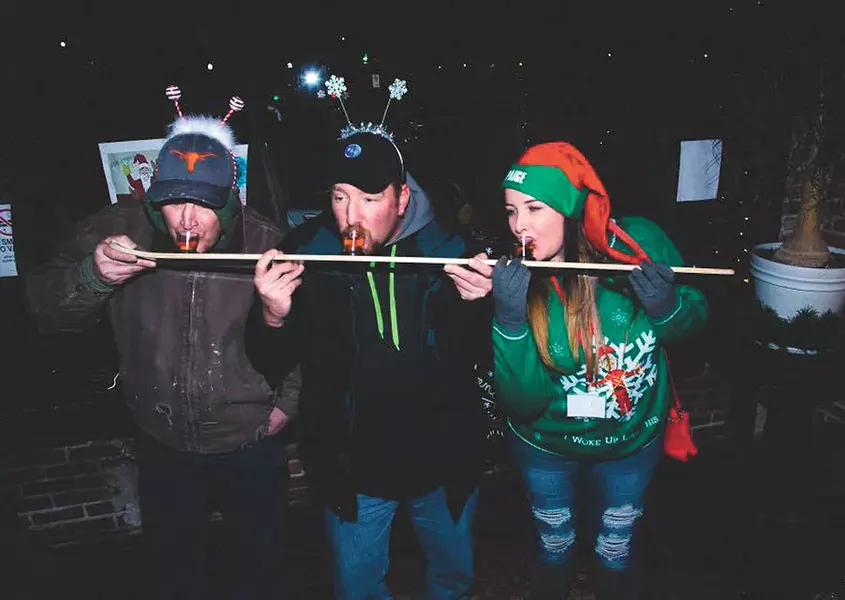 'Tis the season for a holiday-themed pub crawl.
Dec. 16
BAD SANTA CHRISTMAS PUB CRAWL
Are you dreaming of a blacked-out Christmas? If so, perhaps you should rethink being so established on the naughty list. After a hard day making spirits bright, Santa and his elves deserve a night out dedicated to getting bright on spirits, and this is certainly the night to do so. Get decked out in your red suit and elf shoes and jingle-jangle with the best of them at downtown Spokane's jolliest pubs. Downtown Spokane (check in at Borracho Tacos & Tequileria from 5-8 pm), $25. spokanepubcrawls.com (JS)
---
Dec. 17
HISTORY OF YUM: GINGERBREAD!
Learn the storied history behind one of the holiday season's most beloved baked treats with Spokane Falls Community College and Eastern Washington University history professor Monica Stenzel at this session hosted by the MAC. As guests learn about the festive little gingerbread people's cultural and culinary significance, they'll get to decorate and eat them, too, prepared by the local Madeleine's Café & Pâtisserie. Pre-register online; kids under 16 need to be accompanied by an adult. Northwest Museum of Arts and Culture, $22.50-$25, 2-3:30 pm. northwestmuseum.org (CS) ♦