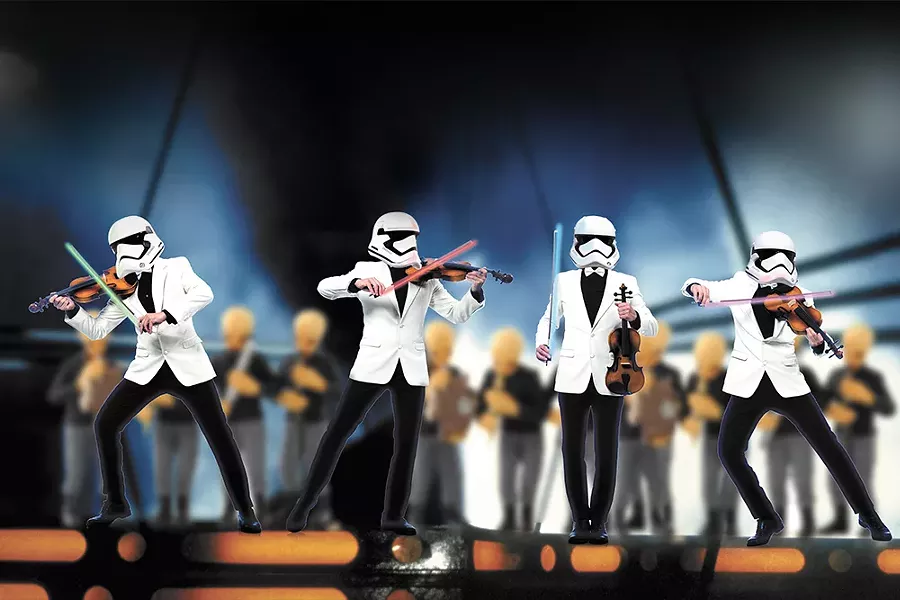 Ali Blackwood Photo Illustration
It wouldn't be much of an exaggeration to say that Star Wars is what led Ross Holcombe to his career as a professional musician.
Like many an obsessed child, the principal trombonist for the Spokane Symphony was intensely interested in anything related to Luke, Leia, Darth and the gang after watching the original trilogy at his grandmother's house. That interest led to a trip to see his hometown Tallahassee Symphony do a kids' concert full of John Williams' Star Wars compositions. At the show, all the kids in the audience were invited on stage to watch the musicians play up close.
"That was just thrilling to me as an 8-year-old who hadn't even heard of the trombone yet, getting on stage in the thick of the orchestra and getting to hear Star Wars," Holcombe says. 'That's basically the earliest thing I remember about a symphony orchestra, even before I had an inkling I would someday be in one."
Now 27, Holcombe considers himself "probably the biggest Star Wars fan of all the musicians" in the Spokane Symphony, while acknowledging they might not all agree — the Force is strong in his fellow musicians. He's particularly excited for the special "Music of Star Wars" show on Friday, which includes one of the first-ever symphonic performances of music from the newest chapter, The Force Awakens, as well as costumed characters from the movies, memorabilia displayed in the lobby and a life-size recreation of frozen Han Solo from Return of the Jedi.
Spokane Symphony's Morihiko Nakahara appreciates the complexities of John Williams' Star Wars scores.
For Holcombe, this show is a natural step in his life as a Jedi-obsessed musician. After that experience getting on stage with an orchestra, he joined his middle-school band, and "the first thing I wanted to do was play Star Wars. We'd bug the band director every week." He had to wait until he was playing in small regional orchestras in college in the Boston area before he finally got to apply his trombone skills to Williams' epic scores. "I was just in heaven," Holcombe says. "I had the most fun playing it for the first time."
More recently, Holcombe was able to join the Oregon Symphony in Portland for a show full of Williams' music, conducted by the man himself: "That was kind of a big moment for me."
For Holcombe, the appeal of the movies is similar to the appeal of playing the Star Wars music — there's something for everyone. That's part of the attraction for conductor Morihiko Nakahara as well, as he'll lead the Spokane Symphony for the show.
"Part of the appeal is that John Williams' scores have instantly recognizable and memorable melodies, rhythm and overall 'soundworld,'" Nakahara says, noting that he's tackled excerpts of Williams' soundtracks before, but "this is the first time I'm conducting an entire evening of Star Wars music. It's going to be a blast for both the audience and us on stage ... but also a huge test of finesse and endurance for the musicians, as Williams' writing is virtuosic for everyone on stage."
Nakahara is an admitted newcomer to Star Wars' charms on the screen, even though he's enjoyed conducting Williams' music for years. His wife and brother-in-law grew up on the movies, but the conductor didn't see the original trilogy until a couple of members of the symphony loaned him their DVDs a few years ago.
"I finally understood why they're loved by so many — epic, witty, poignant and timeless," he says.
Principal bassist Patrick McNally has a lifetime of memories of both the films and the music. He would recite lines from the movie with his sisters as they watched Star Wars over and over. For him, Williams' score is evocative of some of the traditional classical music the symphony performs.
"I think John Williams really gets a lot of his ideas from the older composers, and some of the music you can really relate to," McNally says. "Every once in a while, we'll be playing something, and I'll think, 'Oh, man, that really sounds like Star Wars.'"
Doing shows of the Star Wars music is a treat for the musicians, McNally says, because it's always enjoyable to play "current" compositions as a change from the old classical canon, and it can be just as challenging.
"We did an entire John Williams concert a few years ago," McNally says. "It's really, really difficult music to play, so it was a difficult concert, but it was really fun. He knows how to write really well for all the instruments."
All the extras the Spokane Symphony will have on hand at Friday's show will obviously help the audience get in the proper frame of mind for the aural journey to a galaxy far, far away. Holcombe is confident that Williams' music has plenty of ability to do that on its own.
"One of the best things about playing music, any music, is that music can really transport you to another time and place," Holcombe says. "It has this amazing power to conjure images and emotions and feelings. That's true about any music, and especially Star Wars. When I play that music, I just get taken back to this time in my life when it was the coolest thing ever. It never gets old." ♦
The Music of Star Wars • Fri, March 4, at 8 pm • $30/$15; $10 for kids under 17 with purchase of adult ticket • Martin Woldson Theater at The Fox • 1001 W. Sprague • spokanesymphony.org • 624-1200