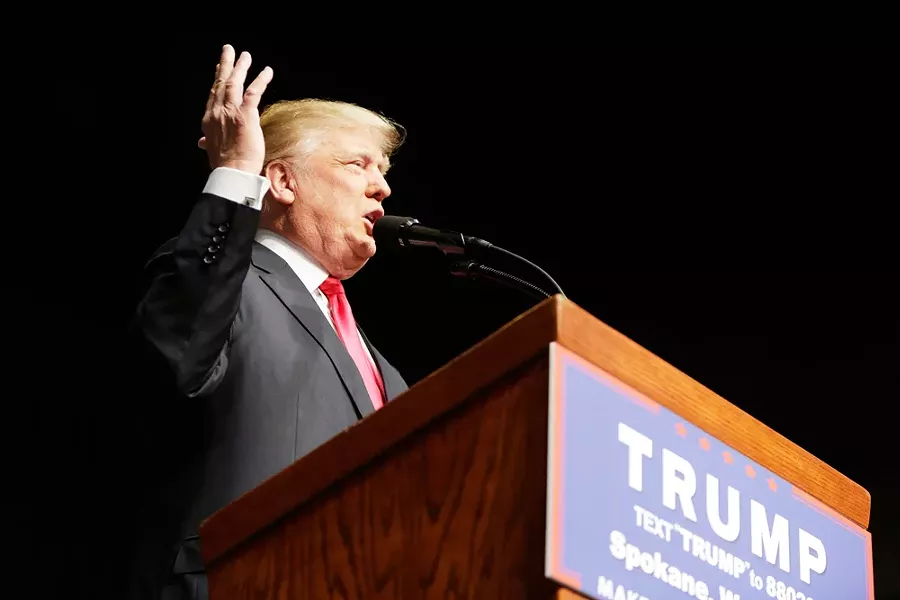 Young Kwak
Donald Trump in Spokane over the summer.
NEVER HILLARY?
There may be no Washingtonian who's had more trouble accepting that HILLARY CLINTON is the Democratic presidential nominee than Robert Satiacum. The member of the Puyallup Tribe, who supports Sen. BERNIE SANDERS, vowed that he would not vote for Clinton.
This is a big deal: Satiacum is a presidential elector whose vote counts in the Electoral College.
"I hope it comes down to a swing vote and it's me," he told the Seattle Times. "Good. She ain't getting it. Maybe it'll wake this country up."
Yet Satiacum is also critical of DONALD TRUMP, and before the election said he didn't know what he'd do with his vote. Another Washington elector, Bret Chiafalo, said he was also considering his right to be a "conscientious elector" and didn't know who he would vote for.
There's another term for electors who refuse to honor the election results in their state: "faithless elector." As it turns out, this has happened in Washington before. In 1976, Mike Padden, now a Spokane Valley state senator, refused to vote for Republican nominee Gerald Ford, instead casting his vote for Ronald Reagan. Ford, or course, lost that election to Jimmy Carter.
The Puyallup Tribal Council said in a statement that Satiacum "risks dishonoring himself" by not casting his vote for the winner of the state's popular vote. (WILSON CRISCIONE)
THANKS, DONALD
DONALD TRUMP's candidacy has been an anomaly among those who pursue the White House. It's appropriate, then, to think about what we can learn from it. For all the misogyny and the ignorant statements dripping with racial bigotry, for all the nonsensical rants, the blatant lies and the seemingly impossible policy proposals, perhaps Trump has taught us something.
ABOUT THE MEDIA: Trump's near-masterful exploitation of the news media's duty to cover scandalous and shocking stories earned him free press and an outrageous amount of airtime. Some experts estimate its worth as somewhere between $2 billion and $3 billion. (There's been some outstanding journalism this election cycle, though. See the Washington Post stories on the Trump Foundation, and New York Times coverage of Trump's tax returns.)
ABOUT THE PARTY: Trump has insulted minorities, women, veterans, politicians, the media, judges, models, microphones, at least one golf course, the Super Bowl and the podium in the Oval Office. He's left a trail of fallen-away Republicans in his wake, but most continue to hang on for dear life, seemingly placing party over ideals. Most notable locally is U.S. Rep. Cathy McMorris Rodgers, who despite Trump's bragging about groping women, has not withdrawn her endorsement of her party's nominee. (MITCH RYALS)