Stephen Glueckert has a show in Moscow through Oct. 21.
Through Oct. 21
STEPHEN GLUECKERT: ALL MIXED UP
Christian evangelism, corruption, civil rights violations in the Rodney King trial — it's all fair game to Stephen Glueckert, who uses toys, tools, repurposed objects and things he fashions himself to create wryly humorous artwork with a social and/or political message. The retired Missoula Museum of Art director and University of Idaho alumnus returns to Moscow, Idaho, with a retrospective exhibit including films, drawing machines, conceptual pieces and more. It's an opportunity to navigate the labyrinthine mind of an artist whose career spans 40 years. Prichard Art Gallery, free. For details and gallery hours, visit prichardart.org. (CARRIE SCOZZARO)
---
Through Nov. 3
SQUEAK MEISEL: THE IMMORTALS' EXHIBITION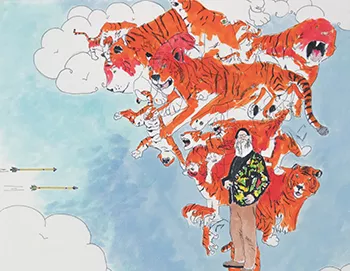 Better bring your smartphone for this exhibit, which features 96 drawings by artist Squeak Meisel, an associate professor of fine arts at WSU. "The drawings are a mystical wandering through my unconscious," he says, "utilizing semiotics from dreams and interpretations of I Ching divinations." Google "semiotics," "I Ching" and "spelunking," which is what Meisel invites people to do: explore. His artwork is a map of sorts, but only of his own experiences; he freely welcomes audience engagement and alternate interpretations. Whitworth University, free. For details, visit whitworth.edu/cms/academics/art/bryan-oliver-gallery. (CAS)
---
Sep. 30-Nov. 2
EMERGE / HUMAN RIGHTS EDUCATION INSTITUTE "DAY OF THE DEAD"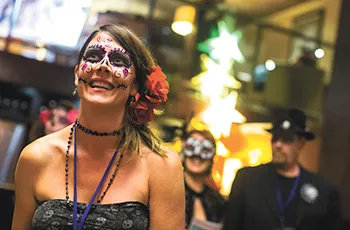 In addition to its annual Day of the Dead fiesta fundraiser, Coeur d'Alene art collective Emerge is collaborating with the Human Rights Education Institute to promote Latino and Hispanic culture. Included are workshops and guest speakers, as well as "Vecinos/Neighbors," an exhibition at Emerge by regional artists with ties to Latino and Hispanic culture. Emerge's Day of the Dead fiesta on Nov. 2 is a hot ticket at $55, featuring music by Milonga, performances by Spokane Aerial Acrobatics and great food from regional chefs. Location and times vary. For details, visit emerge.cda or hrei.org. (CAS)
---
Oct. 1-31
CREATE SPOKANE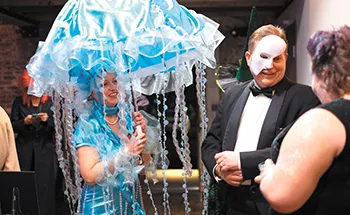 Now in year four, Create Spokane Arts Month should already be on your calendar. The question: Which galleries will you peruse during the Fall Arts Tour, Oct. 6-8, and can you squeeze in a presentation or workshop that month? No costumes are necessary for this year's Arts Awards gala on Nov. 4, which recognizes Spokane Arts Grant Award (SAGA) recipients and unveils the new Spokane Poet Laureate. The semiformal fundraiser will be at downtown's McGinnity Room, featuring live music — Spokane Arts hopes to feature SAGA winners — a complimentary beverage, appetizers and scintillating conversation. Tickets are $75 (discounts for seniors, students and low-income). Arts Month events through all of October; locations and prices vary. For details, visit spokanearts.org. (CAS)
---
Oct. 2-Dec. 29
THE FEELS
Kids do the darndest things. On a visit to the Chase Gallery, for example, they wanted to touch everything they saw, which inspired Ellen Picken, formerly with Spokane Arts, to curate "The Feels," featuring six artists whose work everyone can touch. In addition, says Picken, "learning from [visually impaired friends] how to navigate the world without sight has been so useful as an artist, and given me a lot more empathy as well." Chase Gallery, opening reception Oct. 6, 5-8 pm, free. For details, see spokanearts.org/chase-gallery. (CAS)
---
Oct. 5-27
ARCHIE BRAY FOUNDATION FOR THE CERAMIC ARTS EXHIBITION
Artists who study at Helena, Montana's Archie Bray Foundation are on the cutting edge of ceramics, so when you have an opportunity to learn from them, you go. First, attend the free workshop and artist lecture on Oct. 5 at Gonzaga University by Bray residents MyungJin Kim and Nicholas Danielson. Armed with new insights, attend the First Friday reception at Kolva-Sullivan Gallery on Oct. 6 and marvel at how talented, hardworking, creative artists can infinitely transform a humble material like clay. Gonzaga University: Oct. 5 workshop, 9 am-3:30 pm, lecture 4 pm, free. For details, email Mat Rude, rude@gonzaga.edu. Kolva-Sullivan Gallery: opening reception Oct. 6, 5-9 pm, free. (CAS)
---
Oct. 6, Nov. 3, Dec. 1
VIRTUAL REALITY FIRST FRIDAY
It's like Spark Central's drop-in-and-draw program, only bigger and way more cosmic. Get a crash course in Google's Tilt Brush program, then don a virtual-reality headset and hand controllers and get painting on a collaborative virtual "canvas" measuring 13 by 13 feet! Artists will be livestreamed to the big screen and recorded for posterity, as each person adds to the work from those who went before them. Spark Central, 5-8 pm, free. For details, visit spark-central.org/events. (CAS)
---
Oct. 20
MONSTER DRAWING RALLY
It's a frighteningly unique blend of improvisational performance and art exhibition. This one-night-only event benefiting Spokane Art School children's programs features "monster" drawings by 45 Spokane Art School and (former) Tinman Gallery artists. The magic happens in front of you during three drawing "rounds." (It's not a competition!) Take home your favorite piece for a mere $50, and support a vital community resource. Also check out the juried exhibition and silent auction areas, live music, and refreshments for a scary good time. Montvale Event Center, 5-10 pm, $15, tickets at spokaneartschool.net. (CAS)
---
Nov. 10-Dec. 2
SHEILA EVANS & ELAINE GREEN
Both artists make stunning work, yet combined, the visual effect is even more powerful. Sheila Evans, long known for her ethereal pastel renderings of leaves and petals, brings the same reverence for color to her new medium: enamels. And Elaine Green's sparse, grainy charcoal drawings evoke a depth of feeling that's difficult to articulate. Put these two together, and wow. Just wow. The Art Spirit Gallery, free, artists' reception Nov. 10, 5-8 pm. (CAS) ♦