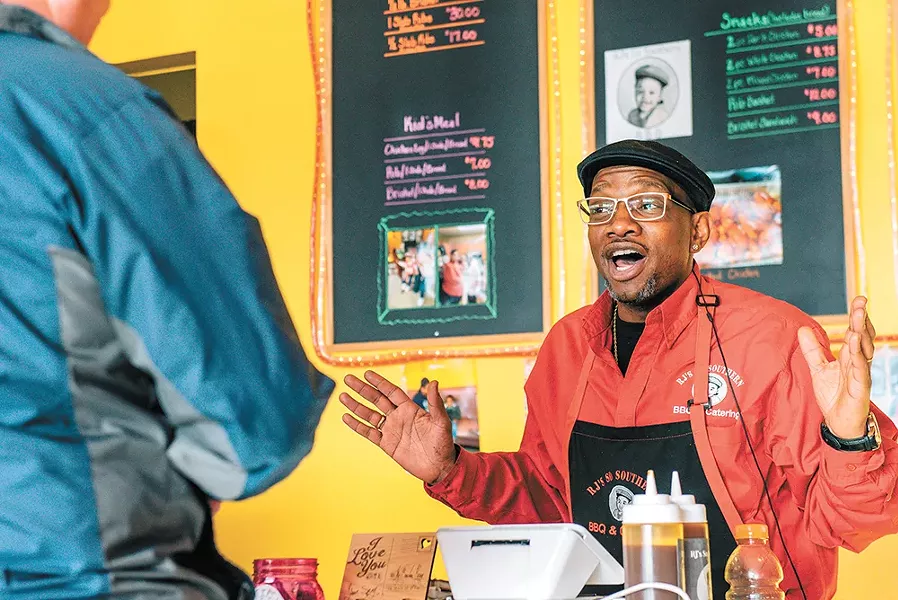 Erick Doxey photo
Reggie Perkins is closing up his Spokane barbecue joint.
Humble Abode Brewing now open in North Spokane
Spokane's newest microbrewery opened last month with the arrival of Humble Abode Brewing, located at 1620 E. Houston Ave. Owned by Matt and Courtney Gilbreath, Humble Abode was partly made possible through a successful Kickstarter campaign earlier this year that raised about $9,600. At its north side tap room and production site, the brewery recently listed a variety of styles on tap, including a rye pale ale, several IPAs (red, hazy, double), a barleywine and a vanilla coffee stout featuring cold brew from Roast House Coffee. Humble Abode is currently open Wednesday through Friday from 5 to 9 pm, Saturday from noon to 9 pm and Sunday from 1 to 7 pm. (CHEY SCOTT)
Chef Adam Hegsted rolls out new health-focused meal service
Through a partnership with local supplement supplier Precizion Nutrition, local chef Adam Hegsted has launched a new health-centric meal service called Vital Fit Meals. Unlike a meal kit service where consumers prepare raw ingredients following a provided recipe, Vital Fit's meals are sold ready to eat (some require reheating), and prepared at Hegsted's Eat Good Co. headquarters in Liberty Lake. Orders can be purchased in person at Precizion Nutrition (6501 N. Cedar Rd.) or the Eat Good Group Cafe (24001 E. Mission Blvd., Liberty Lake), or ordered online ahead of time for pick up at either store. Local delivery in Spokane County is also offered. Meals are priced between $6-$11 each, and are made with ingredients low in fat and calories, and high in protein and other nutrients.
"We created delicious food that happened to be healthy, and made it more our style instead of just healthy food," Hegsted says.
Many dishes were influenced by ethnic cuisines, with low-carb substitutions like cauliflower rice instead of white rice and potatoes. The meals feature lean meat proteins like turkey and chicken, and lots of veggies. Vital Fit's full line-up of meals for breakfast, lunch and dinner can be viewed and ordered online at vitalfitmeals.com. (CHEY SCOTT)
RJ's So Southern BBQ closes shop, keeps catering
Reggie Perkins is one of the most fun characters I've met in Spokane, so it was a bummer to read on the Facebook page for his RJ's So Southern BBQ & Catering that "due to medical reasons" he's had to close up his brick-and-mortar spot inside Mr. Wok at the North Spokane Y, effective Oct. 1. Perkins' Tennessee-style barbecue brings something different to the local food scene — for me, namely, the best smoked chicken in town — and if there's an upside to Perkins' message, it's that RJ's So Southern will still do catering. You can find them on Facebook. (DAN NAILEN)
Things are hoppin' at Iron Goat's annual SpoHop Fest this weekend
For the eighth year, Iron Goat Brewing Co. is getting ready for the release of its community-gathered fresh hop IPA. The process launches with the SpoHop picking party on Saturday, Sept. 15. Hop growers of any variety and enthusiasts alike are encouraged to head to the downtown taproom at 11 am to drop-off or help pick the hops. This is an opportunity to spend the afternoon drinking good beer surrounded by like-minded beer aficionados. Plus, all contributors and volunteers will receive 50 percent off pints of the finished SpoHop IPA in the taproom (release TBA) while it lasts. (DEREK HARRISON)