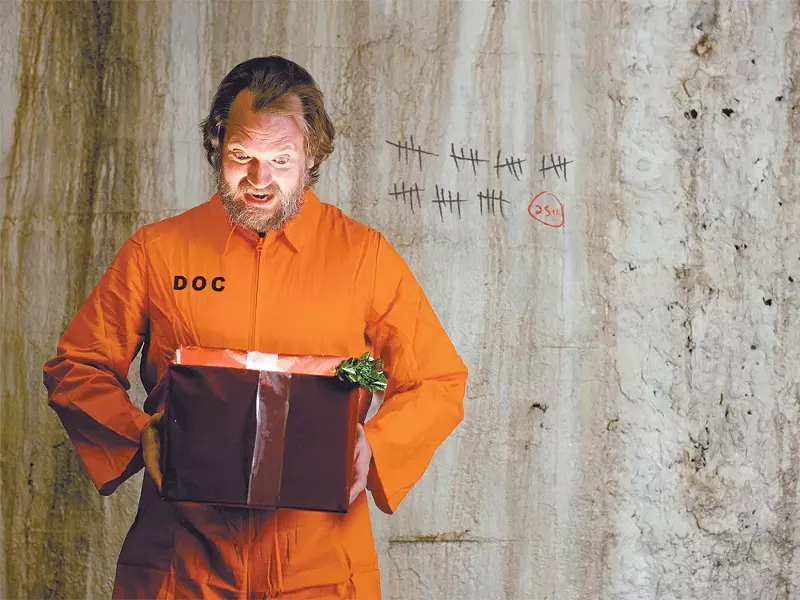 For descriptions of each item, put your mouse pointer over the image.
HIGH TIMES MAGAZINE For the guy who's serving a long sentence for possessing three ounces. Helps him keep current on the latest developments in grow-lights, hydroponics and how to pass a drug test (even if the warden looks askance at such matters). Most prisons don't like routine deliveries (i.e., subscriptions), so buy single issues and have them sent from the store or website. $6 · Puffin Glass Studio · 3904 N. Division (MB)
POSTCARDS She wants to stay in touch with the outside world. But those prison guards are so fussy — rules, rules, rules — and it can be hard for a girl to get her hands on a nice set of embossed, floral-scented stationery. Give her the gift of intimacy conveyed through tender words (depicting, perhaps, the inspiring heritage of our beloved Gem State). 35 cents each · Papillon Paper Emporium · 210 E. Sherman Ave., Coeur d'Alene (MB)
BOZO 3-D BOP BAG The most appreciated thing you can do for locked-up parents? Give toys to their kids, then tell the inmates all about their sons' and daughters' reactions. Here's a toy that's therapeutic as well: It'll help Junior work out his anger over the fact that Dad is stuck in Walla Walla doing 25 to life. $20 · Figpickels Toy Emporium · 312 E. Sherman Ave., Coeur d'Alene (MB)
RAQUEL WELCH POSTER You know the climactic moment in The Shawshank Redemption when Warden Norton gets all paranoid because he thinks Tim Robbins has betrayed him, so he starts throwing rocks all around Robbins' cell — and one of the flying rocks pierces a poster on the wall of the cell and reveals the tunnel that Robbins has spent years creating just so he could escape on this very night? This is that poster. It's a symbol of help for prisoners worldwide. Because when you get out of the slammer, it's possible — just barely — that Raquel Welch will be waiting for you. $40 · Order at The Great Frame-up via shopforart.com · NorthTown Mall and other locations (MB)
For descriptions of each item, put your mouse pointer over the image.
TAROT READING In today's fast-paced world, you don't have time to waste on relationships that aren't going to work out in the end. Why not roll the tape forward and see if the one you're chasing is actually The One? At the very least, you should know if your union will be a total pain in the ass down the line. How could you ever foresee that? Here's a hint: Stop being logical and questioning things, and take yourself and your new flame to a fortune teller. (Since when does love make sense, anyway?) $40-$100 · Elaine's Psychic Palm and Tarot · 2821 E. Illinois Ave. (TH)
CHIA HERB GARDEN Nothing says "I'm somewhat interested in you but don't know anything about your interests" like the gift of fresh herbs, and nothing beats the freshness, style and convenience of the Chia Herb Garden. If you adored the Chia Pet and cried out for the Chia Kung Fu Panda, then you're bound to have a brief yet intense orgasm over the Chia Herb Garden! Visit your fine Chia retailer today! $17 · Rite Aid · 9007 N. Indian Trail Rd. (TH)
VEDA LUX HANDMADE ACCESSORIES Don't scoff, gentle sirs. Finding stylish and well-made hair accessories can be a bitch. That's why local fashionista Summer Hightower and her line of one-of-a-kind jewelry and accessories are so awesome. They are the perfect, pretty gift for any chick with style. $10 · Veda Lux Boutique · 1106 S. Perry St. (TH)
PAINT BY NUMBERS Writing poetry is so overdone, and chances are you suck at it, anyway. But for those looking to make someone swoon over your indie/artsy side, there's hope. Just apply the paint to the corresponding number on the design, and voilà! You have a masterpiece. $7 · Hobbytown USA · 9324 N. Division (TH)
NICE BOOZE IN A FANCY BAG This tried and true gift is welcomed by almost all. Not only is it something you can enjoy together, but it often paves the way to making out (among other things). Just saying. Try Sailor Jerry Spiced Rum — a good one for the season. And don't forget the fancy bag. $20 · South Hill Liquor Store · 5611 S. Perry St. (TH)
BEANIE You can tell if someone really likes you if they don't want your head to be cold. So for the ultimate "like" gesture, opt for a beanie. Everybody likes them. Everybody looks good in them. The Storm Cellar in Moscow has a nice selection of beanies and hats, in addition to loads of other giftable vintage items. The beanie is a good start, though. $6-$10 · The Storm Cellar ·504 S. Main St., Moscow (TH)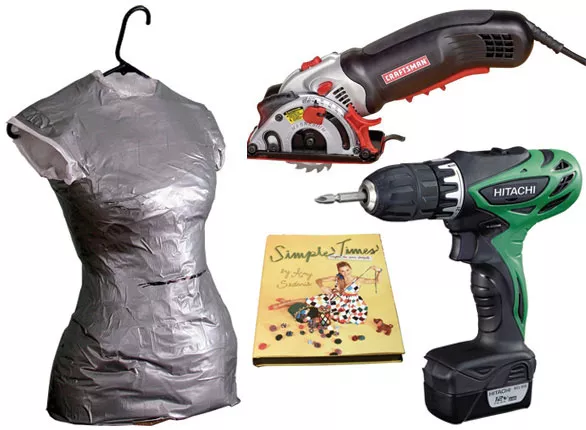 For descriptions of each item, put your mouse pointer over the image.
DUCT TAPE DRESS FORM The beauty of this gift is that it's a cheap DIY project that will allow your sewing/knitting giftee to do even more DIY projects. Just dress your knitter in an old T-shirt and start wrapping foot-long strips of duct tape loosely around her torso. At the breasts, tape in a star pattern, not straight across. At the pits, cut the sleeves off the T-shirt. Tape the entire torso a second time, applying tighter vertical strips to define her shape. When you're done, cut up the back, have your model slip out, tape the form back up, and stuff it. This will all take awhile, but if your crafting friend is patient, she'll have a perfect likeness of her own torso for blouse- and sweater-making. (And you'll have completely duct-taped your fingerprints off.) 50 feet of duct tape: $11, Stewart's Hardware, 1905 N. Monroe St. · Polyfill: $2.50, Jo-Ann Fabric, 2801 E. 29th Ave. (JS)
HITACHI DS10DFL DRILL Because just about every DIY project (or high school reunion) requires drilling or screwing something, give your handy giftee this Hitachi drill, ranked by one DIY site as the best cordless drill for renters, because of its high power and light, compact, no-frills design. (Just like that junior-year crush.) $100 · Lowe's · 5204 E. Sprague, Spokane Valley (JS)
SIMPLE TIMES: CRAFTS FOR POOR PEOPLE Who better to dispense craft advice than Jerri Blank from Strangers with Candy? In this hefty new manual, the comedienne (often wearing a disguise) asks, "Did you know that inside your featureless well-worn husk is a creative you?" while teaching how to make sausage, crepe-paper moccasins, and love (called "fornicrafting"). $28 · Auntie's · River Park Square (JS)
CRAFTSMAN MINI CIRCULAR SAW Your crafty cousin doesn't build houses — he builds Mario Kart picture frames and seashell Jesuses. So while he's well-equipped with small essential tools, he probably doesn't have room or need for a massive band saw. This portable saw, with an adorable — yet powerful — three-inch blade, will come in handy on small DIY projects (like a balsa hang glider!). $110 · Sears · Northtown Mall (JS)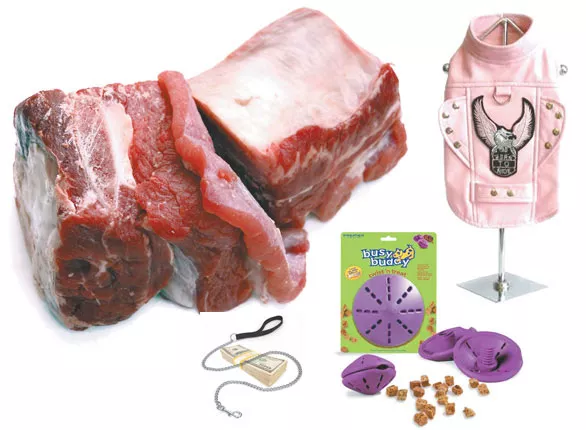 For descriptions of each item, put your mouse pointer over the image.
PREMIER PETS BUSY BUDDY TWIST 'N' TREAT The best present you can get for your dog is one that keeps him busy. Dogs hate being bored. So while all you crave after a long day at work is some quiet time and a bottle of merlot, your dog's likely been laying around all day, bored to puppy tears. So place some of his kibble or treats inside the Twist 'N' Treat and watch as your favorite pooch spends hours trying to get it out. He's no longer bored, and you get to sit back with a glass and catch the latest episode of Glee. $16 · Gooddog · 3115 N. Government Way, Coeur d'Alene (TLM)
MIA MICHELE COUTURE PINK "BORN TO RIDE" MOTORCYLE HARNESS JACKET Your small dog will yip with joy when she finds this sweet tough-dog motorcycle jacket, which is made from faux leather that's supposed to feel and smell just like the real thing. All those years of feeling inferior to the big dogs will become a distant memory as she cruises the town with her tail wagging and her ears pointed. Like a total badass. $49 · Diva Dog Pet Boutique · 911 W. Garland Ave. · (TLM)
DONATION TO THE SPOKANE DOG PARK Instead of buying your pooch a stack of gifts this Christmas, consider tossing a stack of bills at the Spokane Parks Foundation's dog park. Teetering on opening since summer, the park is still short on the dough it needs to put up a fence. And, really, what would your dog prefer? A squeaky toy or some new friends? Put "Attn. Dog Park" on the envelope. $5-$1,000 · P.O. Box 2021 Spokane, WA 99201 · (TLM)
BOX OF MEAT Dead things are super-fun. Fun to roll in. Fun to tear apart. So, for those who want only the best dead flesh for their pets, Egger's Meats offers a package of 40 pounds of beef — prime rib, T-bones, sirloin, the works. And anything that starts to go bad can become his new carrion-flavored dog toy. $270 · 10629 E. Sprague · (TLM)
For descriptions of each item, put your mouse pointer over the image.
NISSAN LEAF Being an early adopter is a curse. The early adopter buys the newest gadget at its most expensive and buggy, all for the bragging power of being first. But a practical electric car that can run 100 miles without a drop of gas? That's the sort of thing that makes the early adopter drool. The Nissan Leaf not only uses zero emissions, it can reach speeds up to 90 miles per hour — certainly better than your average golf cart. And while it's not available yet, the quicker you get your techie friend's name on the list, the sooner s/he will be able to plug in, charge up, and drive off smiling. $25,000 after tax rebates. · Wendle Motors · 9000 N. Division (DW)
82-INCH 3-D TELEVISION Ah, 3-D. The wave of the future that became the wave of the past that's now, once again, the wave of the future. For early adopters, the expensive magic of right-atcha cinema is now available, complete with TV-synched glasses, for the home. Finally, your giftee can live through the complete Jackass 3D experience in the privacy of the home. Oh, and Avatar. $3,500 · Huppin's · 421 W. Main Ave. (DW)
APPLE TV The newer, smaller, superior Apple TV easily turns your television into a platform for iTunes, YouTube and NetFlix. Sure, a techie with a laptop could do the same thing. But not this easily, small, sleek or prettily. $99 · Strong Solutions · 1718 E. Sprague (DW)
STONESHIP: THE CURSE OF A THOUSAND ISLANDS iPHONE APP Admit it. If you can buy it, the early adopter probably already has. So why not augment a gadget they already have? You can use iTunes to gift apps for the iPad and iPhone. We suggest grabbing Stoneship, a game from Spokane's Cyan Worlds. They're the company that once made Myst — the game beloved by early adopters of the Macintosh LCII. $3 · Cyan Worlds · 14617 N. Newport Hwy. (DW)
GALAXY TAB Some early adopters despise Apple. Getting them an iPad is basically saying, "I don't love you" with a rock to the forehead. Thus, we recommend the Galaxy Tab, your un-Apple iPad substitute. Since it runs on Android, there's no Lord Steve Jobs controlling the app market. Any app can be sold, any can be bought. Because this is America, dammit. $599 · Best Buy · 15223 E. Indiana Ave. (DW)
ZEAL OPTICS TRANSCEND GPS GOGGLES When the Terminator — at least the T-800 — goes skiing, his visual display details temperature, altitude, speed, location, distance traveled and the time. It's why T-800 is such a great skier. But while you can't buy T-800's accent, sadly, you can buy a similar visual readout, contained within polarized GPS-equipped goggles. When your early-adopter ski bum absolutely, positively has to find Sarah Connor, accept no substitutes. $399 · Mountain Gear · 2002 N. Division St. (DW)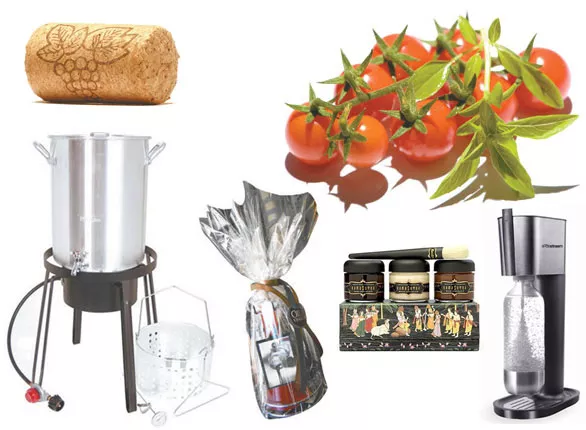 For descriptions of each item, put your mouse pointer over the image.
KAMP KITCHEN 30-QUART TURKEY FRYER SET Yes, you can use this bad boy to fry a turducken up to 18 pounds — or any other similarly sized bird. But the built-in burner, regulator and thermometer also make this a killer small-batch homebrew kit. Our resident home brewer advises, "Just be sure to make the beer before you fry the turkey," but we're not so sure. Turkey Dunkel actually sounds pretty bomb. Regularly $75, they're on sale until they're gone, so get going. $56 · General Store · 2424 N. Division (LB)
THE SODA STREAM Homebrew isn't anything new, but home soda? That is. This über-hip new gadget comes with a variety of flavors, but we're most stoked to create our own syrups. Once you buy the machine, it's cheap to experiment. Bacon soda? Yes, please. Plus, the Kitchen Engine will even refill the C02 tanks for you. $100 · The Kitchen Engine · The Flour Mill, 621 W. Mallon Ave. (LB)
HAPPY FAMILY FRESH VARIETY BOX Sounds like a Japanese game show, but it's actually the perfect gift for the housebound locavore on your list (or any lover of convenience, really). This box o' local fruits and veggies — a mix of whatever's coming from the farm that week — will be delivered right to the doorstep. $45/week · Fresh Abundance · 2015 N. Division (LB)
WINE OF THE MONTH CLUB The gift that keeps on giving — and has a sliding price scale — will ship your glutton one bottle of wine per month. Shiraz, Cabernet, Viognier, Vouvray. They'll thank you. If they can remember your name. Starts at $15/mo. · Enoteca · 112 E. Seltice Way Ste. C, Post Falls (LB)
SONATA RACK If your glutton is picky about her oils and vinegars, here's a clever, off-the-shelf gift that won't break the effing bank. The Sonata rack allows you to mix and match any three 100-milliliter bottles of oil and/or vinegar in stock into one thoughtful package. $25 · Oil&Vinegar · River Park Square (LB)
KAMA SUTRA LOVER'S PAINTBOX You know the expression "looks clean enough to eat off of?" See if it's true of your boyfriend or girlfriend. $47 · Lovers · 3411 N. Division (LB)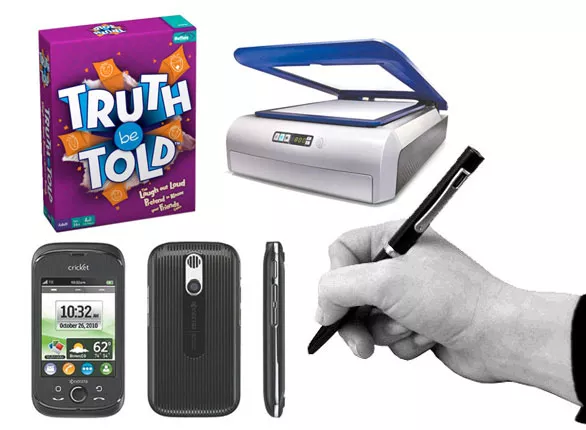 For descriptions of each item, put your mouse pointer over the image.
HUAWEI ASCEND WITH UNLIMITED CRICKET PLAN The gossip is the burly foreman that keeps the rumor mill whirring. He's the Drudge Report of the social world, the first to spout the latest salacious OMG news — in large-type headlines, no matter the accuracy. But his supremacy depends on speed. If Suzie Johnson from homeroom dishes the latest dirt before him, he becomes — like a print newspaper — irrelevant. That's why the gossip on your list needs a smartphone. This inexpensive Android phone boasts lightning-fast calling/texting/Tweeting/Facebooking abilities, keeping your little blabbermouth at the helm of the Gossip Industrial Complex. $160 ($55/mo. for unlimited data plan) · Spokane Wireless · 520 E. North Foothills Dr. (DW)
YUDU PERSONAL SCREEN-PRINTER Online gossip may be en vogue these days, but there's still something to be said for spreading slander the old-fashioned way. With this easy, clean screen-printing kit, anybody with access to a computer and an ink-jet printer can crank out posters, handbills and t-shirts suggesting Amber Holtz may not be as chaste as she makes herself out to be. $180 · Michael's Arts&Crafts · 7630 N. Division (JS)
TRUTH BE TOLD The experienced gossip gleans her most sensational tidbits during the classic American slumber party. This game is the perfect primer. One player answers a question truthfully, while the rest submit fake answers, and then everyone guesses which answer is correct. Think Balderdash. But with your giftee listening in, of course, the true answers — and some of the false ones, naturally — will spread far and wide. $30 · Uncle's Games · 404 W. Main Ave. (DW)
PEN RECORDER Is your gossipmonger digging for gold no sane person would search for using a slumber-party board game? Time to elevate his tactics with this clever recorder that looks like a simple pen. "What's that, Amber? You forgot to bring a pen for the test?" your giftee will ask, innocently. "Here, borrow mine." Just push the clip and you'll get seven hours' worth of great material. $100 · The Spy Store · 12128 N. Division (JS)
For descriptions of each item, put your mouse pointer over the image.
CHOPSTICK KIDS Just because you have a kid doesn't mean your diet should be limited to soggy Cheerios and hot dogs. It took years for your palate to appreciate eel and raw fish. Don't let your baby take that away from you. Instead, train them young. The friendly orange character on top of this set holds the sticks together, making it easier for your little one to gorge on ankimo (monkfish liver) and nama-tako (raw octopus). And these chopsticks will ensure you never miss a dinner date or foodie gala — just drag your kid along. They'll be little food snobs in no time. $8 · Boo Radley's · 232 N. Howard St. (JB)
KEDS SHOES OK, so they're not TOMS shoes. Big deal. Keds are still pretty damn hipster, and buying your kid a solid white pair of Keds will give both of you that devil-may-care air you try so hard to affect. These miniature Keds come in full and half sizes, narrow thru extra-wide, which means beauty doesn't have to hurt for your tiny tot and their growing feet. $26 · Berg's Shoes · 818 W. Sprague (JB)
HIP HOPSCOTCH Old school meets new school in this modern take on a centuries-old game. This set includes movable squares, circles and special pads that will challenge your little one to start break-dancing. Put on your freshest mix and watch as your child builds up the strength and skill for holds, hits, pops and locks. $20 · Whiz Kids · 808 W. Main Ave. (JB)
IGGY POP ON VINYL It's never too early to turn your kid into a lifetime vinyl snob. Giving them this strange, classic live album — with its leathery vocals and its homage to New York's famed Continental club — could be the first step in an endless journey to hunt down mint-condition Velvet Underground. $75 · Unified Groove Merchants · 2607 N. Monroe St. (JB)
ALTERNATE ALPHABET This hippie placemat teaches your kid to become a more culturally aware little speller. Here, A is for Africa, not apple. P is for peace, V is for vote, Y is for yoga and F is for freedom. $9 · Kizuri · 35 W. Main Ave. (JB)
ONE LOVE ONESIE Don't dress your kid like a douche, in pastels and teddy bears. Point your baby in the right stylistic direction with a Bob Marley onesie. More than an outfit, this is a political statement about love, music and cannabis. Why not use your baby as a canvas for original thought? $20 · Atmosphere · 4750 N. Division St. (JB)