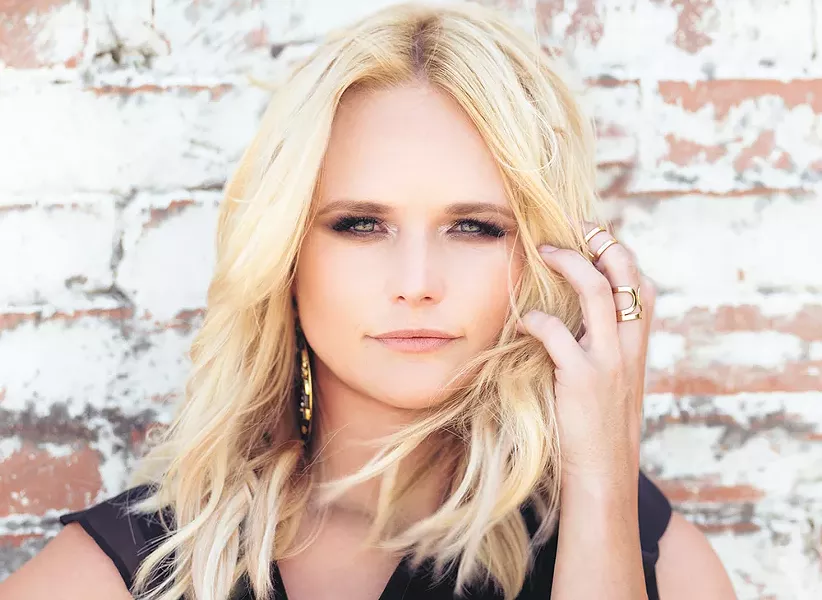 Country star Miranda Lambert, at the Arena on Feb. 2, is one of the big names coming through Spokane in the early months of 2018.
Heading into the first week of 2018, it's mostly quiet on the live music front, with everyone seemingly recovering from the onslaught of holidays or nursing their New Year's hangovers.
But we're already looking ahead at what's coming down the pike, marking our calendars for some of the big shows happening on Spokane stages between now and early March. Let us point you in the direction of some of the touring shows we're most excited for in the next few months.
STRFKR
Wednesday, Jan. 24
Fingers crossed, everyone. STRFKR was previously scheduled to perform here way back in March but had to cancel the day of the concert. Now the popular, vowelless dream-pop band is finally set to come back and make it up to us, and here's hoping they actually get here this time. Started a decade ago in Portland by songwriter Josh Hodges, STRFKR has developed a reputation for sweat-drenched, high-energy live shows, so be sure to rest up for this one. $18 • All-ages • Knitting Factory • 919 W. Sprague • sp.knittingfactory.com • 244-3279 (NATHAN WEINBENDER)
---
NIGHT RANGER
Thursday, Jan. 18
These San Francisco-based classic rockers are best known for "Sister Christian," their monster ballad that's popular on Guitar Hero, as the soundtrack for the best scene in Boogie Nights and at every karaoke night you've ever been to. The band still has its three main songwriters, and boast more hits than you remember ("Don't Tell Me You Love Me," "When You Close Your Eyes"). They'll surely play them all. $35/$45/$65 • All-ages • Northern Quest Resort and Casino • 100 N. Hayford Rd., Airway Heights • northernquest.com • 481-2100 (DAN NAILEN)
---
MIRANDA LAMBERT
Friday, Feb. 2
Lambert is one of the bright lights of modern country music, a take-no-shit woman who writes her own songs and imbues them with classic honky-tonk shades while addressing thoroughly modern issues. Last year she won the Academy of Country Music's Female Vocalist of the Year award for the eighth straight time, and there's nothing to indicate the 34-year-old is slowing down any time soon. $42/$62/$77 • All-ages • Spokane Arena • 720 W. Mallon • spokanearena.com • 279-7000 (DN)
---
THE ORIGINAL WAILERS
Friday, Feb. 2
At face value, you're obviously going to see the Original Wailers to hear the music Bob Marley made famous. You'll get plenty of that, but the surprising treat from this band is the powerful guitar work of bandleader Al Anderson, the man who spent much of the '70s contributing to reggae now-classics like "No Woman, No Cry" and "Three O'Clock Roadblock." $32 advance/$36 at the door • All-ages • The Bartlett • 228 W. Sprague • thebartlettspokane.com • 747-2174 (DN)
---
THE POINTER SISTERS
Sunday, Feb. 11
The funky, soulful sisters were already popular when MTV came along, but music videos took them to a whole new level. In 1984, they reeled off four straight Top 10 hits — "Automatic," "Jump (For My Love)," "I'm So Excited" and "Neutron Dance" — and their cover of Bruce Springsteen's "Fire" is a killer. $45/$55/$75 • All-ages • Northern Quest Resort and Casino • 100 N. Hayford Rd., Airway Heights • northernquest.com • 481-2100 (DN)
---
BULLY
Thursday, March 1
The last time Bully came through town, they'd just released their debut album Feels Like, boosted by raves from indie rock critics. Now they're back on the road and returning to the Bartlett with their sophomore LP Losing, another collection of raw, shredded howls of anger and catharsis from songwriter and vocalist Alicia Bognanno. Its calls to resistance and general sense of female empowerment make it a record that perfectly captures a time and a movement, and the songs are even more ferocious live than on tape. $15 • All-ages • The Bartlett • 228 W. Sprague • thebartlettspokane.com • 747-2174 (NW)
---
STEEP CANYON RANGERS
Saturday, March 3
Spokane sure loves its bluegrass, and there are few working bluegrass bands more high-profile than the Steep Canyon Rangers. The North Carolina-based act, which was last here in 2014, has been performing for nearly two decades, but they really broke into the mainstream through more recent, Grammy-winning collaborations with actor and banjo player extraordinaire Steve Martin. The Rangers won't have the silver-haired comedian with them, but they're megawatt stars in their own right. $39-$86 • All-ages • Martin Woldson Theater at the Fox • 1001 W. Sprague • foxtheaterspokane.org • 624-1200 (NW) ♦