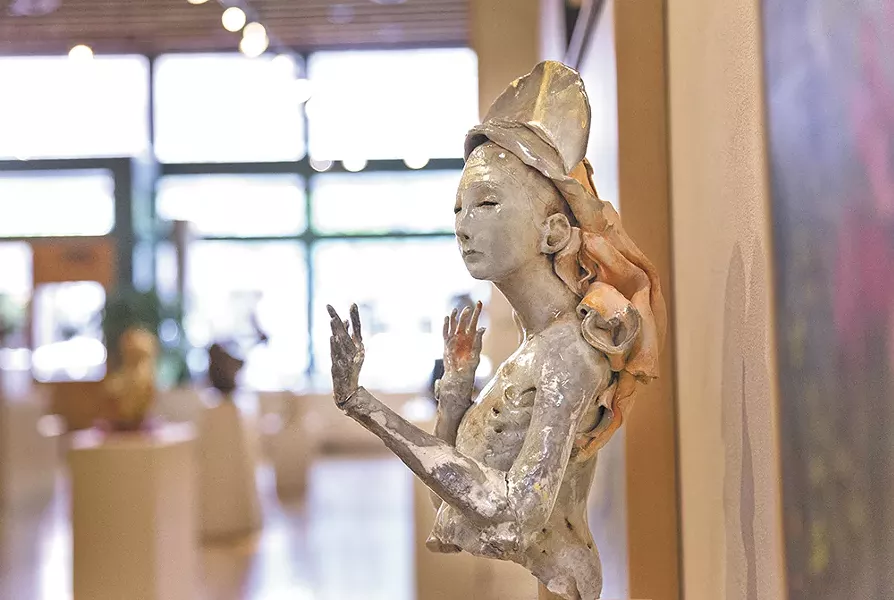 Timothy Phillips
One-of-a-kind sculptures are on display at Coeur d'Alene's Art Spirit.
Angel Gallery of Fine Arts & Antiques The works displayed here come from nearly every medium and are hard to find anyplace else, making it a North Idaho gem and a great place to stop during Coeur d'Alene's monthly downtown art walk. 423 E. Sherman Ave. Coeur d'Alene, Idaho • 208-665-7232 •

Artisans at the Dahmen Barn Out on the beautiful Palouse, a 1930s barn provides this studio space for artists to create, show and sell their work. Visitors can learn and observe the artisans' creative processes and even take classes. Their big events include a brand-new summer concert series, art demonstrations, a summer tea, a fall festival and a holiday gala. 419 N. Park Way Uniontown, Wash. • 229-3414
Art Association Gallery at Frame of Mind Even though it's a frame shop, Frame of Mind features a gallery for the Coeur d'Alene Art Association. The community art club has a selection of paintings on display and participates in Second Friday art walks. 119 N. Second St. Coeur d'Alene, Idaho • 208-676-9132
Art Spirit Gallery Every month, the walls in North Idaho's preeminent art gallery, Art Spirit, are repainted and a new show of original work goes up. The opening receptions — usually held every second Friday of the month — are a great opportunity to meet the artists and experience new art in a beautiful space with your friends. 415 E. Sherman Ave. Coeur d'Alene, Idaho • 208-765-6006
Art Works Gallery The local artists shown at Art Works own and operate this cooperative gallery, which includes stained glass, ceramics, jewelry, photography and paintings. The artists' work shifts at the gallery, so be sure to ask them about their pieces while you're there. 214 N. First Ave. Sandpoint, Idaho • 208-263-2642
Bank Left Gallery Not only does Bank Left have a large selection of fine art from almost every medium, you can also pair your gallery visit with some delicious nourishment from their French-style bistro tearoom. Gourmet drinking chocolates and lavender crème brûlée, anyone? 100 S. Bridge St. Palouse, Wash. • 878-8425
Blackwell Gallery One of the newer galleries in Coeur d'Alene, the Blackwell opened their modern and contemporary art space in 2012. You'll find vibrant abstract and figurative painting, glass sculpture, metal sculpture and wood craftsmanship. 205 Sherman Ave. Coeur d'Alene, Idaho • 208-699-2116
Brick Wall Photographic Gallery Perched on the skywalk in the Bennett Block downtown, this all-photography gallery features a new photographer each month. Pieces from the current photographer, as well as past ones, can be found and bought on the gallery's website. 530 W. Main Ave., Skywalk Level • 928-7721
Cedar Glen Gallery Professional wildlife photographer Jerry L. Ferrara has been capturing animals in their natural homes for 38 years, and has had his images published both nationally and internationally. At his gallery, you can view his fine art wildlife prints, both past work and current projects. 300 N. First Ave. Sandpoint, Idaho
Chase Gallery City council meetings are one reason to make your way to City Hall; the Chase Gallery is another. Adjacent to the City Council Chambers, you'll find artworks ranging from contemporary to traditional. The gallery is open from 8 am to 5 pm on weekdays and in the evening during Monday meetings. 808 W. Spokane Falls Blvd. • 321-9614
ClearStory Gallery The ClearStory Gallery has an evident goal of connecting people to God through art. Housed in Life Center Foursquare Church, the gallery's fine art pieces evoke spirituality and serve to invite an ongoing dialogue with the community at large. 1202 N. Government Way • 327-4422
Coeur d´Alene Galleries Coeur d'Alene Galleries has been showcasing Western, wildlife and sporting art in the lobby of the Coeur d'Alene Resort since 1986, but only recently moved to their own, bigger location in the heart of downtown. Be sure to stop by during art walks on the second Friday of every month. 213 E. Sherman Ave. Coeur d'Alene, Idaho • 208-667-7732
Denise Oliver Gallery This lakeside gallery sits near the shores of Lake Coeur d'Alene in Harrison, and displays an eclectic mix of pieces, from glasswork to handcrafted jewelry to acrylic paintings. Be sure to stop by in the warmer months; the gallery is only open seasonally from May to October. 200 S. Coeur d'Alene Ave. Harrison, Idaho • 208-689-9076
Dodson's Jewelers Amid displays of elegant jewelry, Dodson's showcases fine art on almost every wall and in a gallery space at the back of the store. A showroom on their second floor exclusively displays art. It has a little bit of every medium: oils, acrylic, watercolor, metalwork, fiber and more. 516 W. Riverside Ave.
East Sprague Art Gallery This gallery likes to swap out art often to give visitors fresh views and let more artists show off their work; as such, they select and feature a different artist each month. Every Sunday this gallery hosts open figure-drawing studio sessions; all abilities are welcome to join. 1812 E. Sprague Ave. • 202-0850
Entree Gallery Located on national forestland west of beautiful Priest Lake, you'll find contemporary fine art on display from May to mid-October. During their open season, the gallery has monthly feature shows and artist receptions, and you can get involved in their classes and demonstrations. 1755 Reeder Bay Rd. Nordman, Idaho • 208-443-2001
Essential Glass Works Art Gallery & Fine Gifts Essential Glass Works Art Gallery & Fine Gifts prides itself on bringing top national artists to the Palouse. As such, they bring in artwork and other items from great American artists weekly. Need a sweet treat? Visit the Chocolat Bar, where you can indulge in handcrafted chocolates. 203 S. Main St. Moscow, Idaho • 208-571-5654
EWU Gallery of Art EWU's gallery gives students a firsthand experience with artwork and what goes into being a successful visual artist. Exhibitions happen quarterly, often paired with artist talks. Toward the end of the year, BFA students show their own work. Art Department, 140 Art Bldg. Cheney, Wash. • 359-2494
Gallery Northwest A co-op located a few blocks east of Lake Coeur d'Alene, Gallery Northwest displays and sells home furnishings, gallery items and other handcrafted items. Everything is made by the owner-members who run the store, as well as more than 20 other artisans from Idaho, Washington and Montana. 217 Sherman Ave. Coeur d'Alene • 208-667-5700
Gellhorn Gallery at the Modern Theater Spokane Of course you can see wonderful plays at Interplayers Theatre, but during box office hours and showtimes you can also browse the Gellhorn Gallery. Featuring a new artist each month, the gallery has pieces varying from abstract acrylic to watercolor to pretty much anything else. 174 S. Howard St. . • 455-7529
Groove Studio This high-ceilinged space with lots of windows houses work from local artists and craftsmen, including stained glass, paintings, wood sculptures and handmade jewelry. With more than 1,600 square feet filled with art, you're bound to find something that strikes your fancy. 7169 Main St. Bonners Ferry, Idaho •
Hallans Gallery The late Ross Hall photographed the Northwest incessantly during his 50-year career. His remarkable collection of about 60,000 black-and-white photographs are on display at the Hallans Gallery alongside work from his late wife, Hazel, and his son Dann, who runs the gallery. 323 N. First St. Sandpoint, Idaho
Ink to Media Ink to Media is a graphic design and printing studio that specializes in fine art reproduction. They represent more than 50 artists, several of whom show their work at the studio's gallery. New shows occur sporadically, but you can also find their art bus — a mobile exhibit with various abstract, watercolor or photography pieces — at big events like Valleyfest. 101 N. University Rd. Spokane Valley, Wash. • 863-9125
Kolva-Sullivan Gallery This gallery shares an adjoining space with Trackside Studio in a historic warehouse space. Revolving shows feature handcrafted pottery, paintings, installations and performance art, and it's a great spot to spend your First Friday. 115 S. Adams St. • 458-5517
Kress Gallery Named to commemorate the historic Kress Building, this 2,650-square-foot room displays revolving collections of art from local schools and colleges. The gallery is also a multi-use space that can be rented for community, nonprofit, professional and select private gatherings. River Park Square, 808 W. Main Ave., Third Level • 456-3413
Lied Center for the Arts at Whitworth University Sometimes featuring established artists, sometimes displaying student work, the Bryan Oliver Gallery is usually filled with ceramics, sculpture, drawing, mixed media, photography or printmaking throughout the year. The rest of the Lied building is sprinkled with student artwork and works in progress. 300 W. Hawthorne Rd. • 777-1000
Lisa V Maus Fine Art Studio Lisa studied winemaking in France at a young age and was on track to be a winemaker, but after seeing Monet's paintings, she fell in love with art. She creates vivid outdoor scenes, including many vineyard pieces, by mixing the oil paint colors right on the canvas. 109 Main St. Sandpoint, Idaho • 208-610-2737
Manic Moon & More Not only does this artisan emporium have paintings, ceramics, scuptures, mosaics and metal art, it also sells art-to-wear fashion and hosts workshops. Manic Moon, which was founded in 2012, showcases more than 30 local artists, all with colorful, whimsical designs. 1007 W. Augusta Ave. • 413-9101
Marmot Art Space Mamort Art Space is the white-box gallery located in Spokane's ever-so-trendy Kendall Yards. It's an intimate, minimalist space, designed to allow the art to dominate the gallery. Look for emerging and established artists showing here, and the occasional party that spills out into the self-named MarmotBoy Alley. 1206 W. Summit Pkwy. • 270-5804
Outskirts Gallery Situated on the northeastern shore of Lake Pend Oreille, Outskirts Gallery features 35 artists' work, including plenty of plein-air pieces inspired by the beauty of the area. While you're there, sip on an espresso or enjoy soups, sandwiches and desserts from the gallery café. 620 Wellington Pl. Hope, Idaho • 208-264-5696
Pacific Flyway Gallery It's both a full-service art gallery and a custom framing shop that's been in business for almost 30 years. You'll find frameable pieces from regional and national artists like oil paintings, watercolors and pastels, but there are also 3-D pieces including woodcarvings, bronze and pottery. 409 S. Dishman Mica Rd. Spokane Valley, Wash. • 747-0812
Painter's Chair Fine Art Gallery Painter's Chair caters to serious collectors with professional art consultants who can arrange private viewings, bring works of art to your home or office and do installation. Their collection includes paintings, sculptures and glasswork from nationally esteemed contemporary artists. 223 Sherman Ave. Coeur d'Alene, Idaho • 208-667-3606
Pend Oreille Arts Council Gallery The POAC gallery started two summers ago in the arts council's downtown building. The gallery houses a new show every five or six weeks during the year, usually with multimedia pieces from both aspiring and experienced artists. 302 N. First Ave. Sandpoint, Idaho • 208-263-6139
Pottery Place Plus Just as the name indicates, Pottery Place Plus — located in the historic Liberty Building with Auntie's Bookstore — has much more than just pottery. The artists who own and operate the shop also create metal, fiber and glasswork. 203 N. Washington St. • 327-6920
Prichard Art Gallery at the University of Idaho The Prichard Art Gallery serves both the university and Moscow community by hosting about 10 exhibitions each year. The exhibits, ranging from sculpture and painting to digital art and installation pieces, are usually accompanied by lectures and panel discussions. 875 Perimeter Dr. Moscow, Idaho • 208-885-6111
Saranac Art Projects This nonprofit cooperative brings together Inland Northwest artists to support and educate each other and the community. The space, filled with an assortment of pieces, provides a place for artists to network with each other and to have their work seen. 25 W. Main Ave
SFCC Fine Arts Gallery By bringing in regional, national and international artists, SFCC's fine arts gallery educates and inspires both its students and the public. Exhibitions of various media and the accompanying lectures are always free and open to the community. 3410 W. Fort George Wright Dr, Building 6 • 533-3710
Studio 107 Not only does Studio 107 have fine art — oils, watercolors and acrylics — from Northwest artists, it also has jewelry, and serves wine and beer as well as tapas from Scratch Restaurant. The studio stays open late every second Friday of the month for Artwalk so visitors can meet the featured artist. 503 E. Sherman Ave. Coeur d'Alene, Idaho • 208-664-1201
The Jacklin Arts and Cultural Center This arts center in Post Falls, housed within a building on the National Register of Historic Places, regularly displays local, national and international artists in its gallery. The JACC also serves as a hub for musical and theatrical performances, as well as culinary instruction and arts education. 405 N. William St. Post Falls, Idaho • 208-457-8950
Third Street Gallery If you find yourself inside Moscow's historic City Hall building, be sure to take a peek at the upstairs Third Street Gallery. It stays stocked with rotating displays of work from both local and regional artists. City Hall, 206 E. Third St. Moscow, Idaho • 208-883-7036
Tinman Gallery Tinman Art Gallery consistently features the works of some of the Northwest's most beloved artists like Sheila Evans, Ruben Trejo and Harold Balazs, along with an emphasis on Native American works, including the celebrated George Flett. 811 W. Garland Ave. • 325-1500
Trackside Studio Both a gallery and a working ceramic studio, Trackside's home is in the historic warehouse district of Spokane. Studio owners and artists Chris Kelsey and Mark Moore display their work, sometimes along with other local artists, focusing on sculptural and functional ceramics. 115 S. Adams St. • 863-9904
Ward Tollbom's Hen's Tooth Studio At this gallery and frame shop (open Monday through Saturday) you'll find local photography alongside watercolors and wildlife art. And if you need hunting or fishing advice, just ask Ward. He can tell you where to go to see a moose and find a good huckleberry patch, too. 323 N. First Ave. Sandpoint, Idaho • 208-263-3665 •
William Grant Gallery and Framing Part framing shop and part art gallery, William Grant has a wide selection of custom framing options including shadowboxes, matboards and thousands of moldings. The gallery shows a variety of posters and originals from several artists. 1188 West Summit Pkwy. • 484-3535