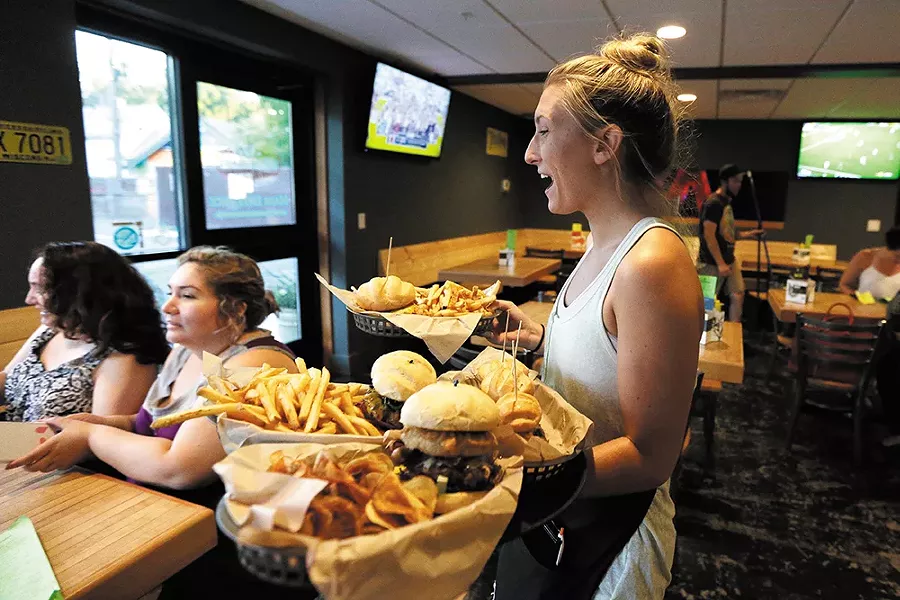 Young Kwak
Brooke Whitsell brings out an order at Wisconsinburger.
Wisconsinburger
This Spokane favorite is inspired by mom-and-pop joints in Wisconsin, and it quickly made itself one of the Inland Northwest's best burger stops after opening. Maybe it's their housemade bacon jam? Or their excellent fries? Possibly — but we attribute it to the beefy star attraction. 916 S. Hatch St., Spokane • 241-3083
Epic
This Northern Quest sports bar delivers hand-formed Snake River Farms Wagyu patties, topped with garlic seared prawns, white truffle garlic aioli, provolone, baby arugula, tomato, and thin-sliced red onion on a toasted ciabatta bun. That's the Surf-n-Turf, and it's a killer. It's also just one burger option. 100 N. Hayford Rd., Airway Heights, Wash. • 866-975-5082
MickDuff's
This Sandpoint brewery features eight different burgers of varying sizes, all done with local beef, as well as offering both portobello and black-bean patties for the veggie crowd. Check out the Gouda Ciabatta burger, served with onions, Gouda, bacon and BBQ sauce. 312 N. First Ave., Sandpoint, Idaho • 208-255-4351
The Onion
Hearty burgers like the Jalapeño Bacon Burger and the Dijon Pot Roast Burger challenge even the biggest of appetites. Add a tower of onion rings and you'll go home fat and happy. 302 W. Riverside Ave., Spokane • 747-3852 | 7522 N. Division, Spokane • 482-6100
The Rusty Moose
Amid the vast, upscale hunting-lodge feel, this place is serious about its burgers: From a bacon-jam-topped venison burger to a Rocky Mountain Elk burger to a Free Range Bison burger. The portion sizes? Let's put it this way: Even the lunches are served on platters. 9105 W. Hwy 2, Spokane • 747-5579
Waddell's Neighborhood Pub & Grille
The menu features no less than 15 different varieties of burgers. The Cougar Gold is massive, stacking ham atop two beef patties atop deep-fried onions and WSU's namesake cheese. That's just the beginning of a burger list that's both delicious and daunting. 4318 S. Regal St., Spokane • 443-6500
Churchill's Steakhouse
Go ahead and let your friends get into a pricey steak; the wise hit this favored Spokane steakhouse on "Wimpy Wednesday" nights when the downstairs lounge offers delicious burgers made from high-grade beef on the cheap. As in just $7 a burger. At that price, you might want more than one. 165 S. Post St., Spokane • 592-6469
Durkin's Liquor Bar
Go for the tasty cocktails, but don't sleep on the Classic Burger, a quarter-pound beauty served with shaved pickle, red onion, dill mayo and good ol' American cheese — as it should be. For a little extra you can spruce it up with bacon, egg or an extra patty, but it's totally unnecessary. 415 W. Main Ave., Spokane • 863-9501
The Backyard Public House
A laid-back spot with an excellent patio, The Backyard offers a few burger options and all kinds of add-ons. Delve into an Early Bird, an eye-opening burger served with ham, a fried egg and some bacon jam, as a perfect starting point. 1811 W. Broadway Ave., Spokane • 822-7338
Prohibition Gastropub
The Al Capone Burger is the house standard, served on a brioche bun and stacked with bacon, fried egg, cheddar and veggies, but there are less gut-busting options that taste just as good at this diminutive gastropub. 1914 N. Monroe St., Spokane • 474-9040
---
Stuart Danford
Dick's has been selling burgers by the bagful in Spokane since 1965.
Virtues of Dick's Hamburgers and D.Lish's Hamburgers
While it can be nice to sit down at a nice restaurant for a high-level burger, the reality is that most of us can't do that every day. We use drive-thru windows and quick pop-ins to feed ourselves and our families, and thankfully there are places like DICK'S HAMBURGERS (10 E. Third Ave.) and D'LISH'S HAMBURGERS (1625 N. Division St.) for quick, beefy bites. Trade in the tablecloths and silverware for cheap bags of burgers and fries on the fly. You'll find advocates for both these Spokane staples, but there's one thing that fans of each can agree on — don't skip the milkshake alongside your burger.
---
Also Try
The Elk, Browne's Addition
Wolf Lodge, Coeur d'Alene
Manito Tap House, Spokane's South Hill
Humble Burger, Moscow
Tapped, Moscow
Ruins, Central Spokane
Hudson's Hamburgers, Coeur d'Alene
Crafted Taphouse + Kitchen, Coeur d'Alene
Cougar Country, Pullman
Downriver Grill, Spokane
Barlow's, Liberty Lake
Hill's, Spokane
Fatburger, Spokane; Airway Heights