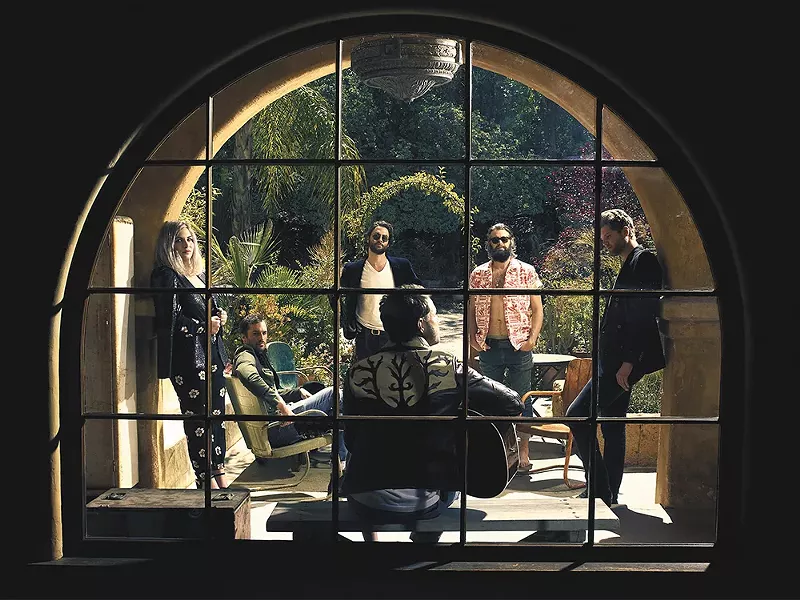 The Head and the Heart are now in a California state of mind.
For as long as there's been music, there have been artists who came along in the right place at the right time with the right sound, fueling a quick rise to stardom.
Take, for example, the winsome folk-pop band the Head and the Heart. Formed by relative strangers though an open mic night at Seattle's Conor Byrne Pub, the band went from playing small bars and burning CDs of its debut album to signing with hometown mega-indie label Sub Pop Records in about a year.
Sub Pop reissued the band's debut in early 2011, and it wasn't long before the Head and the Heart was selling out large venues packed with people who loved their ultra-melodic, handclap-happy brand of Americana. A nonstop touring schedule forced the group to write songs for their second album on the road, and when the touring for the debut finally stopped, they went right back into the studio, recorded 2013's Let's Be Still, and did the whole thing over again.
Here was a band with a wonderfully accessible sound, swept up into the "business" part of the music business and then run ragged. Not that there's blame to be placed. It just happens, says vocalist/multi-instrumentalist Charity Rose Thielen.
"We were a 'yes band,'" she says. "We were saying 'yes' to every opportunity because we just couldn't say 'no.' You feel so lucky and so grateful (about what's happening), and we were like, 'Let's do it.'"
This is how bands burn out, except the Head and the Heart didn't know that at the time. All they knew is that by 2014 — after four years of ceaseless work — they were exhausted. So the band of (mostly) Seattle newbies who stumbled upon each other at Conor Byrne decided to scatter for a while.
Thielen wrote songs for others, including Mavis Staples. Vocalist/guitarist Jonathan Russell worked for the nonprofit Artists for Peace and Justice in Haiti. Pianist Kenny Hensley learned to fly planes and spent time in China. Bassist Chris Zasche camped in the Canadian Rockies. Drummer Tyler Williams put down roots in Richmond, Virginia. (Sixth member Josiah Johnson is currently on hiatus from the band as he focuses on battling addiction.)
"We took time ... to actually live and be at home and have consistency," Thielen says. "I think that's really important as a writer, to have that perspective in what you're writing. You can only write so many songs that are dynamic and relatable about being on the road."
So when the Head and the Heart gathered in beautiful Stinson Beach, California, in 2015 to start working on its third album, Signs of Light, it did so with clear minds and full tanks, Thielen says.
"Taking a pause like that is going to bring refreshment, and I think having some time really gave us some peace and perspective, and made us excited to remember why we started in the first place," she says. "It really set the scene for a sunnier album, and you can hear that."
Indeed you can. Opening track "All We Ever Knew" sparkles and fades like dusk over the Pacific, and it's followed by "City of Angels," which sounds like it was plucked off of a pop radio station's playlist from the 1970s. The latter in particular finds the Head and the Heart coursing with more energy than ever before.
"Rhythm & Blues," on the other hand, rambles and shimmers like much of the band's back catalog. The honeyed harmonies on "Library Magic" recall fellow Seattle heroes Fleet Foxes. And the easygoing "False Alarm" offers what might just be the most interesting melody on the album.
But the Head and the Heart's current status might be best embodied by the album's title track, a sad song that nonetheless builds into a glorious crescendo of keys and strings and horns and voices: "You gotta fix yourself up before taking off / 'Cause it's you, it's you that you're running from."
For the six members of the Head and the Heart, finding success in a band together was sort of like getting married before falling in love. Where most bands grow out of a group of friends, this one has developed friendships through being in a band.
"The serendipity of all of us meeting, it was this kind of infatuation magic period," Thielen says. "That's what brought us together: not knowing each other. And then the realness sets in, and we're trying to understand each other while we're on this crazy rocket ship."
On Signs of Light, it sounds like the Head and the Heart has finally taken control of its own arc.
"It's challenging (because) we're a democratic band," Thielen says. "But there is such beauty in that challenge." ♦
The Head and the Heart with Declan McKenna • Mon, Oct. 10, at 8 pm • $36-$53.50 • All-ages • INB Performing Arts Center • 334 W. Spokane Falls Blvd. • inbpac.com • 279-7000